Party time: Royals pack the streets for World Series parade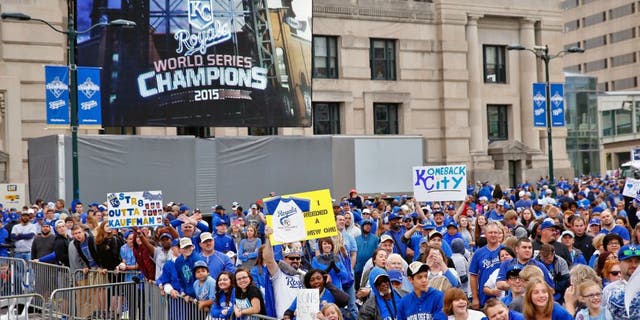 KANSAS CITY, Mo. -- Kansas City is turning blue as Royals fans line up to watch the World Series championship team parade.
Forty-eight-year-old Kansas City native Steve Spencer marveled at the crowd as he joined the masses walking toward the city's Union Station. Recalling the years of losing seasons, he says the ''crazy'' turnout is beyond anything he has ever seen.
Highways leading into the city are packed and city streets are jammed.
Thirty-four-year-old Chris Lasister, of Lenexa, Kansas, brought his 2-year-old son with him to watch the festivities. He says he doesn't remember the parade when the Royals last won the World Series in 1985, so he can't miss this one.
Fans took up spots along the 2.3-mile parade route Tuesday morning, hours before the start of the parade, with many playing games and cheering, while some slept. Organizers set up food trucks and provided music to entertain the fans as they waited for the parade to start.
The Royals won the World Series Sunday with a 7-2 win over the New York Mets, the team's first championship since 1985.
Steve Templeton, of Lee's Summit, Missouri, says he's supported the Royals since 1965. He says he couldn't attend the 1985 parade and was determined not to miss this one, and he wanted to be sure his 8-year-old son had the experience.
City officials said they expect at least 200,000 people to pack into the parade route Tuesday through downtown Kansas City to cheer as the players, coaches and team officials drive by in a motorcade before a rally at Union Station.