Panthers extend coach Gerard Gallant through 2018-19 season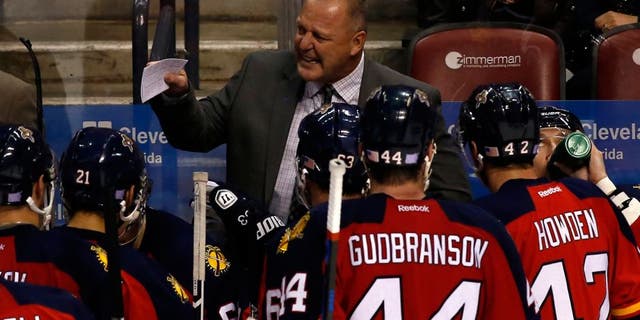 SUNRISE, Fla. (AP) -- After one of the best months in team history, the Florida Panthers were apparently convinced that Gerard Gallant is the coach who can finally take them deep into the playoffs.
Gallant and the Panthers have finalized a contract extension, the deal being announced Saturday. The extension was revealed one day after the Panthers -- who went 11-3-0 in December, the third-best month in franchise history in terms of winning percentage -- added three years to general manager Dale Tallon's contract.
Now, both he and Gallant will be in place for Florida through the 2018-19 season.
"It's a great spot," Gallant said Saturday at the team's morning skate in advance of that night's game against the New York Rangers, and before the deal was announced.
"Obviously when the opportunity came up a couple years ago, it was great. My family loves it here, wife loves it here, and the winters are pretty good so we've really enjoyed our time."
Gallant entered Saturday with a 59-41-19 record with the Panthers. He inherited a 66-point team and turned it into a 91-point club last season in his inaugural campaign with the Panthers, keeping them in the playoff hunt until the final days of the season.
Florida, which has made the playoffs just once in the past 14 seasons, went into Saturday second in the Atlantic Division and fourth in the Eastern Conference.
"He has done an excellent job of creating a winning culture and developing our young players in his time with the Panthers," Tallon said. "He is an ideal fit for our group and we look forward to having him lead our team as we work toward our goal of winning the Stanley Cup."
Gallant went to the Stanley Cup playoffs as a player and an assistant coach, but has yet to get there as a head coach.
The Panthers figure that will be soon changing.
"We've started to build a strong foundation with a great staff and group of players here in Florida," Gallant said. "We want to continue to build on the recent success we've had and create a winning team for years to come."