Opening Day Red Sox ace Jon Lester hoping to shut out childhood cancer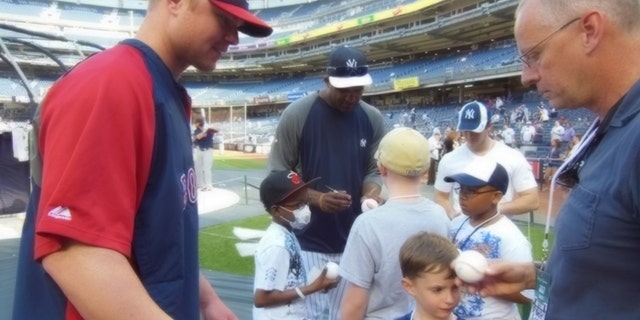 NEWYou can now listen to Fox News articles!
When Boston Red Sox ace Jon Lester throws his final pitch on Opening Day for the world champions today, he'll get back to work at his other job – raising money and awareness for pediatric cancer.
Lester, who takes the mound against the Baltimore Orioles at Camden Yards, is a cancer survivor himself and has helped his team to a pair of World Series titles since his comeback from a 2006 diagnosis of non-Hodgkins Lymphoma. These days, he and several teammates and fellow ballplayers around the league work with Pediatric Cancer Research Foundation's "Never Quit" project to offer inspiration to the disease's littlest opponents.
And while Lester will be trying to strike out Orioles today, once the game is over, he and the Baltimore players will come together to meet and rally children who suffer from cancer. The players will sign baseballs, take pictures and give the kids and their families morale-boosting words of encouragement.
The program -- under way for several seasons -- is going to be ramped up during the 2014 baseball season.
"We're going to do the things we have done in the past, but we're going to add more cities," Lester told FoxNews.com. "Adding more cities means meeting more kids and getting the word out."
In 2013, the rallies before the game were held in about 10 cities. According to Jeri Wilson, executive director of the foundation, that number is going to increase this season. In the ever-increasing number of cities where the foundation funds research, hospitals send patients and families to games with tickets bought by Wells Fargo.
Meeting a real-live Big Leaguer is exciting enough, but one who has been through cancer treatment and reached the pinnacle of sports is a once-in-a-lifetime thrill, Wilson said.
"They get to meet Lester and members of the hometown team at their "office" -- the field of play," Wilson said.
Beating childhood cancer is one thing that unites Lester and his fellow Major League players. Lester just agreed to support St. Louis Cardinals reliever Jason Motte's "Let's Strike Out Cancer" project, which raises money for basic research.
Many players have their own philanthropic efforts, but when it comes to helping Lester the on-field rivalries simply melt away. Last season, on a day after Lester and CC Sabathia, ace of the rival New York Yankees, faced each other, the lefthanders were on the field greeting nearly a dozen cancer-stricken kids and their families.
"When it came to CC - we didn't have to ask twice, he couldn't have been more generous with his time," said Nick Gregorian, a former Red Sox employee who now represents Lester's marketing interests and works with the Never Quit project.
Lester is hoping to build on publicity he brought to the cause during last year's World Series. During the season, he met with a 6-year-old boy named Zein Youseff, and the two formed a bond that continues today. Zein began chemotherapy just before the World Series began, and during the Fox broadcast, the play-by-play team referenced a Twitter shout out from Lester to the little boy. Since that time, Zein has earned his red belt in martial arts, and most importantly, been declared cancer-free.
Lester has big plans to expand the program, in Boston and beyond. He hopes to bring in players from other sports to help, especially in cities that don't have baseball teams.
"Baseball doesn't go to Charlotte," he noted. "We could get an NFL player involved there. We need to expand this to other sports."
Several of Lester's teammates are active in the fight against cancer, lending their fame and time to the cause:
The Clay Buchholz Foundation, started by Lester's fellow Red Sox pitcher, works with Christopher's Haven in Boston to provide housing for families who bring their children to Massachusetts General Hospital and the Dana-Farber Harvard Cancer Center.
The Jake Peavy Foundation, started by yet another of the Red Sox talented pitching staff, raises funds to support cancer research as well. Peavy has been supportive of the Jimmy Fund during his short time in Boston.
The Craig Breslow - Strike 3 Foundation raises money and awareness for pediatric cancers.
Red Sox second baseman Dustin Pedroia's wife Kelli works with the Melanoma Foundation.
Beloved Beantown slugger David Ortiz volunteers to visit young patients at Massachusetts General as well as children in the Dominican Republic.
Don Fair is coordinating producer of Fox News' Los Angeles bureau