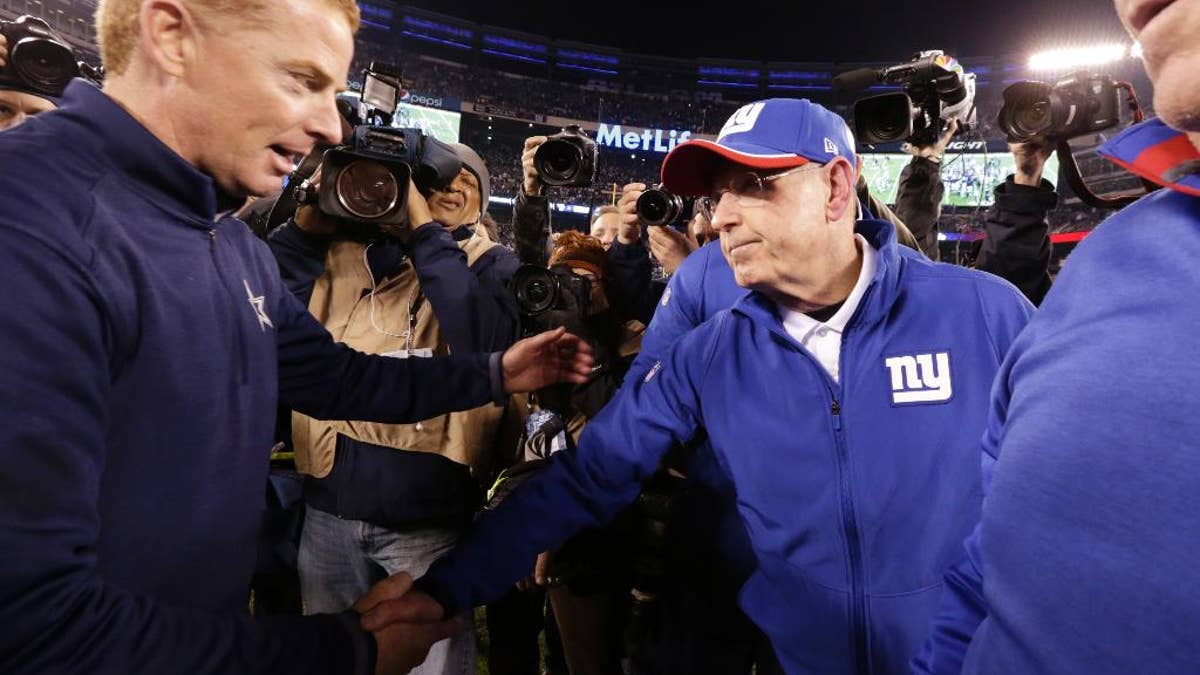 Hey, grow up!
Signs of maturity in an NFL team usually mean it has a chance to achieve something special. Solid clock management. Few penalties, and none when a game is on the line. Honest and insightful sideline conversations.
Simply going about business the right way.
Sure, talent is an overriding factor in any team's success. But it's rarely the sole decider, which is why getting hot in the playoffs often works. Over the last decade, were the 2005 Steelers, 2007 Giants, 2008 Cardinals, 2010 Packers, 2011 Giants or 2012 Ravens the most skilled?
Probably not.
They were, however, the most together. And that's all about maturity.
"I think you're always striving to be a mature team," says Dallas coach Jason Garrett, whose Cowboys are an excellent case in point. They've had every opportunity to fall apart late in several games this season that they pulled out, including a benchmark victory at Seattle. "I do think we have mature guys on our team. They might not be quite as experienced.
"I think whenever we think about bringing a player in here, we talk a lot about the makeup of the player. That has everything to do with who they are as a person and the kind of people they are, maybe as much as it has to do with the kind of player they are. I do think that even though we are inexperienced, I do think there's a sense of maturity. We value that. I think that's important in this league, going back to work the right way every day and then handling the different situations that come up."
How teams react to adversity is a true measure of maturity. Look at the Cardinals, a team ravaged by injuries throughout the roster. Such key players as Larry Fitzgerald, Darnell Dockett and Carson Palmer, to touch only the top of the iceberg, have been sidelined.
Yet Arizona shows no sign of panic, and its only defeats in a 9-2 season have been on the road to last February's Super Bowl participants.
That stems from Bruce Arians, whose coaching acumen has turned a once-mediocre group into a force.
"You can't win enough games early, and you better win late" he says. "That's why you play 16 of them. I think when you peak, you get momentum and you just ride it, and we've been riding it pretty good. We got knocked off the horse, so figure out why, get back on and let's go."
That is exactly what a mature group does.
Another team that is growing in stature and reliability is Green Bay. The Packers can be maddeningly inconsistent on the road and overwhelming at home. But they showed in last Sunday's victory at Minnesota — often a depressing if short road trip for them — that they might have taken another big step.
"The league is about adjustments," Aaron Rodgers says. "You have to be able to make adjustments within a game and at halftime. When you get out there you have to be able to react and trust the things you worked on in practice and done throughout the year."
Yep, consistency is a key. Just look at the Patriots, who other than a select few led by Tom Brady have had a changing cast throughout their 14 seasons of success. But the approach remains the same.
Elsewhere — look way down in the standings — comes evidence that maturity hasn't struck. So many of this season's losing teams have no true identity.
Or the identity they have isn't one they want.
One place many felt that situation would change was Washington under new coach Jay Gruden. Yet, this week's decision to bench Robert Griffin III for Colt McCoy further emphasizes a level of dysfunction in the nation's capital that critics usually claim is the province of Capitol Hill.
Another is Tampa Bay, where veteran Lovie Smith took over a floundering and maladjusted roster and locker room. A success in charge of the Bears and considered a "players' coach," Smith has had little positive effect on the standings or the performances by the Bucs.
It got so bad recently that defensive tackle Gerald McCoy, the team's best player, said: "This is a very undisciplined team, probably the worst I've ever been on as a unit."
Perhaps the best example of a lack of maturity came in a weak team's win: The comical display by Raiders linebackers Sio Moore and Khalil Mack in the final moment of Oakland's only win, against Kansas City. The duo wildly celebrated a sack with an elaborate dance and handshake well behind the line of scrimmage — even though the Chiefs still had the ball. If not for defensive end Justin Tuck, a 10-year vet, calling a timeout, who knows if the Raiders would have gotten their first victory in more than a calendar year?
"I don't chuckle over it, no, no, no," interim coach Tony Sparano said. "I don't chuckle over it. I can just imagine what the headline would be today, so I don't chuckle over it."
That headline might well have been: Hey, Grow Up!
___
AP Sports Writers Josh Dubow, Bob Baum and Schuyler Dixon contributed to this story.
___
AP NFL website: www.pro32.ap.org and www.twitter.com/AP_NFL