On Eve Of Floyd Mayweather Jr.'s Big Fight, Oscar De La Hoya Enters Rehab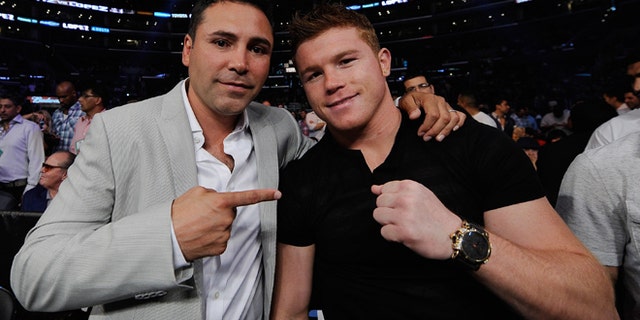 Oscar De La Hoya admitted himself to a treatment facility as he continues to fight substance abuse, two years after admitting his drinking, drug use and womanizing got so out of control that he considered suicide.
The former boxer issued a statement Tuesday saying he voluntarily admitted himself to an unnamed facility. The move comes just days ahead of the big fight his company is promoting between Floyd Mayweather Jr. and Canelo Alvarez, a fight expected to be one of the richest in boxing history.
"I will not be at the fight this Saturday to cheer Canelo to victory since I have voluntarily admitted myself into a treatment facility," De La Hoya said in his statement. "I explained this to Canelo and he understood that my health and long term recovery from my disease must come first."
Alvarez said De La Hoya called him on Monday to tell him he wouldn't be at the fight.
"I support him in the great battle he has in his life," Alvarez said. "I'm sure he's going to win his battle and I'm going to win my battle."
Mayweather, who beat De La Hoya in 2007 but has been at odds with him in recent years, said he wished him well.
"Hopefully he can get better and pull through like a true champion," Mayweather said.
De La Hoya first admitted two years ago that he was an alcoholic and drug user and had been in treatment.
"There were drugs, my drug of choice was cocaine and alcohol. Cocaine was recent. The last two years, last two and a half years, and I depended more [on] the alcohol than the cocaine," De La Hoya said. "It took me to a place where I felt safe, it took me to a place where I felt as if nobody can say anything to me, it took me to a place where I just can reach out and grab my mom."
He told the Los Angeles Times last month that he sometimes attends Alcoholics Anonymous meetings six days a week, but had slipped at times in his treatment.
"The fight life, that was easy," he told the paper. "This is a battle I have every day."
De La Hoya is a partner in Golden Boy Promotions, which promotes Alvarez and is promoting the fight against Mayweather. He appeared several times on Showtime's "All Access" show cheering on Alvarez in what is expected to be one of the richest fights in boxing history.
Golden Boy CEO Richard Schaefer said he did not try to talk De La Hoya out of going into rehab before the fight, even though he is active in the promotion.
"It's not perfect timing," Schaefer said. "But they say that the show must go on and it will."
De La Hoya won world titles in six classes and an Olympic gold medal in 1992. He retired in December 2008 after being stopped by Manny Pacquiao in his last fight.
Based on reporting by The Associated Press.
Follow us on twitter.com/foxnewslatino
Like us at facebook.com/foxnewslatino