Oklahoma City Thunder broadcaster under fire over 'cotton-picking' comment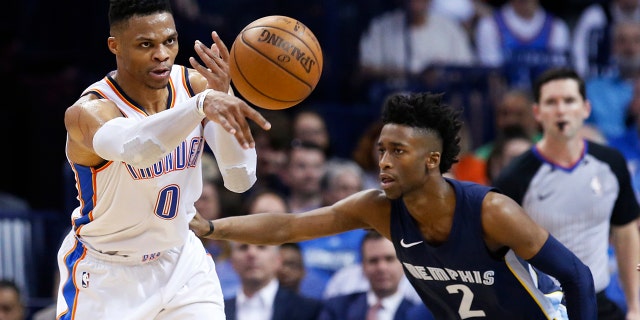 An Oklahoma City Thunder broadcaster came under fire Wednesday night for using an old Southern phrase – with possible racial connotations – when talking about Russell Westbrook's play.
Westbrook, who became the only NBA player ever to finish two seasons averaging a triple-double in points, was on fire in the second quarter, prompting play-by-play guy Brian Davis to say the superstar point guard was "out of his cotton-picking mind."
The expression "cotton-picking" is used as a term of disapproval or to describe something that is troublesome or a nuisance, according to Phrases.org.
Davis, who has done play-by-play for the Thunder on Fox Sports Oklahoma for eight seasons, didn't appear to use the phrase maliciously, but came under fire for using it anyway.
Former NFL running back LenDale White wrote on Twitter, "This man jus (sic) said that 'cotton picking mind,'" accompanied with "#okc" and "wtf."
"If you're a white man in America, you should know better than to say 'cotton picking' referring to anyone of us," another Twitter user wrote.
Davis is a veteran behind the mic. He started out calling Chicago Bulls games on the radio for the Michael Jordan-era in 1991. He eventually moved to cover the Seattle SuperSonics and then the Thunder.