Oakland isn't the only West Coast team that has trouble in the Eastern time zone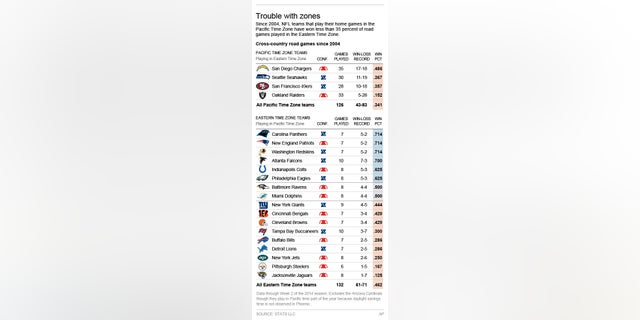 The Oakland Raiders have to deal with more than just Tom Brady and Darrelle Revis at New England on Sunday. They'll also be fighting mental fogginess and the physical effects of jetlag.
Their internal clocks will make it feel like it's 6 a.m. when they drag themselves onto the early bus heading to the stadium four hours before the 1 p.m. EDT kickoff.
"When you go from east to west it's almost like you gain some time and get some extra rest. But going from west to east that games hits you real quick," Raiders safety Usama Young said. "It almost reminds you of when you were younger playing football in the morning. It's a different feel. ... It feels a little odd."
The Raiders are trying to snap a 14-game losing streak in the Eastern time zone. But they're not the only team that has trouble heading cross country.
The four West Coast teams, which annually log 25,000 air miles, are a combined 43-83 in the Eastern time zone over the last decade, according to STATS LLC.
Only the San Diego Chargers, who visit Buffalo this weekend, have a respectable record at 17-18. The rest are abysmal: Raiders (5-28), San Francisco 49ers (10-18) and Seattle Seahawks (11-19). That's a .341 winning percentage. Those teams have a collective .522 winning percentage in all other games since 2004.
"It's tough," said 49ers running back Frank Gore. "The 1 o'clock games are the toughest, just the time difference. You start slower. When you wake up, you're not really up until like the second half of the game. You don't even feel like yourself. So you've got to drink all the energy stuff you can take."
Teams based in the Eastern time zone don't have nearly as hard a time winning out west. Those 17 teams are a combined 61-71 (.462) going cross country the other way over the last decade.
The Arizona Cardinals are a hybrid: They play half their season on the equivalent of Pacific time and then shift to Mountain time when daylight savings ends in early November. They're 3-9 flying three time zones east since '04.
To combat the difficulties associated with heading east across three time zones, teams have adjusted their travel schedules, typically flying out on a Friday, making it a three-day trip. Raiders coach Dennis Allen changed the script even more for this season's opener, flying out on a Thursday to acclimate to the three-hour time change before an early kickoff that Sunday. The Raiders lost to the Jets 19-14.
San Francisco coach Jim Harbaugh has even employed extended stays.
The 49ers roomed in eastern Ohio and practiced at Youngstown State in late September of 2012 between a loss at Minnesota and a 34-0 road rout of the New York Jets the next week. In 2011, San Francisco rallied from a 20-0 deficit to stun the Eagles 24-23 in Philadelphia a week after a win in Cincinnati and practice in Youngstown.
Players also keep their watches on Pacific time, turn back their hotel clocks, guzzle more fluids on the plane and consume copious amounts of energy drinks and sleeping aids.
"You definitely feel funny after that long flight," said Bills running back Anthony Dixon, who spent the last four seasons in San Francisco. "Some things kind of ache a little more and it kind of puts you at a disadvantage. But we're all pros, and this is something you have to deal with."
NFL players are finely tuned athletes and creatures of habit. So, the trick is adjusting the schedule to keep their circadian rhythms from being affected while simultaneously trying to trick the body and mind.
"It's very important," Seahawks coach Pete Carroll said. "Changing the schedule hits us."
The Raiders haven't won a game in the Eastern time zone since Dec. 6, 2009, at Pittsburgh.
Then again, with 11 straight non-winning seasons, they haven't had much success any time anywhere.
"Being here the past nine years with the Raiders, you do see a little sluggishness, even in pregame warm-ups," Raiders long snapper Jon Condo said. "But that happens sometimes out here in Oakland on the West Coast, so it's hard to explain if it's because we're on the East Coast or not."
___
AP NFL website: www.pro32.ap.org and www.twitter.com/AP_NFL
___
AP Sports Writers Bernie Wilson, Josh Dubow, Janie McCauley, Tim Booth and John Wawrow contributed.