No more dread: Kyle Busch carries new perception of Pocono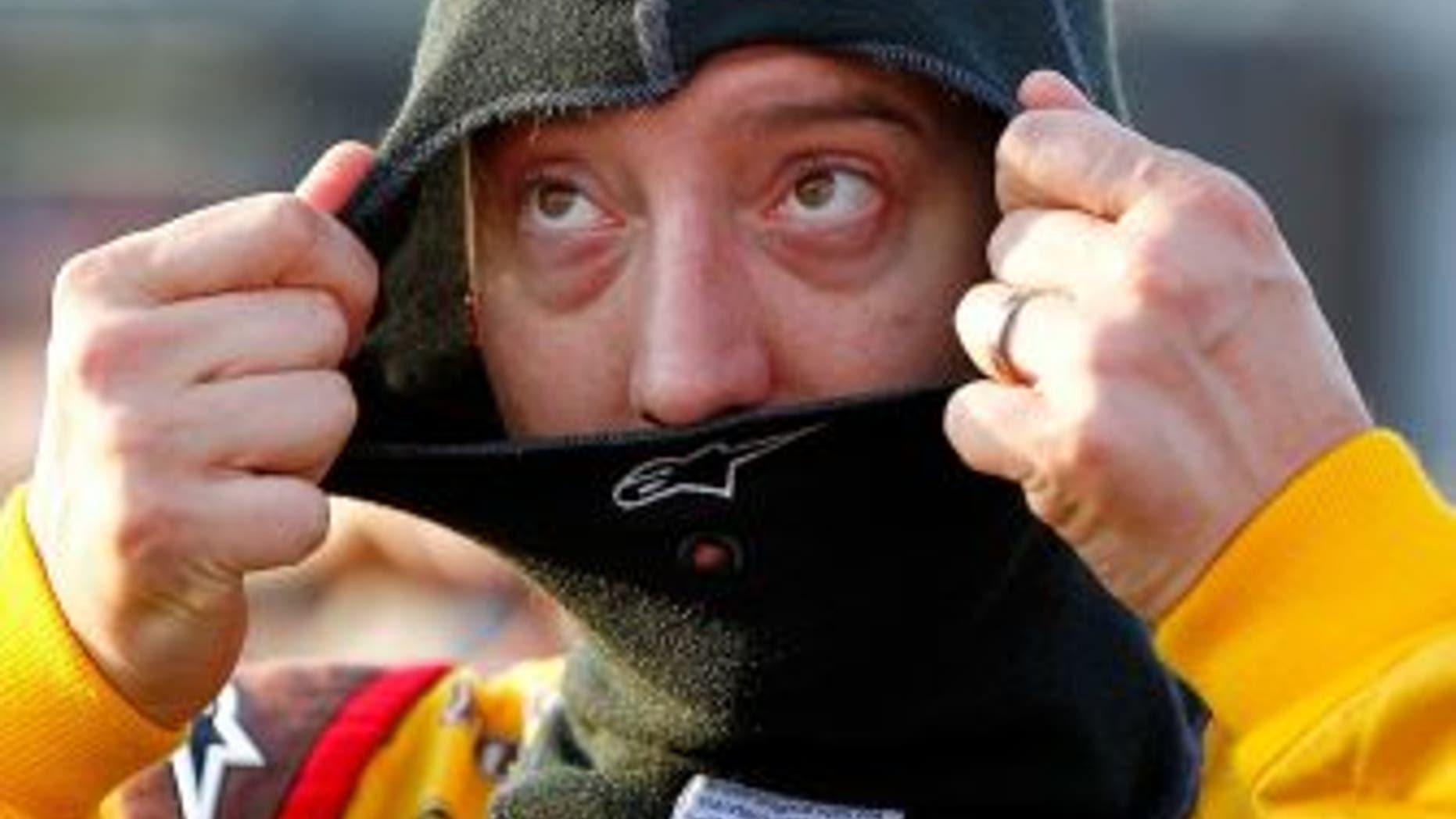 Kyle Busch used to dread trips to Pocono Raceway.
Now, the Joe Gibbs Racing driver actually looks forward to them.
That's certainly good news for Busch considering the triangular-shaped 2.5-mile track is on tap this weekend for the NASCAR Sprint Cup Series.
Since recording only three top-10 finishes in his first 12 Pocono starts, Busch has posted four top-10s in his last six.
Busch, who has finished a Pocono-best runner-up on two occasions, came home sixth and eighth, respectively, in last season's two races at the "Tricky Triangle."
Not surprisingly, confidence is high in the No. 18 JGR camp this weekend -- especially after Busch led 81 laps last Sunday at Dover and was in contention for the win before contact with Clint Bowyer and then the outside wall ended his day.
"Pocono used to be a place I didn'€™t look forward to going to but, lately, I've been looking forward to it because of (crew chief) Dave Rogers," Busch said. "I struggled there and Dave does a really good job of working with our teammates, with Denny (Hamlin) being so good there, we used some of the baseline stuff from the 11 car and tweaked it more to my liking.
"Denny is still way better than I am there, but Dave, along with everyone on the M&M's Peanut Butter team and JGR, have done a good job of giving me solid race cars and it's given me more confidence."
Busch enjoyed his best-ever season at Pocono in 2011, finishing third in June and second in August. The track was repaved, however, prior to the June 2012 race, and Busch believes it took he and his team some time to readjust.
"I think the repave set us back a bit, even Denny," said Busch, who finished with DNFs in each of the two Pocono races in 2012. "But we had two top-10s there last year and would like to turn those into top-fives, and maybe have a shot at a win there."
While Busch considers himself much-improved at Pocono, he still views the Pennsylvania track -- with three straightaways and three distinct corners, all banked at different degrees -- as a major challenge.
"The hardest part of the track, for me, is probably Turn 1, and then Turn 2 is the second-hardest, and then Turn 3 is the third-hardest," Busch said. "Turn 3 (was hardest) last year because of the patch they laid down. We couldn't go down low and get underneath somebody and get a run on them because, when you come off the corner, you're 8 to 10 mph slower than the guy on your outside, and they're just going to blow right by you going down the straightaway."
Passing at Pocono has always been difficult, mainly because of the track's three relatively flat corners, but Busch says there are places conducive to making moves.
"Most of your passing is going to be done probably through Turn 1 and off of Turn 1 and getting into Turn 2, if somebody can get a good run off of Turn 2, get back up high and get in line to get on that patch getting into Turn 3," the Las Vegas native said. "Besides that, in Turn 1, we just can't get the cars to turn down there because there's so much load on the bump stops from going 210 mph down the front straightaway and then trying to slow it down to about a 'buck-40' (140 mph).
"Turn 2 is kind of bumpy and kind of rough. There are different areas where you've got to maneuver through the tunnel turn to get your car right. If you miss it just by a little bit, you tend to knock the wall down off the corner, so it's tight."
Despite needing a couple races to get up to speed following the re-pave, Busch has actually come to like the changes and is optimistic Sunday's Pocono 400 will be one of the best Pocono races yet.
"To me, it was always a hard, tricky place, but it's actually finally started becoming a two-lane racetrack in Turn 3," he said. "You could run the bottom and you could run the top with what we call 'the grip strip.' Now, it's all grip, so it's all back to the bottom again and you can't really make much time up on the outside anymore.
"I know they had a pretty tough winter up there, so hopefully it weathered the surface even more and it widened the groove and we can put on some good racing there."