No. 25 Duke resumes push for ACC Coastal title when rival UNC visits seeking bowl eligibility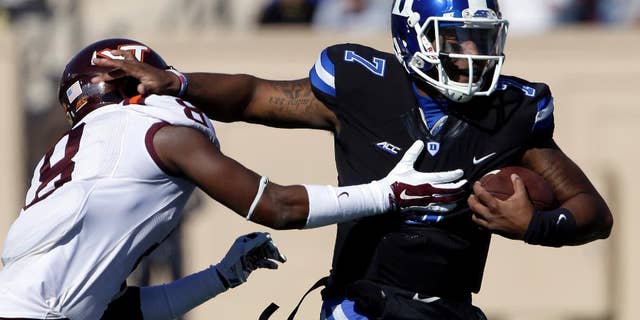 DURHAM, N.C. – All those things No. 25 Duke had done right this season went wrong in its last game.
If it happens again, the Blue Devils know they can forget about another Coastal Division title.
For Duke, the path to Charlotte is clear: Win two more games, starting Thursday night against rival North Carolina, and earn a title-game rematch with No. 1 Florida State.
It won't be easy for the Blue Devils (8-2, 4-4 Atlantic Coast Conference) against the Tar Heels (5-5, 3-3), who are one victory from bowl eligibility.
If there's one thing North Carolina's much-maligned defense does well, it's force turnovers. The Tar Heels have at least one takeaway in every game and 20 for the season.
Duke turned it over three times in both of its losses, including a 17-16 loss to Virginia Tech last Saturday in which the Blue Devils made an uncharacteristic rash of mistakes.
Half of the sacks Duke has allowed this season came in that game, and so did one-third of its turnovers. Additionally, kicker Ross Martin — who had made all 13 of his field goals — missed two of them, including a 40-yarder with 2:26 left that would have given Duke the lead.
"I don't necessarily know that we've put it all the way behind us," safety Jeremy Cash said. "I actually encourage a lot of my defensive players to keep it with them and use it as motivation going into this game."
The Tar Heels have plenty to play for, too. A win over either Duke or N.C. State will make them bowl eligible for the sixth time in seven years.
They've lost two in a row to the Blue Devils by a combined five points after winning eight in a row and 21 of 22 in the series.
"We know it's a big game. There's no question," coach Larry Fedora said. "I don't have to really say much about it. The kids know what's at stake. They know what we have to do."
___
Some things to know about the battle for the Victory Bell:
BALL SECURITY: When Duke takes care of the ball, the Blue Devils usually win. They had three turnovers in each of their two losses and three total in their eight wins. That's been the most important component of their 8-2 start. "Those guys are going to play error-free football," Fedora said.
PUTTING THE D IN DUKE: This shapes up to be the toughest test so far for Duke's improved defense. The Blue Devils allow just 18 points per game — their lowest average since 1972 — while North Carolina is scoring nearly 36 points per game and has reached the 30-point mark seven times. The Blue Devils have not allowed an opponent to score more than 25 in regulation.
AT HOME IN DURHAM: Both teams know how to win at Wallace Wade Stadium. The Blue Devils had their eight-game home winning streak snapped by the Hokies last week. North Carolina, meanwhile, is 11-1 in Durham since 1990 with its only loss coming in its last visit in 2012.
THE CHARLOTTE QBS: Anthony Boone of Duke and Marquise Williams of North Carolina are Charlotte natives who have long been friends. Williams says they trade texts "twice every week" and playfully tweak each other, saying Boone makes "some smart comments" to stoke the competitive rivalry. "Hopefully, I can crack one and get this (Victory) Bell back and I can ring it going back to Chapel Hill," Williams said.
PRIME TIME: This is just the fifth Thursday night home game in the history of Duke's program and the first since playing host to Army in 1994.
___
Follow Joedy McCreary on Twitter at http://twitter.com/joedyap