NFL countdown: Vikings vs. Rams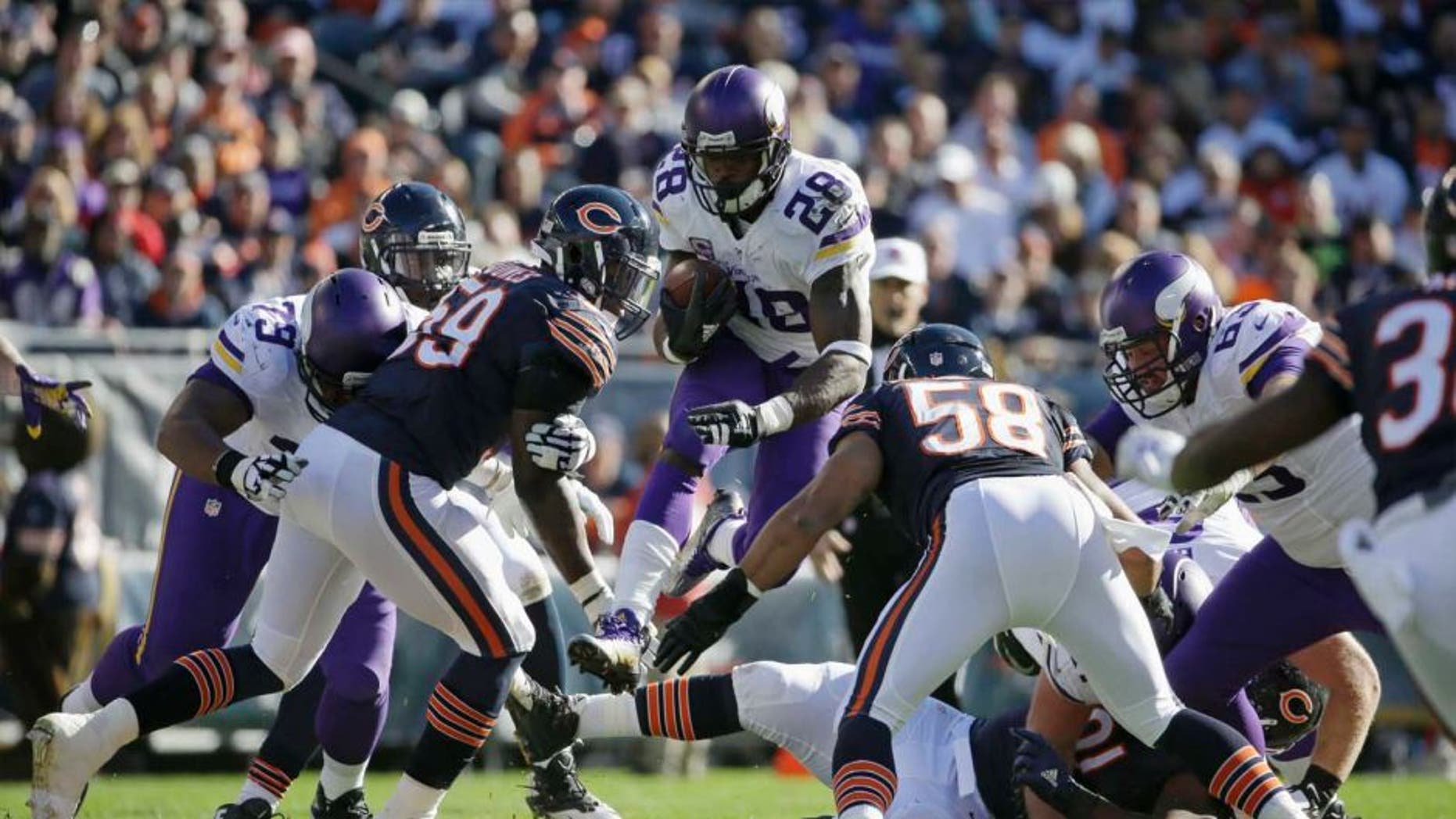 If you like old-school, hard-hitting football, Sunday's showdown in Minneapolis should hold your attention.
The St. Louis Rams (4-3) and Minnesota Vikings (5-2) mirror each other in many ways. They both feature defensive-oriented head coaches, with longtime former defensive aide Mike Zimmer leading Minnesota and former Chicago Bears defensive back Jeff Fisher leading St. Louis. While the Rams lead the NFC in sacks (26), the Vikings aren't far behind (18).
Zimmer's squad boasts the slightly better offense, averaging 21.0 points per game to the Rams' 19.3, but all signs point to this being a hard-fought game that goes down to the wire. The Vikings, 3-0 at home so far this season, seek a fourth straight win overall -- something they haven't accomplished since 2012.
Let's take a closer look at this Sunday's matchup, in which the Vikings are favored by 2.5 points.
3 THINGS TO WATCH
-- Rams rookie Todd Gurley. St. Louis' first-year running back is red-hot. He rushed for 133 yards in last week's Rams win over the 49ers, as Gurley surpassed 100 yards for the fourth consecutive week to start his career. According to STATS, Gurley is the first rookie to begin his NFL career with four straight 100-yard games since at least 1991. The Rams rookie has 575 total rushing yards -- the most in a player's first four pro starts in the Super Bowl era. The Vikings' defense had better be on alert, and ready to gang tackle.
-- Two great defenses. St. Louis is ranked sixth-best in the NFL in total defense; the Vikings are ranked seventh. Minnesota allows just 17.4 points per contest; St. Louis yields 17.9 points per game and has surrendered just four field goals over the past two weeks. Both teams feature pass rushes that, at times, can look ferocious, led by the likes of St. Louis defensive end Robert Quinn (5.0 sacks) and Minnesota counterpart Everson Griffen (4.5 sacks). Third-down plays could be key in this matchup; St. Louis went just 1 for 12 on third-down conversion attempts last week, and the Vikings have struggled on third downs all season (36.7 percent third-down efficiency rate).
-- Can the Vikings handle prosperity? Minnesota seeks a fourth straight win Sunday, and Zimmer bristles at talk of the Vikings being an NFC contender. But the fact is, big things are within Minnesota's reach, if it can maintain focus on a weekly basis. The Packers' one-sided loss to the Broncos last Sunday suddenly brings talk of contending for a divisional title into play for Zimmer's troops. But Minnesota certainly can't allow itself to overlook St. Louis, a gritty team with playoff aspirations of its own.
2 THINGS TO REMEMBER
-- St. Louis' passing game is all-or-nothing. The Rams average just 179.6 passing yards per game, and quarterback Nick Foles has just seven scoring strikes. The Rams do possess a downfield aerial attack, however. Foles, who had a 66-yard TD pass last week, has completed at least one pass of 25-plus yards in each game played this season. One St. Louis receiver that will be circled on Minnesota's scouting report: Tavon Austin, who has a team-high 24 receptions and four scoring grabs.
-- The Vikings aren't totally healthy. Minnesota's injury report was sizable at midweek, including key players like receiver Stefon Diggs (hamstring), linebackers Anthony Barr (lower back) and Eric Kendricks (ribs), and defensive tackle Sharrif Floyd (knee/ankle). Floyd has missed two straight games due to his ailments. St. Louis is an ascending team, so Minnesota will need as many hands on deck as possible.
1 KEY MATCHUP
Vikings defense vs. Todd Gurley
At 6-foot-1, 227 pounds, Gurley has drawn comparisons to his counterpart in this matchup, Minnesota's Adrian Peterson. Gurley has made a dramatic recovery from a torn ACL suffered last November while he was playing collegiately at Georgia, so that only adds to the comparisons to "All Day," who's no stranger to traumatic knee injuries. While Gurley doesn't necessarily possess sprinter speed, he can break off big runs with a fair amount of regularity, evidenced by his 71-yard run against San Francisco last Sunday. The Vikings' defense will have to stay disciplined on Sunday and flock to the football in numbers if it hopes to slow Gurley, who leads the NFL in average yards per rush attempt (6.12).
Follow Kelly Beaton on Twitter