Nationals catcher Wilson Ramos injures knee at the plate, MRI pending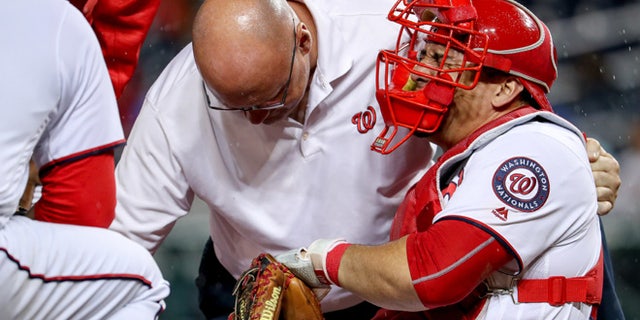 NEWYou can now listen to Fox News articles!
WASHINGTON (AP) – Wilson Ramos jumped to catch a relay throw on a play at the plate that appeared pretty harmless. Only this time, his right foot hit the dirt and he crumpled to the ground, clutching his right knee.
The All-Star catcher writhed in pain and was helped off the field during the Washington Nationals' 14-4 loss to the Arizona Diamondbacks on Monday night. The injury could be another major blow to the NL East champions, already expected to be without ailing pitcher Stephen Strasburg in the Division Series against the Los Angeles Dodgers.
Nationals manager Dusty Baker said Ramos would have an MRI on Tuesday to determine the extent of the damage. But the damage to the team's World Series hopes might already have been done.
"There's nothing you can do about it," Baker said. "You've got to play and nobody feels sorry for you, so we're not going to feel sorry for ourselves."
It was the same knee Ramos injured badly during the 2012 season, when he tore his ACL and medial collateral ligament. Ramos, who can become a free agent after the season, is hitting .307 with 22 home runs and 80 RBIs.
"He's a silent leader," said starter Tanner Roark (15-10), who took the loss after allowing five runs and four hits in four innings. "He goes out there and does it with his glove and behind the dish and his bat."
The injury happened on Yasmany Tomas' RBI double in the sixth when first baseman Ryan Zimmerman relayed home. Teammates immediately knew something was wrong with Ramos, who usually stays in the game after taking foul balls off just about every part of his body.
"Tough moment," said Roark, who is expected to follow Max Scherzer in Washington's playoff rotation. "Something just gave out and he pointed right to his knee."
Ramos called for medical attention and couldn't walk off under his own power. Baker and players hoped for the best, but it's clear they immediately feared the worst.
"You hate (for) it to happen this late, right before the playoffs, but our next step is try to figure out a way to play without Wilson," Baker said. "I've been mixing and matching this year and most of my life. Therefore, it's another obstacle and I've just got to try to go back to the drawing board and figure out something."
The Nationals have two other catchers on their September roster in Pedro Severino and Jose Lobaton. But they don't have someone who can replace Ramos' power and presence in the middle of the lineup.
Washington should have reigning NL MVP Bryce Harper back by the playoffs, if not sooner, after Baker said X-rays came back negative on the slugger's left thumb. Baker said Harper could be back within a few days, and second baseman Daniel Murphy is expected to be in the lineup for Game 1 against the Dodgers on Oct. 7 after being shut down with a strained glute.
Nationals pitchers allowed a season-high five home runs — two to Jean Segura, a three-run shot to Tomas and one each to Mitch Haniger and Jake Lamb.
Washington is one game up on the Dodgers for home-field advantage in the NLDS.
BLAME THE RAIN
Including a 20-minute rain delay that started one pitch in, the top of the sixth inning took almost an hour to play. The Diamondbacks sent 11 hitters to the plate, scoring five runs on six hits with an error sprinkled in for good measure.
TOMAS' NIGHT
Tomas, a Cuban countryman of late Miami Marlins pitcher Jose Fernandez, made a running catch at the wall in the second inning and had a big night at the plate. Tomas was 2 for 5 with five RBIs, including his 30th home run of the season.
After Fernandez's death in a boating accident early Sunday at age 24, Tomas tweeted in Spanish calling Fernandez a friend and thanking him for the moments he provided in baseball. After the game he declined to talk about Fernandez.
GOODWIN IN LOSS
Starting in place of Harper, Nationals rookie outfielder Brian Goodwin hit his first major league triple and drove in two runs. With nothing but home-field advantage in the first round left to play for, Goodwin could see a lot of action the rest of the week.
TRAINER'S ROOM
Diamondbacks: Manager Chip Hale said RHP Rubby De La Rosa will have a stem cell injection in his elbow Tuesday in an attempt to avoid a second Tommy John surgery.
Nationals: LHP Sammy Solis was activated off the disabled list after missing more than a month with shoulder inflammation.
UP NEXT
Scherzer (18-7, 2.82 ERA) continues his Cy Young Award campaign against Arizona's Matt Koch (1-1, 1.29), who will make his first major league start.