MMA Rundown:  Rousey Wins Title, Alves Upset, Flyweight Tournament Controversy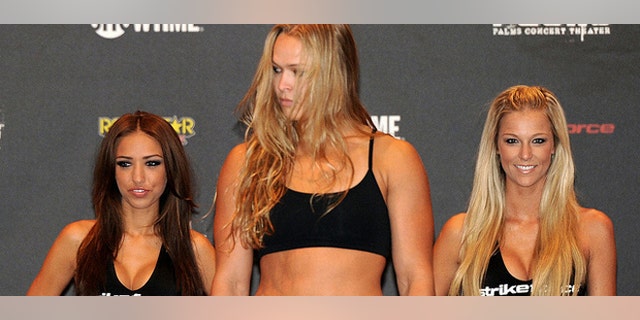 Strikeforce Main Event
It took a little longer than her previous four bouts, but in the end the result was the same. "Rowdy" Ronda Rousey, 24, defeated Miesha Tate, 25, for the Strikeforce bantamweight championship after locking in her patented armbar.
Tate came out swinging and Rousey gave back as well, but early in the bout Rousey did what she does and locked in an armbar.
Miraculously, Tate escaped from the move and continued to press Rousey until she found herself on the ground with Rousey delivering a series of punches.
Rousey then worked herself into position to take the arm and gain the submission at 4:27 in the first round.
Rousey dedicated the win to her deceased father.
After the match up both competitors gave each other their due but didn't bury the hatchet in what turned into a fierce rivalry.
"I don't feel that bad about it," said Rousey of Tate's battered arm which kept her on the mat minutes after she was submitted.
UFC on FX 2
Thiago "Pitbull" Alves was on track to a dominating decision win this past Friday over Martin Kampman in the welterweight division until…
In the final minutes of the last round when Kampmann shocked Alves and the Australian crowd with a guillotine choke to earn the com from behind submission victory.
The Flyweights are here
Joseph Benavediz look focused and ready to capture UFC gold after his knockout win over Yasuhiro Urushitani on Friday.
After blowing off the pre-fight handshake, Benavidez won a close first round.
But 11 seconds into the second round, he blasted Urushitani with a devastating right-hook and followed it up with even more blows before the ref got involved and awarded Benavidez the win by TKO.
Benavidez moves to the flyweight tournament finals.
Controversy
Ian "Uncle Creepy" McCall is the the #1 flyweight in the world, but Demetrious "Mighty Mouse" Johnson has competed out of his weight comfort zone for the bantamweight championship.
Both men fought a tough first two rounds with Johnson getting in his fair share of shots. But in the third McCalll took over and dominated.
To the crowd's chagrin, the judges initially awarded the bout a split decision victory to Johnson.
McCall stormed from the cage after the announcement.
Then, at the post fight presser, it was revealed that the judges actually ruled the bout a draw in which case a fourth and deciding round would be held to avoid stalling up the tournament.
By then it was too late and now a rematch must take place with the winner to face Joseph Benavidez for the flyweight title at a later date.
It was the exact scenario the UFC was trying to avoid. Blame the Australian commission.
Follow me on twitter @MrVicGarcia
Follow us on twitter.com/foxnewslatino
Like us at facebook.com/foxnewslatino