MMA fighter Dennis Bermudez doesn't want to have to wait for a title shot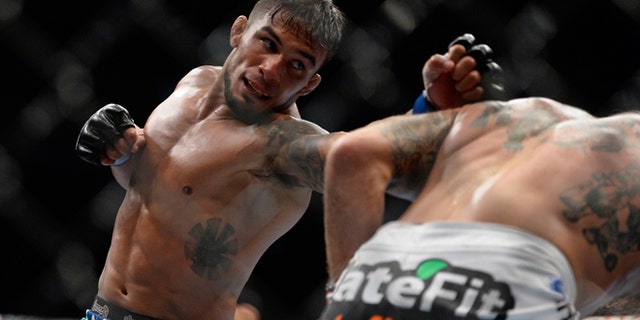 NEWYou can now listen to Fox News articles!
According to UFC fighter Dennis Bermudez, there is a master plan that involves his taking on Ricardo Lamas, defeating him, and then getting a shot at the featherweight title.
Perhaps not coincidentally, Bermudez will step into the octagon against Lamas Saturday at UFC 180 in Mexico City. And it doesn't seem altogether unlikely that the winner of that match just might get a shot at longtime champ José Aldo, who recently defeated Chad Mendes.
"It's part of our strategy to get me to a title fight in as straight a line as possible," Bermudez told Fox News Latino.
Does he expect the No. 4-ranked Lamas to put up a stiff fight?
"Of course," he said. "He's a tough fighter."
He paused for a moment. "But I'm a little tougher."
Overall, Bermudez has a 14-3 record, but his first fight under the UFC banner was in Dec. 2011, as the finale of "The Ultimate Fighter 14."
He lost to Diego Brandão but has reeled off seven straight wins since, most recently a July win over Clay Guida. He is now the No. 7 fighter in the weight division.
Lamas is No. 4. And the No. 5 challenger, Conor McGregor, seems to be the current media fave.
And people don't seem to like it much when Bermudez says things like, "[The idea that McGregor should get the next title shot] is bullshit," he told Submission Radio on Sunday. I'm just trying to stick with what I'm good at, you know. And right now it's focusing on the guy in front of me and just worrying about this one win. If I keep winning, the belt is going to land right across my lap."
Born and raised in Saugerties, N.Y., the 27-year-old Bermudez is the child of a Puerto Rican father and a British mom. Which helps explain the tattoo on his ankle—the one of crisscrossing U.K. and Puerto Rican flags.
Bermudez began wrestling in 7th grade and continued through college at D2 Bloomsburg University in Pennsylvania. He only started MMA fighting in 2009.
"My fighting style is similar to my wrestling style in college," he said. "My method is to try to get the other guy to use a lot more energy than I'm using. Getting on top of him, say, so he has to struggle to get free while I kind of lie there."
Of course, that can also lead to long, drawn-out wars of attrition like Bermudez's February 2013 victory over Matt Grice.
"I don't have tons of knockout power," Bermudez conceded, but that doesn't mean that he can't dish out the punishment when necessary.
"After I knocked out Jimy Hettes [in March]," he said, "I realized that I had beaten people in every way, shape and form you can. That makes me hard for other fighters to train for."
A self-described "family man," Bermudez likes to spend time with his almost 2-year-old son, Maddox.
"He's already running, head-butting people," Bermudez said. "He puts on boxing gloves and tries to punch me. He even attempts to do pull-ups."
The proud papi said that he plans on showing Maddox the MMA experience "from the exercise point-of-view, and I want him to be able to defend himself," he told FNL. "But competing … I don't plan to push it on him."
Bermudez's upcoming battle may present one other difficulty: The fact that Lamas is part Mexican may put the Mexico City fans solidly in the opposite corner.
"It is a little bit enemy territory," he told FNL, "being Puerto Rican and given the rivalry in boxing between the two places. Hopefully, they will be rooting for my fighting style instead."