'Ultimate Fighter: Latin America's' Fabrício Werdum Eager To Take On Cain Velasquez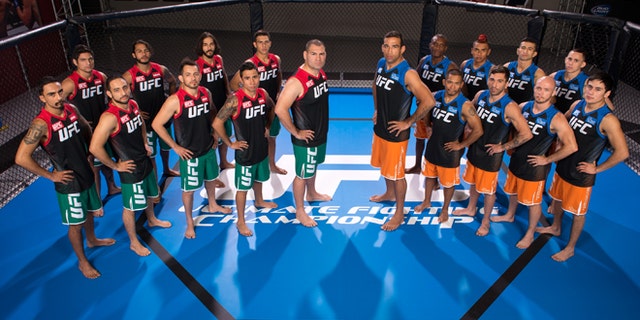 NEWYou can now listen to Fox News articles!
The hook for the Latin America edition of "The Ultimate Fighter" series is that heavyweight UFC champ, Cain Velasquez, coached a team of eight Mexican fighters while top-ranked heavyweight contender Fabrício Werdum, 37, mentored eight contenders from Latin America.
"One of the great parts of this experience," Werdum told Fox News Latino last week, "is that these kids really want to learn."
The fighters on the two teams—all of them either bantam- or featherweights—have very different levels of experience. Alejandro Dominguez on Team Velasquez has 28 pro bouts under his belt, while Fredy Serrano of Team Werdum has all of one, though he also owns a Pan American Games medal in wrestling.
"We got them to work with the best trainers in the world, people like Rafael Cordeiro," Werdum said in an interview in Spanish, "so they really had a chance to pick up some technique."
The show—which began airing on Fox Deportes on Monday—was first announced immediately after Werdum (18-5-1) beat Travis Browne in April and earned the title shot against the 32-year-old Velasquez (13-1).
The champ, Velasquez, is a California-born child of Mexican undocumented immigrants who was a top wrestler at Arizona State University.
The challenger, Werdum, was born in Porto Alegre, Brazil, and won 4 Pan-American gold medals in jiu jitsu before switching entirely to MMA. He learned Spanish while living in Madrid for 10 years.
While Velasquez and Werdum both weigh around 240 pounds, none of their charges for the show can weigh more than 145 pounds for a bout. Does that change the training that the fighters have to go through?
"Not really," Werdum said. "The way you practice changes depending on the type of fighter you're facing. If they fight a jiu jitsu style or a wrestling style or a Muay-Thai style, you prepare differently."
The taping of "The Ultimate Fighter: Latin America" took place during the early summer. It concludes on Nov. 15 in Mexico City, with Velasquez and Werdum fighting for the UFC heavyweight title.
A number of Latino fighters have emerged from "The Ultimate Fighter" series, starting with the first season, when the Mexican-American Diego Sanchez defeated Kenny Florian, who is of Peruvian descent. This is the first season that the show is being televised in Spanish and only Latin American fighters are competing.
"I'm eager to show the world how we train these kids," Werdum told FNL, "even as we show them how much they can make of themselves."