Michigan AD condemns 'vicious comments' toward player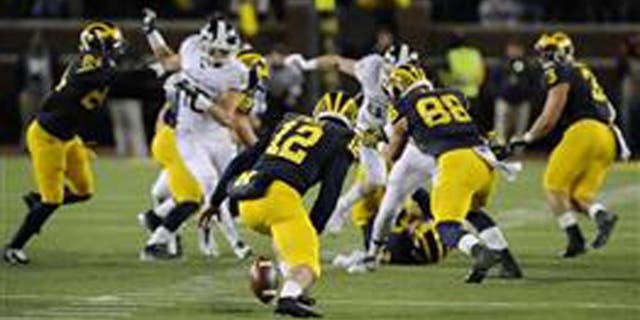 NEWYou can now listen to Fox News articles!
ANN ARBOR, Mich. (AP) -- Michigan's athletic director has released an open letter urging fans to avoid "thoughtless comments" after a punting mistake cost the Wolverines Saturday night's game against Michigan State.
Jim Hackett does not mention punter Blake O'Neill by name, but it is clear he is concerned about what O'Neill might face on social media.
In his letter Sunday, Hackett writes of the "shocking reality" that the Michigan community would send "hurtful, spiteful and vicious comments" to one of its students.
He says such remarks from a "small minority" do not reflect the university. He adds that the "program I know at Michigan" is "about the team, the team the team."