Michgan's Robinson: Late skirmish with Michigan State helped fire up Wolverines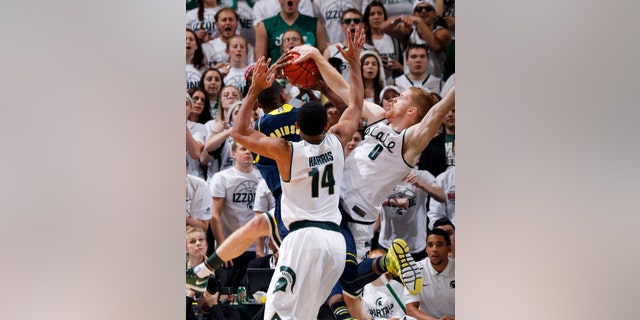 ANN ARBOR, Mich. – Glenn Robinson III drove to the basket, the ball was knocked out of bounds — and then players on both teams had to be separated as last weekend's Michigan-Michigan State game became increasingly testy down the stretch.
A few minutes later, it was Wolverines coach John Beilein who was being restrained by one of his players during a dispute with an official.
"I knew from then on we were going to win that game, just because of the mentality that we have," Robinson said. "I've never seen a group of guys so committed and bonded with each other as this team."
Sure enough, Michigan went on to an 80-75 victory, taking over first place in the Big Ten with that emotional win. The 10th-ranked Wolverines host Purdue on Thursday night — and although a letdown is certainly possible for Michigan, Robinson expects he'll be fired up to play the Boilermakers, as usual.
"I think that's something that's going to continue — being from Indiana, my dad played there, and there was a lot of talk about maybe I should have went there," Robinson said. "No doubt in my mind I'm at the right place, but I love playing against Purdue, IU, those Indiana games."
Robinson's father was a star at Purdue, eventually becoming the No. 1 pick in the NBA draft in 1994.
Robinson struggled against Michigan State, scoring only nine points on 2-of-8 shooting and contributing one rebound and one assist. After Robinson had a shot blocked out of bounds by Michigan State's Russell Byrd with 7:49 to play, Robinson and Byrd were nearly nose to nose for a brief moment. Robinson walked away quickly from the ensuing skirmish, but Michigan's Jordan Morgan and Michigan State's Keith Appling received technical fouls.
With 4:01 remaining, an irate Beilein was held back from an official by Michigan's Nik Stauskas in another example of how tense this game between two rivals had become.
Beilein was back to his more subdued self Wednesday, looking ahead to the game against Purdue. He was asked if he knows any date when big man Mitch McGary might start rehab from his back injury.
"No, not that I'm going to share," Beilein said. "It's not going to be exciting when I say to you guys, 'Oh, he was stretching today.'" ... I don't think it's going to be anything that's going to be earth shattering."