Michael Bisping takes aim at Anderson Silva for positive drug test excuse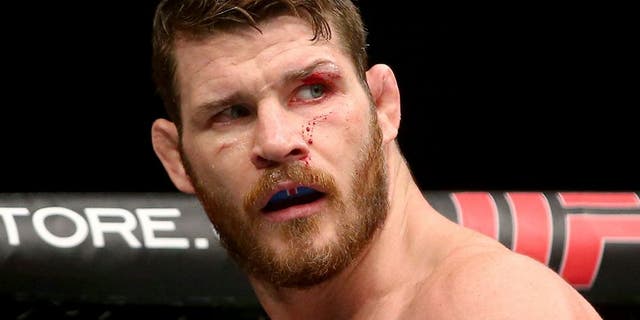 Michael Bisping is no stranger to talking a little trash ahead of his fights and within minutes of the UFC announcing that he would face Anderson Silva in London on Feb. 27, he fired off the first salvo of what will eventually be many barbs aimed at the former middleweight champion.
Bisping took to Twitter following UFC president Dana White announcing the fight as the five-round main event that will air live and exclusively on UFC Fight Pass.
The comment took aim at Silva's hearing before the Nevada State Athletic Commission in August where the Brazilian claimed that a tainted sexual enhancement product from Thailand that was given to him by a friend led to a positive result in a pair of drug tests given both before and after his UFC 183 bout with Nick Diaz.
Silva tested positive for two separate performance-enhancing drugs in testing done by the commission.
Silva claimed the drug that was the cause of his positive test was similar to Viagra or Cialis and was not available for purchase in the United States. It was bought in Thailand and brought to him at a later date.
Needless to say the commission didn't buy it and Silva was suspended for one year.
Bisping's jab at Silva was followed by the hashtag that noted both fighters will be tested at random by the UFC's new policy, which is policed and enforced by the United States Anti-Doping Agency.
Bisping likely has good reason to care about the drug-testing policies considering his long history going up against fighters who have been noted users of performance-enhancing substances in the past.
Silva now becomes Bisping's sixth opponent who has tested positive for a banned substance, been suspended for a drug testing snafu or been a past user of testosterone replacement therapy (which is now illegal in MMA) since he joined the UFC in 2006.