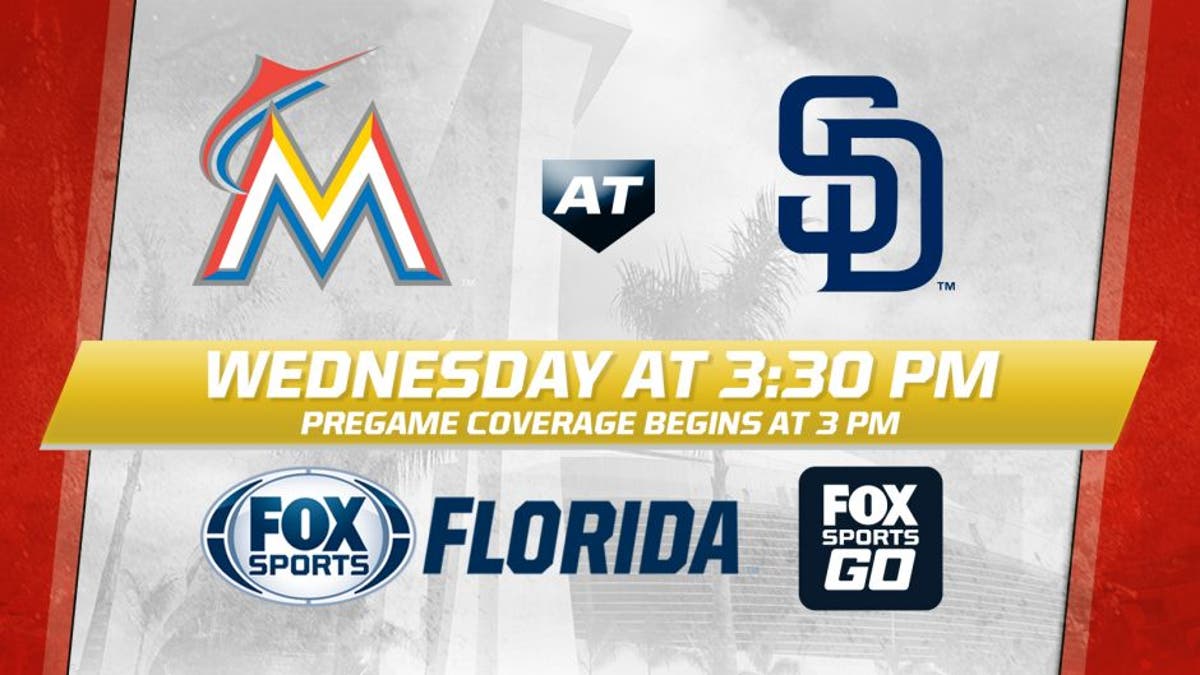 TV: FOX Sports Florida
TIME: Coverage begins at 3 p.m. ET
SAN DIEGO -- All things are pointing toward a Miami Marlins sweep Wednesday afternoon as they conclude a three-game series -- and a nine-game road trip -- against the San Diego Padres at Petco Park.
The Padres are an incredible 1-20 this season in the final games of series. They are also starting a 23-year-old Rule 5 draftee who has a 9.50 ERA as right-hander Luis Perdomo (1-2) will be facing Miami left-hander Justin Nicolino (2-3, 4.76 ERA).
"I don't put much stock in our record in the final games of series other than to know we have to do better to be successful," Padres manager Andy Green said recently. "We're playing hard. I don't think you can find a reason why the record is what it is."
And if you need another stat to favor the Marlins, the Padres are 0-7 in day games this season. Oh, they have also lost four straight to fall to 14 games below .500 for the first time this season.
As for the Marlins ...
"We're building a little momentum," said Marlins manager Don Mattingly after Tuesday night's 5-2 victory over the Padres. "A win tomorrow would give us a winning road trip going into a 10-game homestand (that ends with four games against the Chicago Cubs)."
The Marlins improved to 20-15 on the road Tuesday.
Now it is up to the 24-year-old Nicolino, who will be facing the Padres for the first time. Nicolino is 1-1 on the road this season with a 4.63 ERA. He is also 0-1 in day games. Nicolino has worked 51 innings over nine starts. Opponents are hitting .313 against the Florida native, who has allowed 62 hits and 14 walks for a 1.49 WHIP.
The wildcard is Perdomo, who was force-fed into the Padres rotation when Andrew Cashner went on the 15-day disabled list with a neck strain June 11 a week after the Padres traded James Shields to the Chicago White Sox.
This will be Perdomo's third start and 18th appearance. His most recent start was June 5 against Colorado when he gave up six runs on eight hits and a walk in 4 1/3 innings against the Rockies at Petco Park. In his two starts, he has given up eight runs on 12 hits and three walks in 6 1/3 innings.
He is, however, coming off his most impressive outing of his rookie season.
Perdomo entered the June 10 game at Colorado with one out in the first after Cashner was forced to depart with his neck issue. Perdomo worked a career-high 5 2/3 innings, giving up four runs (three earned) on eight hits and a walk with a career-high seven strikeouts. He stretched out to 100 pitches.
"Remember, this is a kid who before this year never pitched higher than Class A," Green said recently. "I like his approach, his attitude. He's game for anything. Nothing really gets to him. He loves to play. We've seen a lot of improvement recently.
"This is a kid who I think has a chance to pitch well at this level."
As for being game for anything. Perdomo has appeared in one game since June 10 -- as a pinch-runner. And he stole a base.