Miami Marlins at Arizona Diamondbacks game preview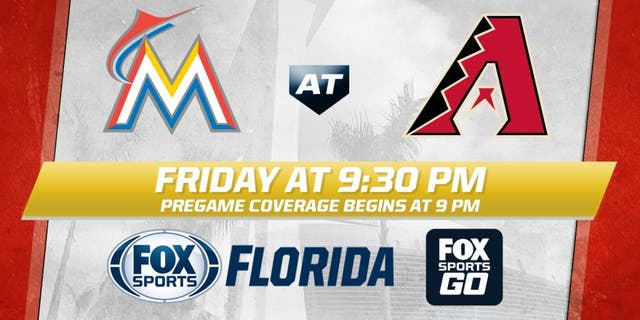 NEWYou can now listen to Fox News articles!
TV: FOX Sports Florida
TIME: Coverage begins at 9 p.m. ET
PHOENIX -- Only Atlanta has fewer home victories than the Arizona Diamondbacks this season, and it is not hard to figure.
The pitching staff that the D-backs sought to overhaul in the offseason has had a rocky time at Chase Field so far, notwithstanding the fact that Chase stands as one of the most difficult pitchers' parks in the majors because of its altitude, hard ground and thin air.
Arizona will bring a 5.55 home ERA into a three-game series against Miami that begins on Friday, when left-hander Patrick Corbin is to oppose Marlins left-hander Justin Nicolino. The Marlins have won five straight in the series.
About the only salvation the D-backs have had at home recently has come from free agent Zack Greinke, who has won four of his last five home starts but is not scheduled to face the Marlins this weekend.
The D-backs (26-36) are 10-22 at Chase Field and have lost 18 of 27 overall since closing to within one game of .500 on May 10. Only Atlanta (6-23) is having more trouble at home.
Arizona three-time All Star Paul Goldschmidt has begun to heat up recently, a good sign for an offense that can use all the production it can get at home.
Goldschmidt is slashing .367/.483/.653 with five doubles, three homers, 11 RBIs and two stolen bases over the last 14 games, moving his season batting average to .270.
While Greinke (8-3) and Goldschmidt are rolling, Arizona manager Chip Hale knows it will take more.
"We need to keep the line moving," Hale said. "It's important. They all feed off each other. You can't rely on just 'Goldy' hitting and Greinke pitching."
Miami has one of the best road records in the NL into the series, which brings former Los Angeles Dodgers manager Don Mattingly to Arizona for the first and only time this season.
The Marlins (31-29) had a season-high 18 hits in a victory at Minnesota on Wednesday and are 17-13 on the road, putting an exclamation point on that with a seven-game winning streak in late April that included a four-game sweep at Dodger Stadium in Mattingly's return to L.A.
Only the Cubs, San Francisco and Washington have appreciably better road records than the Marlins this season, and Miami has done a lot of its work without big bopper Giancarlo Stanton playing a prominent role.
In the last 24 games, All-Star Stanton is slashing .114/.202/.205 with two homers and five RBIs while striking out 43 times. He struck out five times in the Marlins' 10-2 at Minnesota on Wednesday night is hitting .197 this season.
All the same, Stanton is Miami's leading vote-getter on the All-Star ballot. Mattingly on Wednesday said he would favor center fielder Marcell Ozuna if he had to pick a Marlins all-star. Ozuna is hitting .324 with 11 doubles, 11 homers and 34 RBIs.
Ichiro Suzuki and Ozuna had seven hits in the three-game series at Minnesota and former Arizona third baseman Martin Prado had six. Ozuna (.324), Christian Yelich (.320) and Prado (.311) are in the top 10 in the NL in hitting.
Suzuki. 42, has 4,251 career in 24-plus professional seasons, five short of Pete Rose's major league record. Suzuki has 2,973 hits in 15-plus seasons in the U.S. after getting 1,278 hits in nine seasons with Orix in Japan. Rose played 24 seasons.