Miami Marlins' All-Star Giancarlo Stanton Takes Fastball To Face, Likely Lost For The Season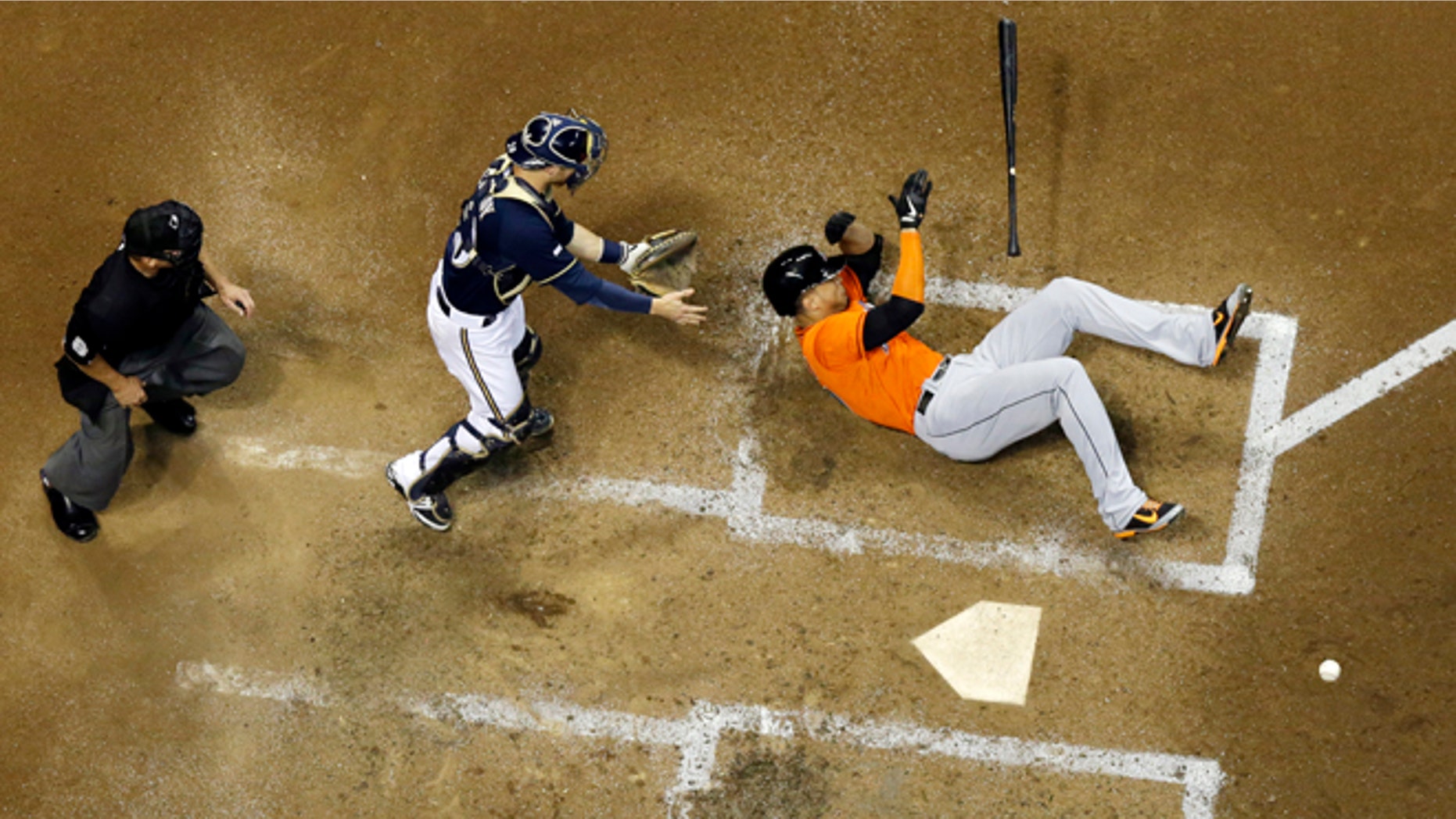 MILWAUKEE (AP) – For the first time in more than two weeks, the Milwaukee Brewers were able to win two games in a row.
Yet the only topic anyone was talking about was the beaning of Miami Marlins star Giancarlo Stanton, hospitalized after getting hit by a fastball from Mike Fiers.
Stanton sustained multiple facial fractures, dental damage and cuts that needed stitches after being struck in a 4-2 loss to the Brewers.
Marlins manager Mike Redmond said Stanton, the major league RBI leader and a top candidate for the National League MVP award, likely was done for the season.
Fiers hit Reed Johnson in the hand with his next pitch, and that triggered a bench-clearing brawl.
Fiers said he did not want to get into what happened after Johnson was hit.
"It was heat of the moment stuff," Fiers said. "I just want to make sure that Stanton is OK. I just want to send my thoughts and prayers and everything to Stanton."
"You never think of throwing at somebody like that. Never in my life has that happened. I just feel very, very sad that I hit him. I'm sorry to their teammates, their fans, his family. It is just tough."
The Brewers gained some momentum in the playoff race after they lost 13 of 14 to fall out of the NL Central Lead. The Brewers are 1 1/2 games behind Pittsburgh for the second NL wild-card spot.
Brewers catcher Jonathan Lucroy said Fiers was trying to get a fastball up to Stanton.
"(Fiers) gets a lot of (strikeouts) on fastballs up, and the ball just got away from him," he said. "You saw what happened. It was definitely a scary moment. You never wish that on anybody. It's just a freak accident."
Johnson said the injury was devastating to the Marlins.
"The reason it's a tough one is we've probably lost the MVP of the National League for the rest of the year," he said. "I've been around for a couple of those. I saw it with Marlon Byrd and Jason Heyward. It's obviously going to take time to get him back."
Stanton, who is partly of Puerto Rican descent, is leading the league in home runs (37), runs batted in (105), bases on balls (94), slugging percentage (.555) and on-base plus slugging (.950).
Fiers (6-2) pitched five innings. He is 6-1 since being recalled from the minors to join the rotation Aug. 9. Francisco Rodriguez pitched a scoreless ninth to record his 41st save in 46 chances.
Nathan Eovaldi (6-11) lasted only four innings, giving up four runs and eight hits.
Ryan Braun and rookie Matt Clark hit home runs for Milwaukee.
Braun led off the second with his 19th home run of the season to give Milwaukee a 1-0 lead. It was his first home run since Aug. 31.
Follow us on twitter.com/foxnewslatino
Like us at facebook.com/foxnewslatino