Metta World Peace says he's leaving Lakers, and Nick Young may be right behind him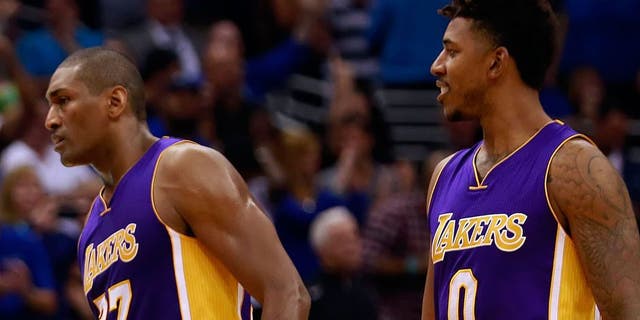 Lakers fans may be saying goodbye to Metta World Peace and Swaggy P, fan favorites and two of the biggest characters in franchise history.
The Lakers held their exit interviews Thursday, and World Peace said Magic Johnson told him the Lakers won't bring him back next season while Nick Young said he wants to play for a playoff team.
Young, who has a $5.6 million player option for next season, told reporters he's "60/40" on whether he will exercise it though he said the Lakers were "begging me to pretty much stay" and joked that they signed him to a $150 million lifetime contract "under the table".
World Peace hasn't played much this season but has been a valuable veteran to teach the young Lakers, and while the 37-year-old told reportershe'll likely try to play elsewhere next season, he could be a good future fit for Lakers coach Luke Walton's staff.
Metta got mobbed by teammates after scoring a season-high 18 points as the Lakers won their home finale this week the last of many memorable moments in his six-year Lakers career, which included winning a championship in 2010.
Young hasn't helped the Lakers win a title during four seasons in LA, but has been endlessly entertaining.
Copyright The Associated Press. All rights reserved.