MCREYNOLDS: Momentum Matters For Chase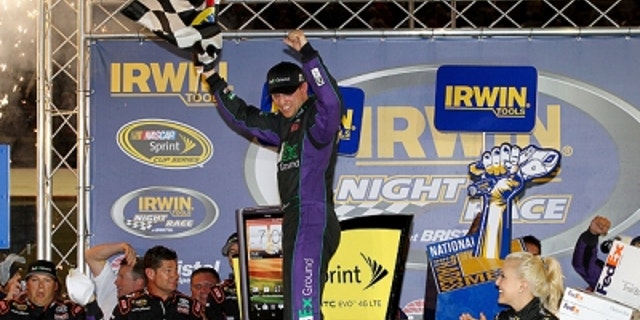 Will Jimmie Johnson and crew chief Chad Knaus be hampered by recent setbacks? Johnson has endured problems in two of the last three NASCAR Sprint Cup races.
Johnson and Knaus and the race team are professionals. As Johnson said in his Atlanta postrace interview, they just ran out of racetrack over there when he was involved in a late crash with Ryan Newman and Sam Hornish Jr. I can't say whose fault that was. It was three drivers right after a restart late in a race trying to get all the spots they could.
It just was one of those racing deals. But as he said, they had a top-five run going at the time of the crash and he has locked into the Chase for the Sprint Cup.
When they blew up at Michigan two weeks ago, Johnson was going to win the race. So that's what they hang their hat on.
It's not where they finished at Michigan, it's not where they finished at Atlanta, what they hang their hat on is how they were running in these two races, especially Michigan. It was their race to win had it not been for the engine failure, which is no fault of the driver, the crew chief or anybody else on that race team.
I know everybody wants to say that it doesn't matter how you run right now, that Tony Stewart from last year is the prime example that it's not how you run getting into the Chase, it's how you run in the Chase.
Stewart didn't win until the Chase started, then won five of the 10 races and went on to win the title.
I have my own belief that Stewart last year was an anomaly.
I think it's important to be running well right now. It's important to carry momentum into the Chase.
And honestly, when I look at the top-10 standings right now, to me the only drivers that have had a couple of rough weeks are Greg Biffle, our points leader (even though he won Michigan two weeks ago, he had a rough Bristol and he had a rough Atlanta) and Stewart.
Stewart has had four absolutely terrible weeks of racing, with his best finish just 19th. Not all of his doing, but it's important to be running well right now and that's where I think Denny Hamlin and Darian Grubb are really shining.
If you look at Hamlin's eight races leading into Bristol, he had five finishes outside the top 20, including four races he didn't even finish. He was just about to fall out of the top 10 and now they have followed that up with back-to-back wins.
That's important.
It's important to be running well and have good finishes to go along with it right now.