McCaffrey takes over the Rose Bowl with stunning 63-yard punt-return TD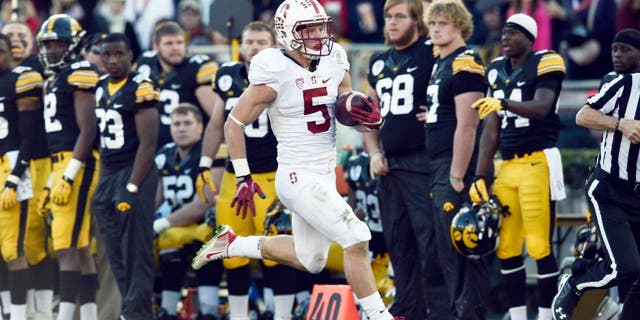 On the first play of the 102nd Rose Bowl, Stanford's Christian McCaffrey blew past Iowa for a 75-yard touchdown. While that play was phenomenal, it doesn't hold a candle to what the Heisman Trophy runner-up did in the second quarter.
Leading 21-0, the sophomore sensation received a punt at the 37-yard line and put on an incredible show. McCaffrey danced and dodged past Hawkeyes defenders and sprinted 63 yards for his second touchdown of the game.
With that punt-return touchdown, McCaffrey joined USC's Reggie Bush and Clemson's C.J. Spiller as the only players to score touchdowns via a run, catch, throw, kick return and punt return.
McCaffrey has had many highlight-reel plays this season; however, this punt return may take the cake as his best of the year.