Matt Serra: The best is yet to come for Sage Northcutt in the UFC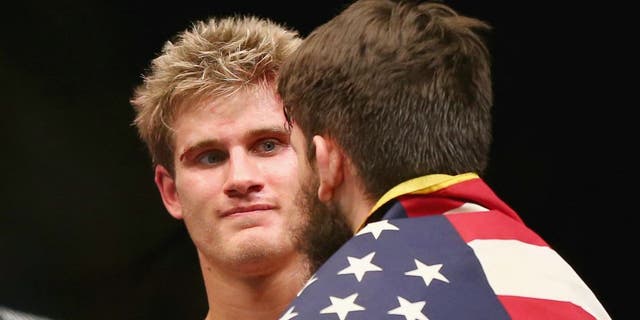 NEWYou can now listen to Fox News articles!
Sage Northcutt still has a long career in front of him after debuting in the UFC at just 19 years old, but following his first loss in January, the Texas native found out just how a bad performance can take you from the top of the world to the bottom of the trash heap.
Northcutt fell victim to a second-round submission courtesy of Bryan Barberena at FOX UFC Fight Night in New Jersey. Immediately after the fight was over, he received a ton of criticism for his performance and failing to defend the choke that was used to put him away.
Northcutt was accused of tapping out early before Barberena even had the submission fully locked on and the reaction on social media towards the 19-year-old prodigy was nothing short of vitriolic.
Former UFC welterweight champion Matt Serra knows how good performances are praised and bad performances are panned and he says Northcutt should just shake off the loss and realize his best days are still ahead.
"First of all if you ever meet the kid, I'm talking 'Brady Bunch' nice. It's almost ridiculous how nice this kid is," Serra said about Northcutt when speaking to FOX Sports. "Such a good kid so you really want him to do well but I think his best fights are ahead of him. The kid is 19."
Serra was with UFC president Dana White several months ago when they discovered Northcutt as part of the reality series "Looking for a Fight." Northcutt quickly burst on the scene with back-to-back victories within two months and it looked like the UFC had a new star on its hands.
But Northcutt came up short in his third showing although Serra says in reality there's an argument to be made that he shouldn't have been fighting in the first place.
Northcutt was reportedly dealing with strep throat the week of the fight, but insisted on still competing when it came time to step into the Octagon. Serra knows White regrets the decision to allow him to fight while knowing just how sick he was that week, but Northcutt wanted to compete and it was tough to turn him down.
"I know Sage Northcutt's getting a lot of crap for this last fight," Serra said. "If Dana was here, he would show you a picture that would make you not want to eat your lunch. That kid had an infection in his throat, but it looked like something out of "Aliens." Did he tap early? Yeah, he probably did but that kid probably shouldn't have been fighting. Dana's kicking himself saying 'I shouldn't have let this kid fight' but in hindsight the kid was begging to fight."
As far as the future goes, Northcutt certainly seems in good spirits and he has already planned a pilgrimage to Montreal to work with the Tri-Star gym and coach Firas Zahabi ahead of his next fight in the UFC.
Serra's best advice to Northcutt is to just move past this first loss and focus on the future because he has a lot of years left in the sport and this is just one bump in the road.
"He's 19," Serra said. "I had my first fight in the UFC at 26 and I lost to a spinning back fist and I've grown so much since then. By the time this guy's 23 he could be a different guy for the better."