Massachusetts man arrested for allegedly hitting Red Sox manager with can of beer during victory parade
A Massachusetts man was arrested Wednesday after he allegedly threw a can of beer at Boston Red Sox manager Alex Cora during the victory parade to celebrate the team's World Series win.
Patrick Connolly, 19, of Sandwich, was charged with disorderly conduct and assault. Cora was named in court records Wednesday as the beer can victim. The manager was not seriously injured, but video shared on social media showed Cora looking angry as the alcoholic beverage exploded on him.
Cora pointed out Connolly to security officials, the Boston Herald reported. Connolly was arraigned Wednesday at Boston Municipal Court.
BOSTON RED SOX WIN THE WORLD SERIES BEHIND TWO HOMERS FROM STEVE PEARCE
Connolly, who was wearing a baseball cap and the jersey of Red Sox outfielder Andrew Benintendi when leaving the courthouse, told the cops he didn't mean to hit Cora, the Boston Herald reported
"I love Cora, I didn't mean to hit him," he told police officers, the newspaper reported, citing charging documents.
"That was stupid — I wasn't trying to hit Cora," he allegedly told officers.
WORLD SERIES TROPHY DAMAGED AT BOSTON PARADE BY BEER CAN
In addition to Cora, the World Series trophy was also hit and dented with a beer can by an unidentified person, the Herald reported. Team spokeswoman Zineb Curran said the trophy would easily be repaired.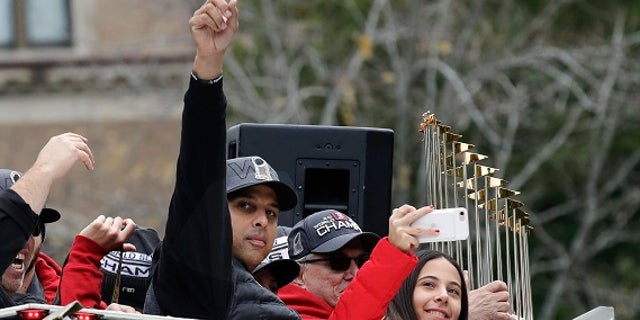 The Boston Red Sox defeated the Los Angeles Dodgers 5-1 on Sunday night to win their first World Series title since 2013. It is the team's fourth title since 2004 and the ninth in franchise history.
Fox News' Ryan Gaydos and the Associated Press contributed to this report.