Martin Prado's positive presence provides leadership to young Marlins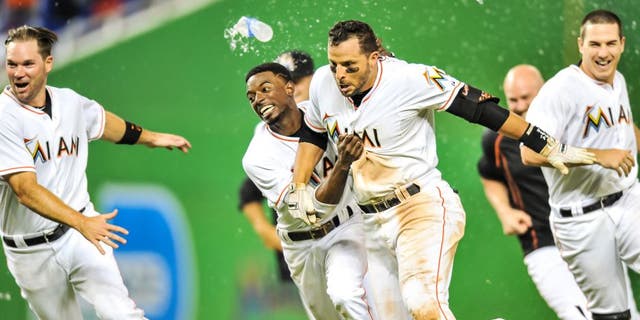 MIAMI -- A month ago, the Miami Marlins approached veteran infielder Martin Prado about taking on a leadership role inside a clubhouse becoming younger each day.
Following the trade deadline and several key injuries, rookies began filtering into the clubhouse as a season -- once predicted to end a postseason drought -- dissolved into losses and negativity.
It was Prado's first career five-hit game, which included the walk-off RBI double in the 11th, that gave the Marlins a 6-5 win over the division-leading New York Mets on Friday night.
"They asked me to," Prado said of becoming a leader. "They asked me if I can be that guy that talks to the guys. I like it. I like it because the guys listen and they're willing to learn, willing to play the right way. That's what you're looking for in young guys.
"I'm telling you. There's a lot of positive stuff going on right now. Not because we're winning just because guys showing pride, guys just showing up and playing the game the right way. That's the way I was taught and that's the way if somebody asks me I'm going to tell them. I'm the guy that likes to tell the truth. I'm not fake. That's what we need around here."
The 10-year major leaguer, acquired from the New York Yankees over the offseason, has seized and relished the role.
Since returning from the disabled list, Prado is batting .302 with 19 runs, nine doubles, three homers and 23 RBI in 45 games. He has reached safely in 29 of 30 contests.
Though his power (seven) and RBI (47) won't place him amongst the league leaders for third basemen, the 31-year-old's importance to this young ballclub stretches beyond the numbers. His professionalism, experience and perspective will last longer.
"He has been such a factor in our clubhouse over the last month-plus," manager Dan Jennings said. "Not only is he showing tremendous leadership in the clubhouse,(but) he's producing on the field. He's been tremendous defensively, giving us some clutch at-bats. This guy every night comes out, has a routine he goes through to prepare to play the game and he takes it into the game and executes it in a tremendous way."
Miami has won four in a row for the third time this season -- first since June 30-July 3. Though the division features three teams well below .500, the Marlins have climbed into third place. The postseason -- a destination at the start of the season -- will not happen. But Miami can play spoiler. Players are auditioning for jobs in 2016.
As Prado put it, "if you don't play this game with pride you should just be getting home right now."
Christian Yelich, who has been dealing with a bone contusion on his knee for the past month, has been playing through the discomfort. He started in center field and scored the game-winning run, racing all the way from first on Prado's double down the right-field line.
"We've still got some fight in us," said Yelich, who went 2 for 6 to bump his average to .288. "We're not just going to roll over for the rest of the season. That was a big character win. Proud of the guys. You don't want to see anybody quitting or anything, and none of us have done that."
Right-hander Tom Koehler, the lone remaining starter from the Opening Day rotation, battled over six innings. Though he walked five batters, he allowed just two runs and exited in line for the victory.
While a few veteran arms in the bullpen faltered, rookies Kyle Barraclough and Brian Ellington, who notched his first big-league win, tossed scoreless frames in extras. Guys picked each other up in a tightly contest game against a ballclub nearing its magic number for the playoffs.
"It speaks to the character of the guys in the clubhouse," Koehler said. "We have a very good clubhouse and we know that as a whole we underperformed to start the year. But there's a lot of guys here who are going to be back again next year, so we've go to build some momentum going into the offseason and understand that early on we didn't necessarily play the quality of baseball we expected but that doesn't mean we just give up on the season. It's nice to see everybody fighting here in September when we're in kind of a hole. It speaks to the guys that we have in here that says they're not going to give up that they're going to play hard no matter what the situation is."
Added Prado: "It's not rebuilding a team, just kind of like feels like all the guys here now they feel united. It's been a year of a lot of ups and downs, a lot of moves, and finally we have a group of guys that prepare. We don't care what's around us and when we get here to the locker (room) everybody just likes everybody. That's the main thing. I think good teams and winning teams in baseball have that chemistry. I'm so happy we have that chemistry right now because it feels like a family and these guys just going out there...doesn't matter we're just going to grind it out all the way through 162 games to see what happens. (The Mets are) at the top of our division. There's a lot of teams we're going to play. We're just going to play them hard. That's what we're going to do."
You can follow Christina De Nicola on Twitter @CDeNicola13 or email her at cdenicola13@gmail.com.