Mark Hunt retains attorney for possible legal action against the UFC and Brock Lesnar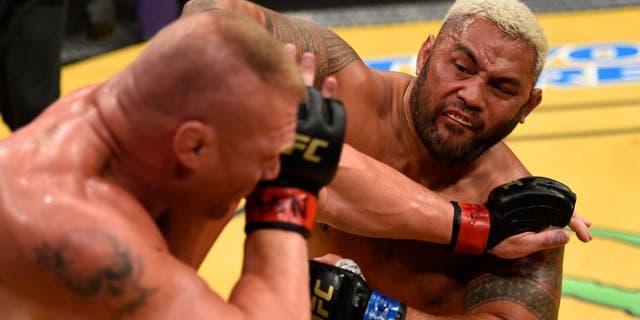 As soon as his fight with Brock Lesnar was announced for UFC 200, Mark Hunt expressed concerns that the former heavyweight champion and WWE superstar was using performance enhancing drugs.
Hunt ultimately lost a three round decision to Lesnar, but then after the fight was over, his suspicions were confirmed.
Lesnar failed a pair of drug tests -- one given before the fight and then another on the night of the fight -- with clomiphene and hydroxy-clomiphene found in his system according to the Nevada State Athletic Commission.
Lesnar was placed on provisional suspension pending a full hearing in Nevada as well as possible sanctions from USADA (United States Anti-Doping Agency), but that's not nearly enough to satisfy Hunt's desire to see him punished to the full letter of the law.
Recently, Hunt retained Christina Denning, a partner at Higgs, Fletcher and Mack, to explore possible legal options against the UFC and Lesnar in hopes of making dramatic, sweeping changes to the way doping policy violations are handled.
"I'm going all the way," Hunt told FOX Sports when speaking about the potential lawsuit. "You think this is about money? I've turned down two fights already. This is about what's right. I wanted to put a provision in for the JDS (Junior dos Santos) fight, but they wouldn't do it. These cheaters need to be punished. I would think that the commission would stand right by me. I don't understand why they don't do something about it.
"The contract I sign says no doping but how about enforcing these contracts with harsher penalties. I love fighting, this is my life and I love doing it but it's really important to do this."
The provision Hunt wants added to his contract and all future bout agreements would stipulate that if a fighter is found cheating, their purse would be stripped and handed over to the non-cheating party.
Hunt is also exploring possible legal action directly aimed at Lesnar for the situation at UFC 200 where he was paid a disclosed $2.5 million fee plus pay-per-view revenue for the fight, but then violated the anti-doping policy by failing a pair of drug tests.
"A change in all future bout agreements, such that if a competitor's caught doping then the proceeds from the fight, whether that's just the purse or if there's a win bonus or there's pay-per-view proceeds, whatever compensation the cheating fighter receives, he wants a provision in all future bout agreements for him and he'd like to see it across the board that the compensation be forfeited to the non-cheating party. So that's the first thing," Denning explained when speaking to FOX Sports about what Hunt wants to accomplish.
"The second thing would be some sort of compensation with what happened at UFC 200. I can tell you with respect to the whole where he's coming from and the rationale and purpose behind why he wants to see both those things happening is because right now, the UFC has an anti-doping policy that isn't being enforced to its maximum potential in order to deter people from getting into the ring. In fact, what's happening is fighters appear to be taking advantage of the system and doping and either knowing or risking or banking on the fact that they're not going to get the maximum penalty imposed by the UFC. "
Denning says Hunt also hopes changes are made at the state commission level as well where the punishments doled out to fighters who are caught cheating are much stiffer than what's currently being enforced.
"The Nevada Commission and it's codified in the statutes of Nevada has it's own regulations that are also not being enforced to the maximum amount possible. Both of those -- the UFC anti-doping policy and the Nevada Athletic Commission regulations -- they both allow for the UFC, under its policy, or the Nevada Athletic Commission under its regulations to actually recoup all of the proceeds that the cheating competitor receives," Denning explained.
"In the case of the UFC, it would go back into the anti-doping program. In the case of the Nevada Athletic Commission, it would go into the state fund. But neither one of those organizations are doing anything and then you have situations where competitors like Brock Lesnar are just coming in for a one hit wonder at UFC 200, largest grossing purse and huge pay-per-view turnout, and then doping, getting caught and the penalties aren't being enforced."
Hunt has been one of the staunchest advocates for more drug testing and stiffer penalties for fighters who are caught cheating, but this was the last straw for the veteran heavyweight after Lesnar failed a pair of drug tests. This came after Hunt faced two other opponents in the UFC -- Frank Mir and Antonio "Bigfoot" Silva -- who also failed drug tests after he fought them.
Hunt says he's already turned down two fights offered by the UFC because the provision wasn't added to his contract and he's standing firm to make these changes before he ever steps back into the Octagon again.
"This was the final straw. I'm not going to keep fighting dopers. Why should I?" Hunt said. "The contract doesn't say I should be fighting dopers. If it does we should call it the ultimate fighting (expletive) cheating competition. It's true.
"Let's all cheat and see who gets away with it and then throw money to look like we're clean. It's hair cream or it's toe jam or whatever it is, always making (expletive) excuses and making some sort of (expletive) up."
Hunt's attorney has met with legal counsel from the UFC already and says they've been receptive to hearing the heavyweight's concerns. Right now, Denning makes it clear that a lawsuit hasn't been filed but that's still an option she's exploring.
Before Hunt can go after Lesnar for what happened at UFC 200, Denning also explains that he must go through his full administrative hearings with Nevada before she would feel comfortable filing any potential lawsuit. The Nevada Commission has a hearing scheduled for Lesnar in December where they will listen to his argument before handing out any potential punishment or penalty for the doping infraction.
At that point if Lesnar is found guilty, then Hunt could potentially explore his legal options but he's hopeful that the UFC will listen to his concerns and this never has to reach as far as a courtroom over the matter.
"He really wants to get out there and fight. I normally wouldn't threaten a lawsuit, I would just file it but he really wants to fight," Denning explained. "So if he's forced to file a lawsuit, which he is ready to go but he wants to fight. So he's in this uncomfortable spot where he's under contract with the UFC, he's being offered fights by the UFC, he wants to make a living to support his family in these fights and he files a lawsuit at his age, how long is that going to take? A couple of years? Some of his best years left of fighting.
"We're being so open about it and talking about it because we're hoping the UFC will consider putting these types of terms into bout agreements for the competitors. What we're asking the UFC to do is not unprecedented."
Denning says that other sports have enforced rules like the ones Hunt wants added to his contract where he would be given financial restitution if an opponent is caught cheating.
"The guy who gets in the ring with the juicer is the one who should get the compensation and they really should get the win if it's found that their opponent was doping," Denning said.
"It's doing nothing for my client's career if he keeps fighting opponents who are on steroids and then the results are just thrown out as a wash."
As of right now, Hunt's record still reflects a loss to Lesnar in July although the Nevada Commission could overturn that to a no contest if they rule against the former UFC champion in December. Hunt refuses to acknowledge the fight as a loss considering how he feels about Lesnar's actions leading into their bout.
"In my eyes he didn't win nothing," Hunt said about Lesnar. "Anyone who sticks needles in their ass didn't win nothing. I've got a clear conscious when I wake up and look in the mirror everyday. I'm not cheating and pretending to be something I'm not. He's a fake ass person and a fake ass cheater and that's all he'll ever be. Just like Lance Armstrong and the rest of these clowns.
"These guys who are cheating, get them out of the sport. This sport is different, it's a business of hurting people. I lose an eye or I perish in the Octagon, which could happen, and if he's doping, the penalty should be a lot harsher."
Hunt hopes that other fighters would stand beside him with an issue such as this one, but he's not asking for anyone to support him during this potential legal battle.
Hunt just wants the sport to change for the better and to protect fighters who are stepping into the Octagon with cheaters who are using performance enhancing drugs.
"I can't speak on what other fighters what to do, I can only speak for myself. I'm a fighter inside and out, I'll fight everywhere. I'm a fighter in every sense of the word. This is just another fight for me. Without us fighters, these companies don't exist," Hunt said.
"What I'm trying to do here is make changes to my contract so if something happens, he's banned for life or there's no money. It's pretty simple. It's good you're chasing down these cheaters, but how about enforcing it? They're not doing anything about enforcing these rules for people who cheated. There's no excuses. That's rubbish. What kind of lies are these guys pulling here? It's rubbish."