Manning, Moreno Power Denver Over San Diego; Showdown Against Patriots Next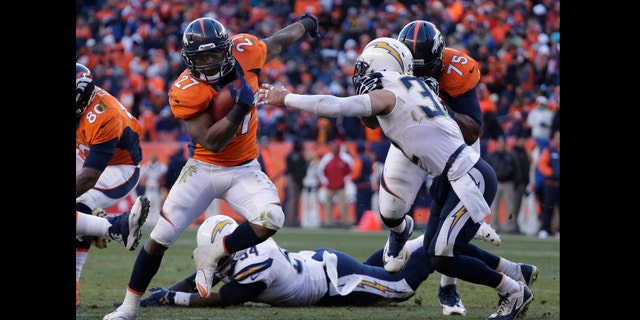 Associated Press – Peyton Manning took a knee again, just as he had at the end of regulation exactly a year earlier.
Only this time, he trotted off to cheers, high-fives and smiles.
Manning welcomed Wes Welker back into the lineup with a touchdown toss Sunday and the Denver Broncos narrowly avoided a repeat of their playoff slip from last year, advancing to the AFC championship game with a 24-17 win over the San Diego Chargers.
The Broncos (14-3) took a 17-0 lead into the fourth quarter before Chargers quarterback Philip Rivers capitalized on an injury to cornerback Chris Harris Jr. to stage a comeback reminiscent of Baltimore's shocking win 38-35 win in double overtime at Denver.
On that night, Jacoby Jones hauled in a 70-yard pass from Joe Flacco to tie it and Denver coach John Fox had Manning take a knee so the Broncos could regroup in overtime.
This time, Manning rescued the Broncos from the brink of another crushing collapse, running back Knowshon Moreno ran for two touchdowns and led the team with 82 yards rushing, sending the Broncos into the title game for the first time in eight seasons.
They'll host the New England Patriots on Sunday.
Get ready for Brady vs. Manning once more.
In the most recent matchup of QBs with Hall of Fame credentials, Tom Brady and the Patriots rallied past Manning and the visiting Broncos 34-31 in overtime on Nov. 24.
"That's two of the greats," Eric Decker said. "It's going to be talked about a lot throughout the week."
"It's the Broncos versus the Patriots and certainly Tom and I have played against each other a lot," Manning said. "But when you get to the AFC championship, it's about two good teams that have been through a lot to get there."
The Chargers regretted not trying another onside kick after Manning converted a 20-yard pass to Julius Thomas on third-and-17 from his 20-yard line, the first of three third-down conversions on Denver's final possession.
In their playoff loss last year, they couldn't salt away a fourth-quarter lead, in no small part because of curious calls and inexact execution.
"I felt like that game last year forced us to address those types of situations all season long," Manning said. "We've worked on it in training camp, we've worked on it in the season. ... It was nice that all that hard work paid off for us."
Manning also hit Thomas on third-and-6 from his 45, then the Broncos iced it on Moreno's 5-yard burst on third-and-1 with 1:12 left.
"When they got that first down I was jumping up and down," Broncos defensive lineman Malik Jackson said. "It was delightful."
San Diego coach Mike McCoy, who was Denver's offensive coordinator a year ago, was downcast in Denver once again, and so was Rivers, who had led his team to five straight do-or-die wins.
"If we got it one more time, I believe deep down we would've tied that thing up," Rivers said. "But we didn't. Those are all a bunch of what-ifs."
Manning ended a personal three-game postseason skid in winning for the first time since leading Indianapolis over the Jets 30-17 in the AFC championship game on Jan. 24, 2010.
Manning completed 25 of 36 passes for 230 yards and two TDs, numbers that weren't quite up to the standards he set during a record-breaking regular season when he established new benchmarks with 55 TD passes and 5,447 yards.
But it was windy and the Broncos were intent on establishing the run and controlling the clock, and they converted 9 of 13 third downs while holding the ball for 35½ minutes.
After gaining just 18 yards on the ground against San Diego last month, the Broncos ran for 133 yards, including 82 by Moreno, whose 3-yard TD run put them ahead 24-7 with 8:12 left.
After that, things got interesting.
Keenan Allen hauled in a 49-yard catch with Quentin Jammer in coverage on fourth-and-5 from the San Diego 25 with seven minutes left. That led to his second TD — both from 16 yards — that pulled the Chargers to 24-14 with 5:43 left.
"We got those two touchdowns in the second half, but it's unfortunate we didn't get started earlier," said Allen, who finished with 142 yards on six catches.
Decker then made his third big blunder of the day, flubbing the onside kick, which San Diego recovered, leading to Nick Novak's 30-yard field goal with 3:53 remaining that pulled the Chargers (10-8) to within a touchdown.
Novak followed with a pooch kick, and Trindon Holliday secured the ball at the Denver 27 with 3:51 left.
Manning's third-down brilliance kept the Chargers' offense on the sideline.
"Third-and-17, I was thinking we were definitely going to get the ball back," Allen said. "And we were feeling good on the offensive side, having the momentum. It was just unfortunate we didn't get it."
At Foxborough, Mass., LeGarrette Blount carried the Patriots (13-4) to their third straight AFC title game with four touchdown runs against the Colts. Stevan Ridley added two rushing scores, giving New England six TDs — and none by Brady.
"The way our defense is getting the ball for us and, really, what we've done the last three or four weeks (with) the running game has just been awesome," Brady said. "Hopefully, we can do it next week, too."
In the NFC, the 49ers and Seahawks are all set to play in the latest chapter in one of the NFL's budding — and bitter — rivalries.
The Seahawks (14-3) opened as 3-point favorites for the game at Seattle against 49ers (14-4), who defeated the Carolina Panthers 23-10 on Sunday.
On Saturday, Marshawn Lynch ran for a franchise playoff-record 140 yards and two touchdowns and Seattle's defense flustered Drew Brees and New Orleans in a 23-15 victory. The top-seeded Seahawks advanced to the NFC title game for the second time, and first since the 2005 playoffs.
"We haven't done anything yet," quarterback Russell Wilson said. "That's our goal. We have 60 minutes of football left."
San Francisco, which lost last year to Baltimore, is looking for a return trip to the Super Bowl. And lots of hard hits and plenty of jawing might be expected in this latest matchup with the Seahawks.
"I think we're the two teams everyone was looking at from the beginning," 49ers quarterback Colin Kaepernick said. "It's going to be a knockdown, drag-out game."
Count on it.
The previous few games between the NFC West rivals have been full of contempt, with shoving, pushing and arguing spicing things up. Even the coaches don't care for each other.
Seahawks coach Pete Carroll and 49ers coach Jim Harbaugh have been rivals dating to their days as opponents in the old Pac-10. In 2009, after Harbaugh's Stanford team ran up the score on Carroll's Southern California squad in a 55-21 rout, the two met at midfield and an annoyed Carroll barked, "What's your deal?"
That's carried over to the NFL — and it might get ramped up again during the week.
"We're healthy, we're a great team and we're willing to do whatever it takes to get that ring," 49ers running back Frank Gore said. "We're playing great ball."
Good thing, since the 49ers have committed seven turnovers and been outscored 71-16 in their past two trips to Seattle, including a 29-3 Week 2 loss in September.
"We're a different team than we were the first time we played them up there," Kaepernick insisted.
The 49ers will get a chance to prove that next weekend.
At Seattle, Steven Hauschka kicked three field goals in blustery conditions, and Lynch capped the victory with a 31-yard scoring run with 2:40 left that Carroll celebrated by jumping into offensive line coach Tom Cable's arms.
"It feels awesome," fullback Michael Robinson said, "but this doesn't mean anything if we don't win next week."
Follow us on twitter.com/foxnewslatino
Like us at facebook.com/foxnewslatino