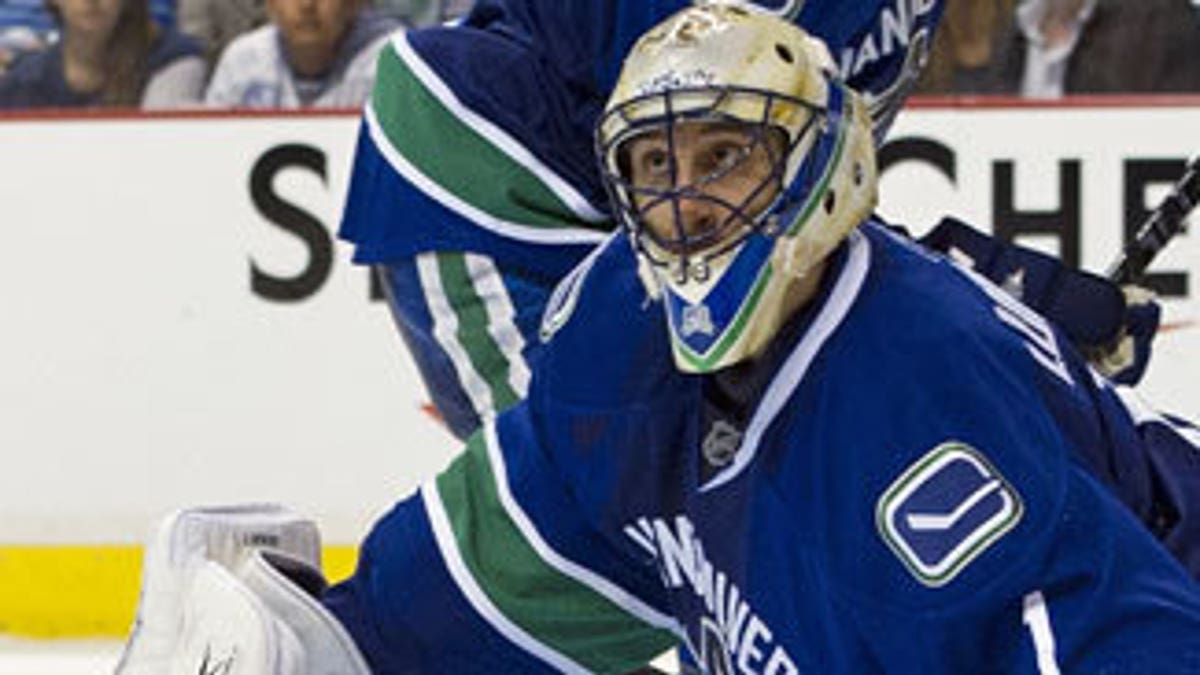 VANCOUVER, B.C. – It was suggested before the start of the Chicago-Vancouver series that the Blackhawks were inside the head of Canucks goaltender Roberto Luongo.
After Luongo's 32-save performance in Vancouver's 2-0 series-opening victory Wednesday night, it looked more like Luongo might be in the Blackhawks' heads.
"He made some big stops, there's no doubt about it," Blackhawks captain Jonathan Toews said after Luongo's second career playoff shutout. "He's going to do that every single game, but we weren't good enough in front of him.
"Maybe we passed up a couple of shots, too, when we had a 2-on-1 or several opportunities like that. We got to be better in those situations and on the power play, too. It all comes from work ethic."
Chicago defenseman Brian Campbell was set up on a nice cross-ice feed early in the second period, but Luongo managed to stretch out, get his toe on Campbell's shot and cover up the rebound.
"It was a bang-bang play and as the puck went across I saw him open and one-time it. I just stretched across and was able to get a toe on it," Luongo said of Campbell's chance. "It went off the post and stayed out so that was nice."
Late in the second, Patrick Sharp got his stick on a loose puck in mid-air; however, Luongo was there with his glove stretched out to take away a sure goal.
Chicago's big three of Toews, Patrick Kane and Sharp combined for nine shots -- but none of them could find the back of the net. Marian Hossa added six of his own, but was also denied every time.
"Lou was unbelievable tonight, he made some key saves," Vancouver forward Alexandre Burrows said. "Obviously that first one on Campbell to keep that 2-0 lead was huge. It's nice to see him wear a size 15 (skate), and he made that big save."
Heading into Wednesday's game, Luongo had a 4-8 record against the Blackhawks in the playoffs with a 3.52 goals-against and a save percentage of .888. The Hawks eliminated the Canucks in six games in 2009 and again last year – so neither Luongo nor his teammates are ready to declare victory.
"We know it's a long series, so we're not going to get ahead of ourselves," Luongo said. "They're going to be ready to play, we've won the first game the last two years of the series as well.
Michael Frolik had one of the Blackhawks' best chances of the third period, beating Luongo, but ringing his shot off the post.
Luongo's new positioning, which was worked on extensively with goaltending coach Roland Melanson during the season, also allowed for Canucks defensemen to get better position on Blackhawks forwards, who notoriously like to get physically involved with the Canucks goaltender.
In the late stages of the third period, both Troy Brouwer and Hossa did their part to lay the body on Luongo, but by then it was too little too late.
Luongo knows he can expect to see more Hawks trying to make his life miserable when the series resumes Friday night.
"They're not the Stanley Cup champions for nothing," he said. "We know they're going to come back stronger next game."