Lucic pivotal as Bruins look to close out Habs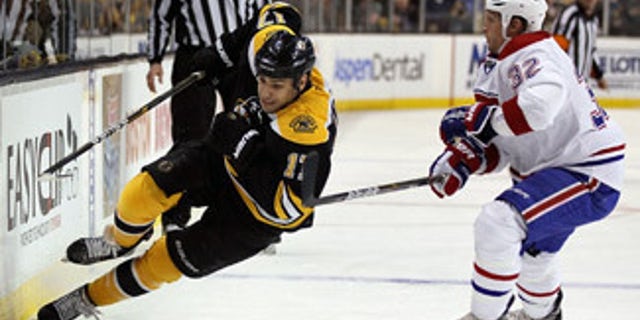 MONTREAL -- Milan Lucic says he knows what to expect from the Montreal Canadians in Tuesday night's Game 6, a do-or-die affair for the home club.
Last playoff season, Montreal kept playing Houdini upon reaching elimination games, confounding both Washington and Pittsburgh with their refuse-to-die antics. Now, Montreal faces another win-or-go-home affair, its first of the 2011 Stanley Cup Playoffs.
"It just goes to show they are not going to quit," Lucic said, referencing the Canadiens' 2010 heroics. "There's a lot of fight still left in that team. They're a desperate hockey club that is fighting for their lives. They are going to do whatever it takes to win, so we are prepared for their best game tonight for sure and it is going to be a fun hockey game to be a part of."
While Lucic knows what to expect of the Canadiens, few know what to expect from Lucic in Game 6.
The big power forward was dominant in Game 5, managing 8 shots and being on the ice -- and earning the primary assist -- for the winning goal by linemate Nathan Horton in double overtime of the 2-1 victory that gave Boston a three-games-to-two lead in the series.
But, he has done little else in the series, especially for a player that scored 30 goals during the regular season and showed the ability to take over games, almost at will.
In fact, his eight shots Saturday night almost doubled his output in the first four games, when he managed just a total of 5 shots and was a minus-2. Saturday's assist was also his first point in the series.
"It was nice that we were able to contribute with a big goal last game," Lucic said. "I think for ourselves, we have to do whatever we can to build off that because we feel like we can bring more. When we are playing with confidence and keeping things simple, that's when we are able to execute our game best."
There were hints that Lucic was finding his game at times in this series, but Saturday he finally seemed to be putting things together. He was hard on the puck all night, was able to create space for himself and also punished the Montreal defense on the forecheck by playing the simple north-south game that has become his trademark.
"I was just moving my feet more and getting open more and that's what I wasn't doing the first four games," Lucic said. "Montreal's not an easy team to get shots on; they're stingy team, especially in the defensive zone. For myself, I'm going to have to work even harder tonight to find areas to get shots off.
"You don't want to be turning pucks over on the blue line, you want to go straight ahead and establish that forecheck. The Montreal Canadiens have that reputation that if you are trying to make plays and you turn that puck over they can make you pay by going on the rush and score some goals. They did a lot of that in the first two games and they're still more than capable of doing that. They have more than enough guys that can make you pay if you're not making safe plays."
Claude Julien also believes that Lucic is starting to find his stride as this series has progressed. He Likes the way, Lucic is getting the puck in deep in the offensive zone and then getting in hard on the forecheck. He also likes the fact that he is having an impact in the defensive zone -- 4 blocked shots in Game 5 -- which shows his willingness to be involved across the whole ice surface.
"Well, obviously, it was a lot better last game and the encouraging part is I still think that line has even more to give, and that is encouraging," Julien said. "I thought they played a decent game last game and they were much better than they had been early in the series. Milan, as much as Horton, who scores the OT-winner, and (David) Krejci are very good players for us.
"I thought Milan himself was a player who took a little bit more space on the ice than he had in the first part of the series, and he was able to get some shots and I think his confidence right now is much better than it was two games ago. So hopefully he is progressing."
Even with signs of progress, Lucic wants more for himself. He is among his harshest critics, always nitpicking his own performances and looking for areas of improvement.
"This year we have done a good job of contributing and scoring key goals and stepping up at big times," Lucic said. "For myself, personally, having the season I've had, scoring 30 goals, I want to bring more of that into the playoffs and I haven't been able to do that -- yet.
"So, hopefully, you can find the extra gear to remember the games where you stepped up and scored big goals. You want to bring that into games like tonight and in the playoffs."
Tuesday night would be ideal for Lucic to bring his A-game.
A big game from Boston's top line could go a long way toward putting Montreal in an even more precarious position as Game 6 progresses. Because, the last thing the Bruins want to contemplate is a somber trip home late Tuesday night to prepare for Wednesday's do-or-die Game 7.
"We're excited for the opportunity," Lucic said of Game 6. "We learned last year that the fourth one is always the hardest one, so it's not going to be any different tonight. They are going to bring their best game and we have to do the same."