LSU reportedly will hire Ed Orgeron as its full-time head football coach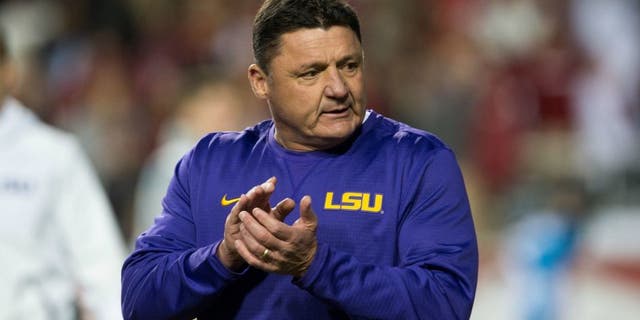 NEWYou can now listen to Fox News articles!
The LSU Tigers reportedly will name Ed Orgeron as their new head football coach, removing his interim tag and ending the program's pursuit of Tom Herman.
LSU hasn't confirmed the hire but has scheduled a news conference this afternoon to introduce its net coach.
Orgeron went 5-2 after replacing Les Miles -- fired after an 18-13 loss to Auburn on Sept. 24 -- on an interim basis. He led the Tigers to a convincing 54-39 win over at Texas A&M on Thanksgiving.
Following that most recent win, it was clear he had the support of his players, who chanted "Keep Coach O!" in the locker room:
With Orgeron staying at LSU, Houston's Herman becomes the favorite to take over at Texas, which is expected to fire Charlie Strong as soon as today.
And Herman might not be the only domino to fall with this hire, as The Advocate in Baton Rouge reports Orgeron is expected to pursue Alabama offensive coordinator Lane Kiffin for the same position on his LSU staff:
Kiffin's next order of business, however, is top-ranked Alabama's Iron Bowl matchup with Auburn this afternoon.
As for Orgeron, he went 6-2 as USC's interim head coach during the 2013 season and 10-25 at Ole Miss from 2005-2007 - his only previous stint as a full-time head coach in college football.