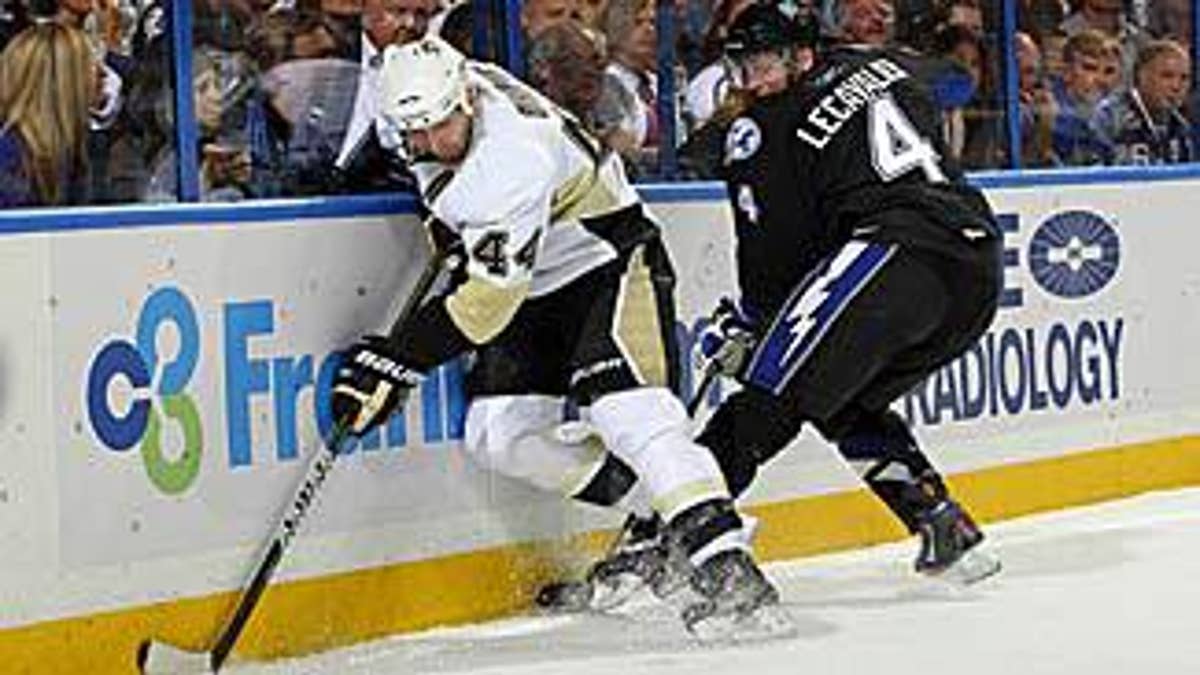 TAMPA -- Tampa Bay Lightning coach Guy Boucher pulled Steven Stamkos aside before Wednesday morning's skate and had a suggestion.
"I told him if he wanted to get on, he can, but that I wouldn't go on if I were him, and I guess he listens to his coach so that's good," Boucher told the media following the skate here at St. Pete Times Forum.
Stamkos, who has struggled of late to find the back of the net, apparently does much better off two days rest. That's what Boucher was referring to when asked why his third-year center wasn't practicing with the club on Wednesday in preparation for Game 4 against the Pittsburgh Penguins, who lead the best-of-7 series 2-1.
"It was an optional skate and coach said he liked the way I played after two days rest, so he said we'll try it again," Stamkos said with a grin. "It's just a decision and hopefully it works (for Wednesday's Game 4). We're three games into the series and everyone has their bumps and bruises. It's a grind and any chance there is to get some rest, you have to take it."
In addition to Stamkos, power-forward Ryan Malone (upper body) was also absent but, according to the coach, should be in the lineup.
Boucher remained mum on who he would insert into the lineup with forward Steve Downie suspended for Game 4. Still, the opinion among the local media contingent here is that defenseman Marc-Andre Bergeron is the odds-on favorite. Bergeron not only has 43 games of playoff experience under his belt, but could also be utilized as a fourth-line forward, something he did for the Montreal Canadiens last season.
"It's going to be a coaches' decision," Bergeron said. "I think the intensity will be higher. You don't want to be surprised, so you got to expect it and get yourself ready … it's a hockey game."
Boucher's other options include forwards Blair Jones or Mattias Rittola, who were both recalled from Norfolk in the American Hockey League late Tuesday.
Those players deciding to rest up during the Penguins' optional morning skate on Wednesday were forwards Alex Kovalev, James Neal, Arron Asham, Pascal Dupuis and Jordan Staal and defensemen Zbynek Michalek, Kris Letang and Paul Martin. They all will be in the lineup on Wednesday.
Penguins coach Dan Bylsma will also be forced to insert a fresh body into the lineup following the one-game suspension handed down to Chris Kunitz on Tuesday. While Bylsma wouldn't tip his hand to the substitute, there's a strong possibility that left wing Eric Tangradi will be the man.
Tangradi, who has played just once since Feb. 11 after being concussed in a loss at the New York Islanders, appeared raring to go following his team's workout at the St. Pete Times Forum.
Maybe the organization's top prospect at the forward position might even be able to help start up a sagging Penguins' power play that has been held off the board in 15 opportunities in the series.
"As of now, I've skated in warmups in the first three games," Tangradi said. "It's kind of still a game-time decision, but I've prepared to get ready to play every day and maybe that opportunity will come (Wednesday).
"It's been an interesting road to where I am right now. I've prepared off the ice in the gym and on the ice in some scenarios to get ready if an opportunity like this arose."
Kunitz won't be easily replaced, however, as in addition to leading the team in scoring entering the playoffs, he's also one of Pittsburgh's top penalty-killers.
In addition to Tangradi, Bylsma also said he would consider inserting Mike Comrie, Eric Godard or Nick Johnson in Kunitz' absence.
Follow Mike Morreale on Twitter at: @mike_morreale