Let Rick Pitino defend himself until there's proof he can't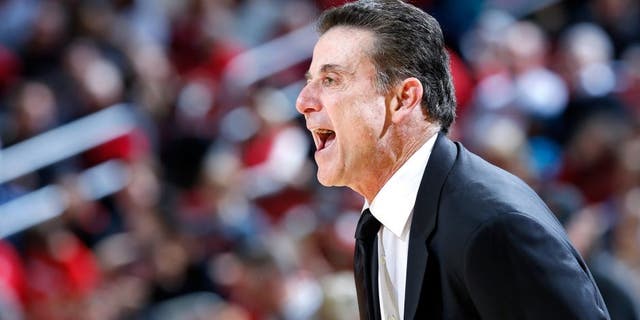 When I watched Louisville head coach Rick Pitino's emotionally charged New Year's Day news conference about the alleged prostitution scandal plaguing his basketball program -- and I would urge you to do so too -- my first thought was of a recent conversation I had with an NFL player about one of the bigger scandals to rock that league in recent years.
I was in the Minnesota Vikings locker room, talking with players about Adrian Peterson in the year since he was suspended for the almost all of 2014 season after criminal charges related to disciplining his 4-year-old son with a switch. In the wake of the scandal, Peterson's image flipped, from one of the league's good guys to one of its villains. I asked Peterson's longtime teammate, defensive lineman Brian Robison, what he had learned from the fallout.
Robison's take was instructive to all of us in this hot-take world: Sometimes, when we don't know all the facts or the context of a situation, it's better to reserve judgment until we do.
"Too many people voice their opinions on stuff they don't know anything about," Robison said, still stewing over Peterson's immediate descent to villain status in the eyes of the media, the public and the league. "People want to voice their opinion on things that are going on in the world today, and they don't know the facts. … The people who are making the opinions don't know him. They don't know anything about him. They just are listening to the picture that's being painted about him."
He was talking about a scandal that affected his team and his teammate intimately, but Robison easily could have been talking about so many things in today's rush-to-judgment, Twitter-dominated, 24-hour-news-cycle America: the presidential election, or the eruptions of protests and counter-protests around allegations of police brutality, or, yes, the frothing reaction to the alleged prostitution scandal involving the Louisville basketball program.
You remember the allegations when they dropped in October: Katina Powell, a Louisville escort, wrote a book in which she alleged she provided strippers and prostitutes for Louisville players and recruits. She said she was paid to host 22 stripping and sex parties at an on-campus residence hall for athletes between 2010 and 2014. Powell's face was plastered on ESPN and on "The View," where she discussed her book, "Breaking Cardinal Rules: Basketball and the Escort Queen," and how she kept records of the parties, including how she prostituted her own daughters.
On Friday, Pitino -- who has largely kept mum in public about the scandal since shortly after it broke in October -- opened 2016 with guns blazing. In his sights were media members he believes wronged him and his program by presuming the allegations were correct -- and by intimating that the scandal went deeper than Andre McGee, the former Pitino staffer who was named in the book as the point man organizing the parties.
"We have been wronged," Pitino told reporters, via a transcript on Louisville's WDRB.com. "Now, did one person do some scurrilous things? I believe so. From what I know now, I believe so. The only thing I don't know, I don't know why he did it. I just, for the life of me, can't figure out -- he knew better, he was taught better, by his parents and by me."
That was the most newsworthy part of Pitino's press conference: He believes these parties did, in fact, occur, but he believes they were the doing of one rogue actor inside his program, not indicative of a culture rotting from the inside out.
Also noteworthy was Pitino's tone. It was as if he'd made a New Year's resolution to ignore any advice given by cautious attorneys and instead go after everyone he believes wronged him in the aftermath of the scandal.
Matt Jones, the host and founder of Kentucky Sports Radio, a powerful pro-Kentucky Wildcats voice who frequently goes after the former Kentucky coach, summed up the press conference perfectly:
"Rick Pitino is going out this year literally and metaphorically with his middle fingers up," Jones tweeted. "The next few months could be wild."
The press conference started with a question about whether Pitino had made an obscene gesture at Kentucky fans after Louisville's Dec. 26 loss at Rupp Arena. But Pitino immediately veered into attack mode, specifically against longtime respected Louisville sports journalist Rick Bozich, who was the first prominent voice to call for Pitino's job. Pitino spoke about being muzzled the past several months. He lashed out at Powell's legitimacy as an author, as a criminal and as a mom who admitted to prostituting her own daughters. He spoke about being tortured by these allegations and by not understanding how or why they happened inside his program.
A sampling of what Pitino told reporters:

-- "What bothers me about (Rick Bozich) is you say I know everybody's body fat, (so) you must know about this. That pisses me off beyond your wildest dreams. ... Somebody criminally came onto our campus. I'm pissed off at ESPN for even giving a forum to that person. … If there are crimes being committed, why is the NCAA or ESPN giving a forum to that person?"

-- "So I'm not going to say no comment. I'm not going to say it. I'm too old. I don't care, OK? So I'm not going to say it. There's only one good thing about being 63, is you don't care what people think anymore."

-- "I've got a lot of failings in my life. We all know what I've been through. But one (thing) is I'm totally complaint to the rules of the NCAA. I don't believe in breaking any of those things. At all."

-- "I'm bothered by this a lot, when I go to bed at night, I bothered by a lot of all of this, because of my beliefs in how a program should be run. I'm not too sure that a lot of these things are the truth."

-- "Here they're saying (Katina Powell) kept a journal for four years but can't complete two sentences. Something's not right here. I think you've got to follow the money trail. And then 11 people are suing her saying it's not the truth. … I don't know why everybody gave this person a forum. I just don't understand it. Why they gave them a forum. Because if someone's lying or not telling the truth and did not keep a journal, I don't know. I'm a doubting Thomas with a lot of things."

You can (and should) go read the whole transcript, but you get the gist of it. And I know what a skeptic would say: That of course Pitino would deny, deny, deny because with his career and his legacy on the line, there's nothing else left to do.
And that skeptic wouldn't necessarily be wrong. If Pitino had even an iota of knowledge of what happened under his watch, damn straight his job ought to be taken from him and his legacy ought to be forever stained.
But that skeptic also assumes something beyond what's been proven: that Pitino knew what was happening.
And you know what? I have a really big problem with that. Because just like Brian Robison told me in that NFL locker room, people these days love to spout off opinions about things they don't know about. They hear something bad about a celebrity, and they assume the worst. In their cynicism, it's as if they assume the whole world is corrupt -- the no one has true intentions. And so they send out a snarky tweet, something equating Pitino's adultery from a decade ago with the sordid mess at Louisville today, and they move on to the next person they can cut down to size.
The skeptic assumes not just that something bad happened behind closed dormitory doors at the University of Louisville -- that much appears beyond even Pitino's doubts -- but that Pitino abetted it.
The facts don't prove that.
Not yet.
So let's reserve our judgment on Rick Pitino's guilt until all the facts are out.
If there are enough facts to find him guilty -- even just a passive knowledge of what was going on under his watch -- then kick him to the curb. Tarnish his legacy. Question his lack of morals. All of it.
But in the meantime, how about for once we sit on our hands, shut our mouths and, you know, wait until we know the facts before we hang someone in the public square.
I know: Not exactly a hot take, saying we ought to wait before we trash someone's character.
But the right take.
Follow Reid Forgrave on Twitter @reidforgrave or email him at ReidForgrave@gmail.com.