Kyle Busch adds a NASCAR major to his career body of work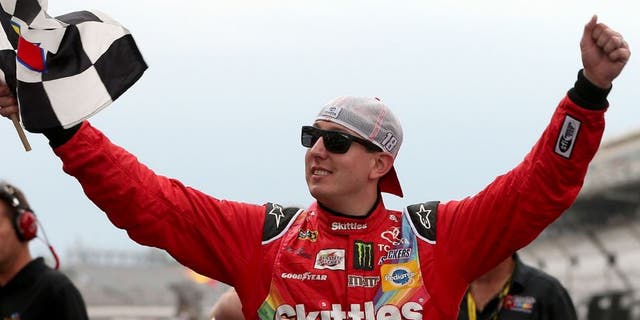 NEWYou can now listen to Fox News articles!
The rap on Kyle Busch was that while he was a phenomenal talent, he couldn't win the biggest races when they mattered most.
In the NASCAR XFINITY and Camping World Truck Series, Busch has been by far the dominant driver of the last decade, winning 114 races in the two junior leagues, as he routinely stomped the up-and-comers and on-the-way-outs who populate those series.
Sprint Cup? Well, that was a little thornier.
From 2005, when he won his first race as a rookie driving for Rick Hendrick through the end of last year, Busch won a total of 29 Cup races. While that's an impressive total, conspicuously missing were most of NASCAR's crown jewel events: No wins in the Daytona 500, Brickyard 400, Sprint All-Star Race or Coca-Cola 600. Not any Cup victories at Charlotte and only one each at the July Daytona race, Darlington and Talladega.
In fact, after winning eight of the first 22 Cup races in 2008, Busch's first season with Joe Gibbs Racing, he was shut out the rest of the year. In his next six seasons with Gibbs, he won as many as four races in a single year only twice. Again, not anything to apologize for, certainly, but not world-beating. Competitive? Absolutely. Dominating? Usually not.
Truth be told, Busch was never much of a championship threat, either. His best points finish since joining JGR was fourth in 2013, but he finished 10th or worse in points five times in seven seasons, a less-than-stellar track record given the team he drives for, which has three championships to its credit.
There was never any question about whether or not Busch was good.
Of course, he's good.
At times he's been great.
But right now, when over the last five weeks he's won on a road course, a 1.5-mile oval, a 1-mile flat short track and on Sunday, at the 2.5-mile Indianapolis Motor Speedway, is the first time since the phenomenal '08 start that Busch truly has looked like a champion. Now that he's a virtual certainty to make the Chase for the NASCAR Sprint Cup, Busch has a very real chance to win it all for the first time.
Busch managed to beat reigning Cup champion Kevin Harvick on a late-race restart and then held on through two more restarts, the last featuring a furious charge by Joey Logano, to take Sunday's Brickyard 400 and add a NASCAR major to his resume.
While it's easy to wax rhapsodic about Busch gaining clarity of purpose during the 11 weeks he was out injured at the start of the season, or how the love of a good woman and the birth of his son have helped him mature, the reality may be a bit simpler: Busch is driving his ass off right now and dominating a sport in a way that's almost never seen.
With his Brickyard victory, Busch has four victories in five races. The last time a driver had a streak like that was 2007, when Jimmie Johnson won four in a row late in the season. Another parallel: After going winless in the first 26 races of the 2011 season, Tony Stewart won five of the final 10. The common denominator in both cases was a championship at the end of the season. Which may well be where Busch is headed this time around.
It was certainly on his mind after the race, as was the magnitude of finally winning at Indy.
"If you just look at the top four races that we have in our series, obviously I think you'd -- I would order them as the Daytona 500, the Brickyard 400, the Coke 600, and then the Southern 500," Busch said. "Those are the four crown jewels that I see in our sport. They've been that way for a long, long time, and I don't know that it's really ever changed. ...
"I've won my Southern 500, I've won my hometown race, which is a big race for me, the Las Vegas race. I've also won the Bristol night race, I've swept Bristol, so there's a lot of great things that have happened for me in my career, but this one here today checks off probably the one that's No. 2 on the races to win list, but there's still that elusive championship, as well, that we want to achieve."
And yes, Busch is aware, that he needs to be hot in the Chase during October and November and not just June and July if he's going to be the next Cup champion.
"If you could take these three wins right here and make that Homestead, Phoenix, and whatever is before that, Texas, if you could bottle these three in a row and win at Texas, Phoenix, Homestead, you're the champion," Busch said. "That's all that counts, those last three races. You've got to make it through all the rounds, but essentially, man, if you could bottle it up, man, you'd sure love to do it. This is just a phenomenal opportunity and a great run that we're on."
And it's not showing any signs of slowing down soon.