Knicks' Lee apologizes to home crowd for pitiful performance in loss to Lakers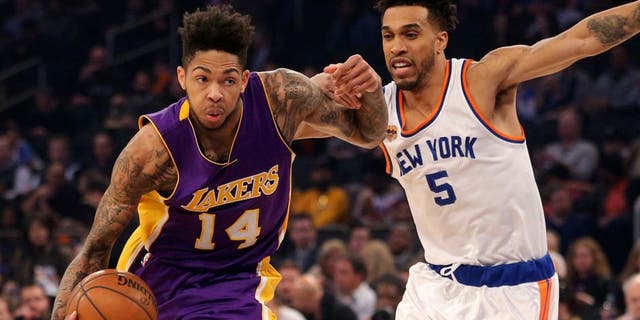 NEWYou can now listen to Fox News articles!
After delivering a performance on Monday night that Carmelo Anthony described as "bad, very bad," teammate Courtney Lee went further and apologized to the Madison Square Garden crowd that paid to witness the pitiful 121-107 loss. Via ESPN Knicks beat writer Ian Begley, Lee said:
"Last night that effort was pretty bad, man. Definitely got to apologize to the fans and everybody that spent their hard-earned money to come watch us play. We definitely didn't show up and compete at a level that we needed to compete at to win the game, especially in the situation we're in right now and where we're trying to go. Today was much-needed, we got after it today."
At the end Lee refers to a rigorous, physical, up-tempo practice on Tuesday that head coach Jeff Hornacek put them through. "A lot of pride is internal," Hornacek said after the defeat to the 18-36 Lakers. "These teams come in, it's New York, so they're going to be ready to play. If you don't match their effort and energy, you're not going to win. Right from the start they out-hustled us."
The Lakers dominated the boards, including 20 offensive rebounds against a listless Knicks defense. The loss drops New York's record since Christmas Day to 6-17.
Despite another disappointing season -- with a pall cast over it due to the rift between Phil Jackson and Carmelo Anthony -- New York (22-31) is only 2.5 games out of the 8th seed in the Eastern Conference.
A playoffs berth would probably afford them the privilege of getting ejected from the playoffs by the top-seeded Cavaliers but, sadly, Knicks fans would probably take it.