Keller, Schmid and Myernick enter National Soccer Hall of Fame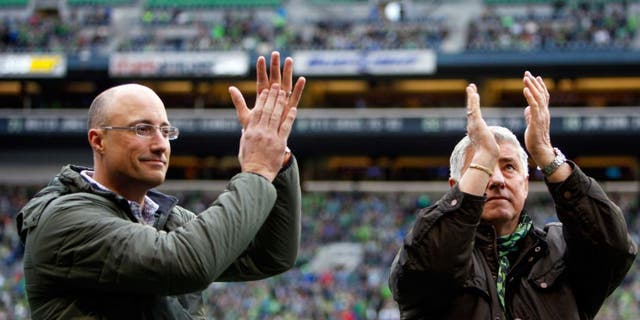 NEWYou can now listen to Fox News articles!
SEATTLE -- Kasey Keller was able to suppress his emotions. Sigi Schmid fought breaking down throughout his acceptance speech.
Keller, Schmid and the late Glenn ''Mooch'' Myernick were inducted into the National Soccer Hall of Fame on Saturday night, the highest honor in American soccer. Keller was inducted for his playing career in his first year of eligibility; Schmid was inducted for his coaching success at the collegiate, national and professional level, and Myernick was honored on the veterans ballot.
''It was a little bit emotional for me, and that's the kind of person I am to a certain extent, as well,'' Schmid said. ''When I think about the influences I've had, it's pretty emotional. You think you'll get through this without a problem but it's hard.''
Keller and Schmid will be forever linked because of their responsibility for helping launch the most successful MLS expansion franchise when the league came to Seattle in 2009. Keller was ready to return from Europe, and the area where he grew up was the perfect place to close out his professional career.
Throughout his 18-minute speech, Keller thanked his family for being willing to move around three countries in Europe with clubs in England, Spain and Germany. He also shared stories of his time with those clubs and how his final stop in Europe, at Fulham in England, was successful because of all the Americans on the roster, including Brian McBride, Carlos Bocanegra, Eddie Johnson and Clint Dempsey, helped Fulham avoid relegation during that 2007-08 season.
It was a stark contrast from his arrival in England in 1991 and the novelty that came with Keller being the first U.S. player playing in England on an American passport.
''Who would have thought when I first went over to England in 1991 that Americans would help keep a team in the Premier League,'' Keller said. ''It just shows what U.S. Soccer has been able to do.''
Even before he started coaching in the MLS, Schmid had made his impression on U.S. soccer both at the collegiate and international level. Schmid coached 19 seasons at UCLA leading the Bruins to three NCAA titles. He twice served as the head coach of the U.S. under-20 team at the FIFA U-20 World Cup.
While thanking mentors and fellow coaches, Schmid said his success all reverts back to his players.
''The biggest group I have to thank is players,'' Schmid said. ''Winning games and winning titles sometimes bonds that whole group but at the end of the day it's the players that I've been able to coach and the friendships that have come out of that.''
Myernick died in 2006 at the age of 51. He was a standout player in college and the North American Soccer League before transitioning into a coaching career in college and as an assistant on national teams. Jim Lennox, Myernick's coach at Hartwick College, said Myernick's parents were the only people who didn't call him Mooch.
''Mooch was a man of character and integrity. He held himself to the highest personal standards,'' Lennox said. ''When Mooch walked into a room, it became more vibrant, more alive.''
Myernick's son, Travis, accepted the induction in his father's honor.
''If part of his job or purpose was to advance the sport, then job done,'' he said.