Kawhi Leonard is playing like the NBA MVP, but that's not enough for the Spurs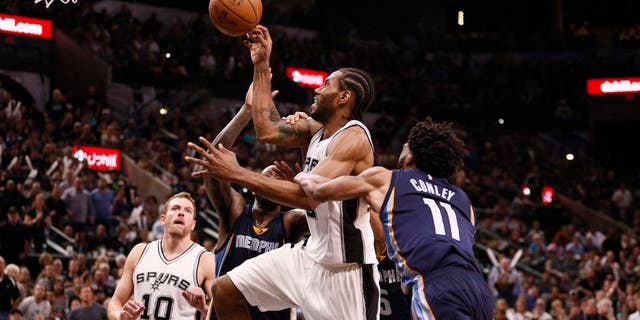 If the NBA playoffs weredecided by two teams' best players going one-on-one, the San Antonio Spurs might sweep their way to a championship. Having Kawhi Leonard on your team is that unfair.
He's grown from a nice complementary piece as a rookie to a clutch monster who puts the Spurs on his back in 2017, as he did in helping San Antonio vanquish the pesky Memphis Grizzlies 103-96in Game 6 to advance to the second round of the NBA playoffs.
Leonard had 29 points, nine rebounds, four assists and three steals in San Antonio's series-clinching win, but that doesn't begin to state his importance. He let Tony Parker and LaMarcus Aldridge get into a rhythm early, knowing he'd need both of them to beat the Grizzlies on their floor. As a result, Parker had his best game in ages with 27 points on 11-for-14 shooting, and Aldridge was dominant in the paint on both ends, including five offensive rebounds.
Indeed, these playoffs are demonstrating Leonard's real value to the Spurs, which isdownright MVP-esque.
The argument against The Klaw as MVP during the 2016-17 season went something like this: "San Antonio barely plays any worse when he's off the court, and the defense is actually better, so how valuable can he be?"
Now we know. Those are statistical quirks of the regular season, brought on by the Spurs bench buying into the system. Of course San Antonio outperforms other team's reserves; other teams aren't coached by Gregg Popovich.
In the postseason, though, when you have to rely on your best seven or eight players, the Spurs are doomed every timeLeonard sits. He's the engine, the chassis and the driver of this finely tuned performance machine. He's whythe Spurs were able to take care of the Grizzlies. And he's the reason this team has any shot at upsetting the Warriors.
We won't spend too much time re-litigating a regular season award. But if you still believe Leonard was an undeserving MVP candidate, we don't know what else to tell you. There's a reason hehas a second-round date with James Harden and the Houston Rockets while Russell Westbrook is sitting at home.
Still, he needs help.As well as Aldridge and Parker played in Game 6, and as stellar as Manu Ginobili was in the first half of Game 5, they depend on Leonard to set the wheels in motion. The Spurs need their once and future stars to generate just a little bit of offense of their own to give Leonarda chance to refuel.
Otherwise, San Antonio is playing for the right to usher the Warriors into the Finals, and theSpurs might not get that far. The Rockets can exploit the Spurs' biggest weakness a lack of athleticism by trying to run this team off the court. If Houston's 3s are falling and the rest of Leonard's teammates falter, San Antonio might not be able to keep up.
And say they do get past the Rockets. Without huge contributions from everyone on the roster, the Spurs don't stand a chance against the Warriors.Leonard might be one of Michael Jordan's favorite players, but he's not His Airness not yet, anyway.No amount of Kawhi Leonard can match up with Stephen Curry, Kevin Durant, Draymond Green and Klay Thompson.
If the Spurs are going to shock the Warriors and the world, they'll need to be the Platonic ideal of a basketballteam, five players who are greater than the sum of their individual parts. Isn't that how it always goes in San Antonio?