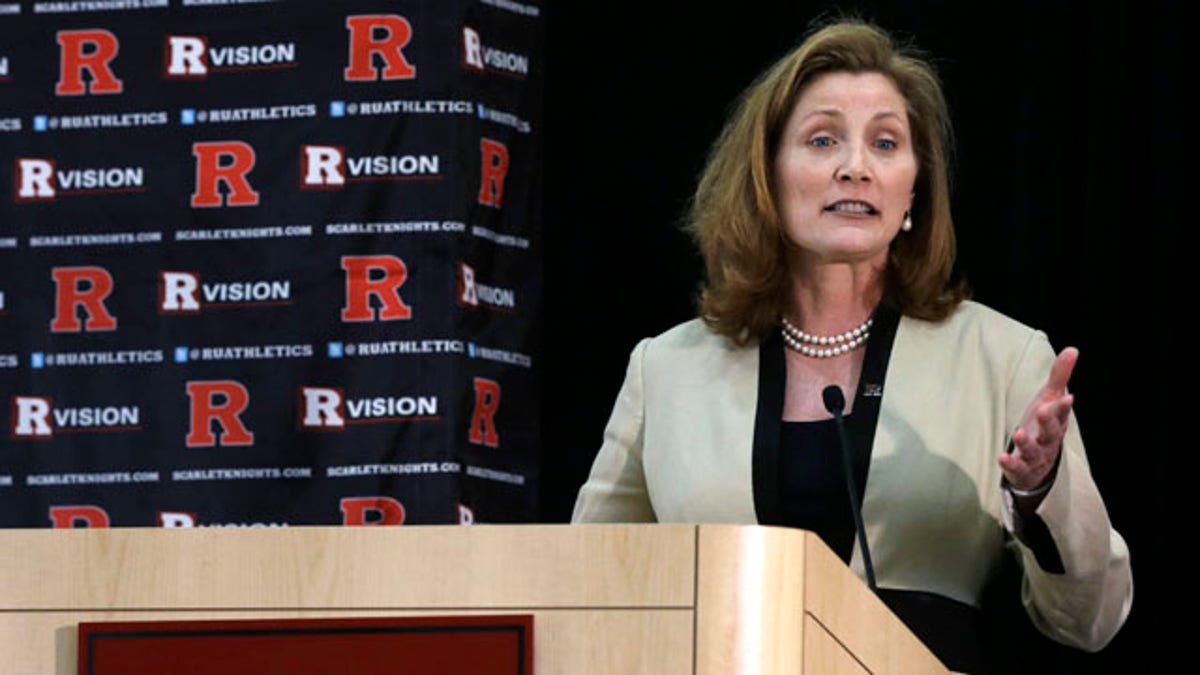 NEWARK, N.J. – Julie Hermann is not resigning as Rutgers' incoming athletic director following a report that 16 years ago she humiliated and emotionally abused players while coaching the women's volleyball team at Tennessee. And the university is standing behind her.
"I never considered withdrawing because I feel very qualified to lead Rutgers into the future and into the transition into the Big Ten," Hermann said Monday during a conference call in response to a report in the Star-Ledger of Newark. "And I do feel the support of the Rutgers community."
Embattled Rutgers President Robert Barchi said in a statement the university looks forward to her running the athletic department. He added that she was the best of the 63 candidates interviewed for the job of succeeding Tim Pernetti.
"Rutgers was deliberative at every stage of this process," Barchi said. "Over the course of the search, Julie's record established her as a proven leader in athletics administration with a strong commitment to academic success as well as athletic excellence, and a strong commitment to the well-being of student athletes.
Despite the Star-Ledger report, Barchi said Hermann's entire career is stellar and "We remain confident that we have selected an individual who will work in the best interests of all of our student athletes, our athletics teams, and the university."
Speaking to four reporters on a conference call in which each participant was allowed two questions, Hermann denied having knowledge of a letter written by the 15 players on Tennessee's volleyball team. She said her former boss never heard of it and she never heard her former players make the allegation.
Rutgers officials have talked to her about it in recent days, she said.
Hermann acknowledged she was an intense coach and may have made a few mistakes handling her team. The 49-year-old administrator said she has matured and believes she is qualified to lead the scandal-marred Rutgers program. Her first day on the job is June 17.
It was Hermann's first comments since the Star-Ledger's story Sunday revealed that the Tennessee volleyball team in 1996 sent a letter to the school in which the players said Hermann called them "whores, alcoholics and learning disabled."
Hermann left the following year to work with the United States national volleyball team.
"As I recall, Julie Hermann did not continue as our head coach only due to a lack of significant improvement in her final season overall record with the Lady Vol volleyball program," former Tennessee athletic administrator Debby Jennings wrote in a message to the AP.
Jennings filed a federal lawsuit against the University of Tennessee last September alleging age and sex discrimination led to her forced retirement at the age of 57 in May 2012.
In the past two days, state lawmakers have criticized Hermann's hire and Gov. Chris Christie has said he will speak with school officials about the report. Barring a resignation, only the university's board of governors can withdraw Hermann's appointment.
The governor appoints six of the board's 11 voting members and can wield pressure through a variety of ways, perhaps by threatening to cut school funding or refusing to renominate a board member who doesn't support his view.
With President Barack Obama scheduled to tour the New Jersey shore Tuesday to see the rebuilding after Hurricane Sandy, it is unlikely that Christie will turn his attention to Rutgers until Wednesday.
Former New Jersey Gov. and current State Sen. Dick Codey was furious with the latest controversy at Rutgers, saying officials made Pernetti the scapegoat after video of men's basketball coach Mike Rice physically and verbally abusing his players during his three-year tenure came to light in early April.
Rice, who initially had been suspended, fined and ordered to undergo anger management counseling, was fired by Barchi the day after the video was broadcast. Pernetti was forced to resign two days later.
"His successor is someone who is an obvious liar, a flat-out liar," Codey said in a telephone interview with the AP on Monday evening. "She shouldn't be the AD anywhere, whether it's Rutgers or anywhere else. She should stay in Louisville and not come back to the state, and Barchi should go to Louisville himself because he is not a leader. It's dumb and dumber."
Hermann believes she can be an effective leader at Rutgers, which also had several other key officials resign. And after hiring former Scarlet Knights star Eddie Jordan to become the men's basketball coach, the university mistakenly called him a graduate when he had never finished his degree.
"All of my life has prepared me to lead this organization," said Hermann, who would be the first woman to serve as Rutgers' athletic director and only the third female AD at the 124 schools playing at college football's top tier.
"Whatever mistakes you make as a young person, you've got to learn from them and go and grow," she added. "It is my intent to go to Rutgers with this vast experience of super highs and super lows and lead what I hope is an outstanding team into the Big Ten."
On other comments from the 10-minute call included:
--Hermann said the company that vetted her for Rutgers did ask about a lawsuit filed by one of her assistant coaches over a job termination.
--Hermann believes she can raise funds despite what has happened.
--Hermann denied the name calling, specifically when asked about calling the players "whores."
"That's not part of my vocabulary. ... Here's what I would say. Am I an intense coach? Absolutely an intense coach as many coaches are," she said. "But there is a big canyon between being super intense and abuse, and this was not an abusive environment for these women. Was it challenging? It was incredibly challenging. Was I aware that there were players that were unhappy? I was aware of that at the end of the season and I was unhappy."