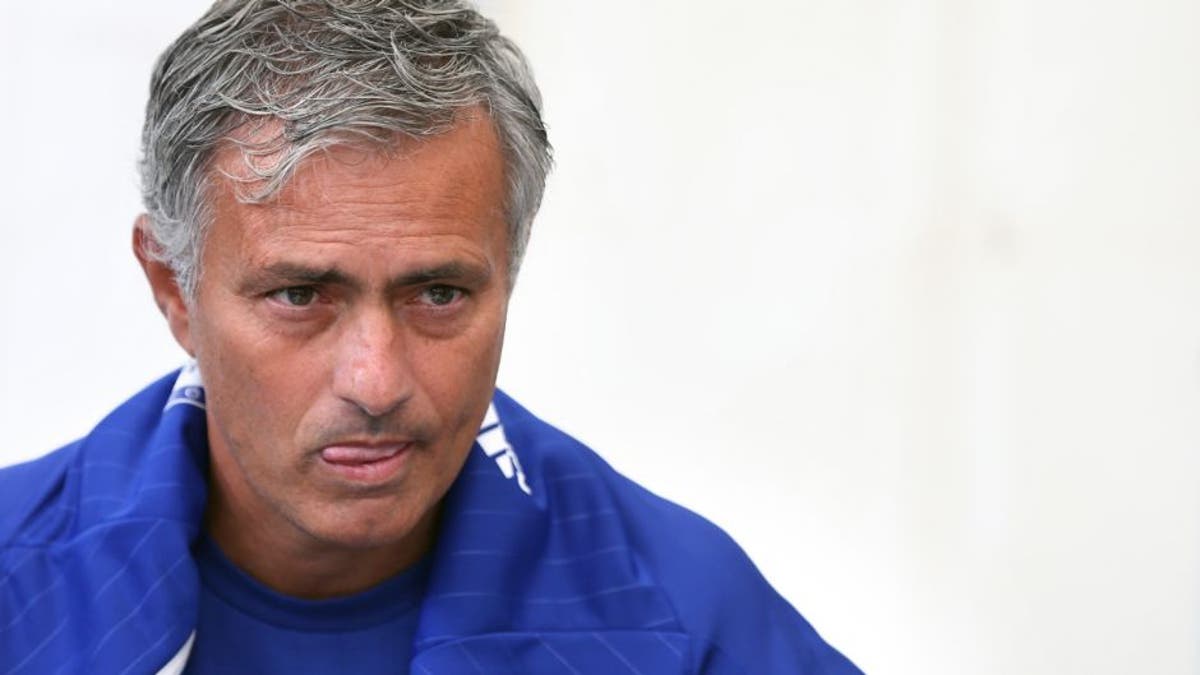 Chelsea boss Jose Mourinho could not resist making a thinly-veiled dig at Arsenal counterpart Arsene Wenger when asked about Manchester City's faith in Manuel Pellegrini, saying some managers have "disappointed for 15 years" and remained in their job.
Attention returns to the pitch on Sunday after a week of intense scrutiny and criticism regarding the Portuguese's handling of team doctor Eva Carneiro and physio Jon Fearn. The second match of Chelsea's Premier League title defense is a mouth-watering trip to runners-up City, who recently handed manager Pellegrini a surprise new two-year contract.
The 61-year-old won the league title in his first season at City, but pressure mounted after last year's disappointing campaign. Mourinho was asked if he was surprised to hear the news of the contract extension - a question he seemingly used to have a dig at old foe Wenger. "Why?" he said. "Some other clubs, they have disappointed for 15 years and the manager is the same."
It appeared another cutting jibe at the Arsenal manager, who the Portuguese last year labelled a "specialist in failure". The Gunners have secured back-to-back FA Cups but not won the league since the invincible campaign of 2003/04. The fact Wenger was unable to follow Arsenal's dominance that season by retaining the Premier League crown underlines Mourinho's belief that doing so is one of the hardest things in football.
"When you win one, it's more difficult to win it twice," he said. "Why has no team won the Champions League twice in a row? You win the title in a country where you are almost lonely or the opposition doesn't reach the level - you win once, two times, three times, four times, no problem. You do it because the other teams have no conditions to react. You win the Champions League, how many teams can react to the fact that they did not win the Champions League? A lot of them can react. In the Premier League, if you win the title how many teams are able to react against that? A lot of them can react." It means "every one of us has to perform better", Mourinho says, as the economical and institutional powers want to wrestle back control.
The Portuguese plans to boost their chances by adding up to a couple of new players before the window closes, with Augsburg left-back Baba Rahman believed to be close to joining. The fee is reported to be in excess of £20million, making the Ghana international their biggest summer signing - albeit a figure that pales in comparison to the £49m Sunday's opponents spent on Raheem Sterling.
City are reportedly close to spending a similar amount on former Chelsea man Kevin de Bruyne, which Mourinho says is a result of the west Londoners' success. "Yes, because we were champions," he said. "Because in the same way the season before Man City pushed us in the same direction. We did sell - David Luiz, Juan Mata, Kevin De Bruyne - we did sell very good players to raise funds to make our investments. We did that. It's not like buy, buy, buy, buy, then sell. We buy and we sell and use the conditions between the money we spend and the money we get. It is fantastic the way Chelsea is doing this right."