Jose Bautista of the Blue Jays Twisted Ankle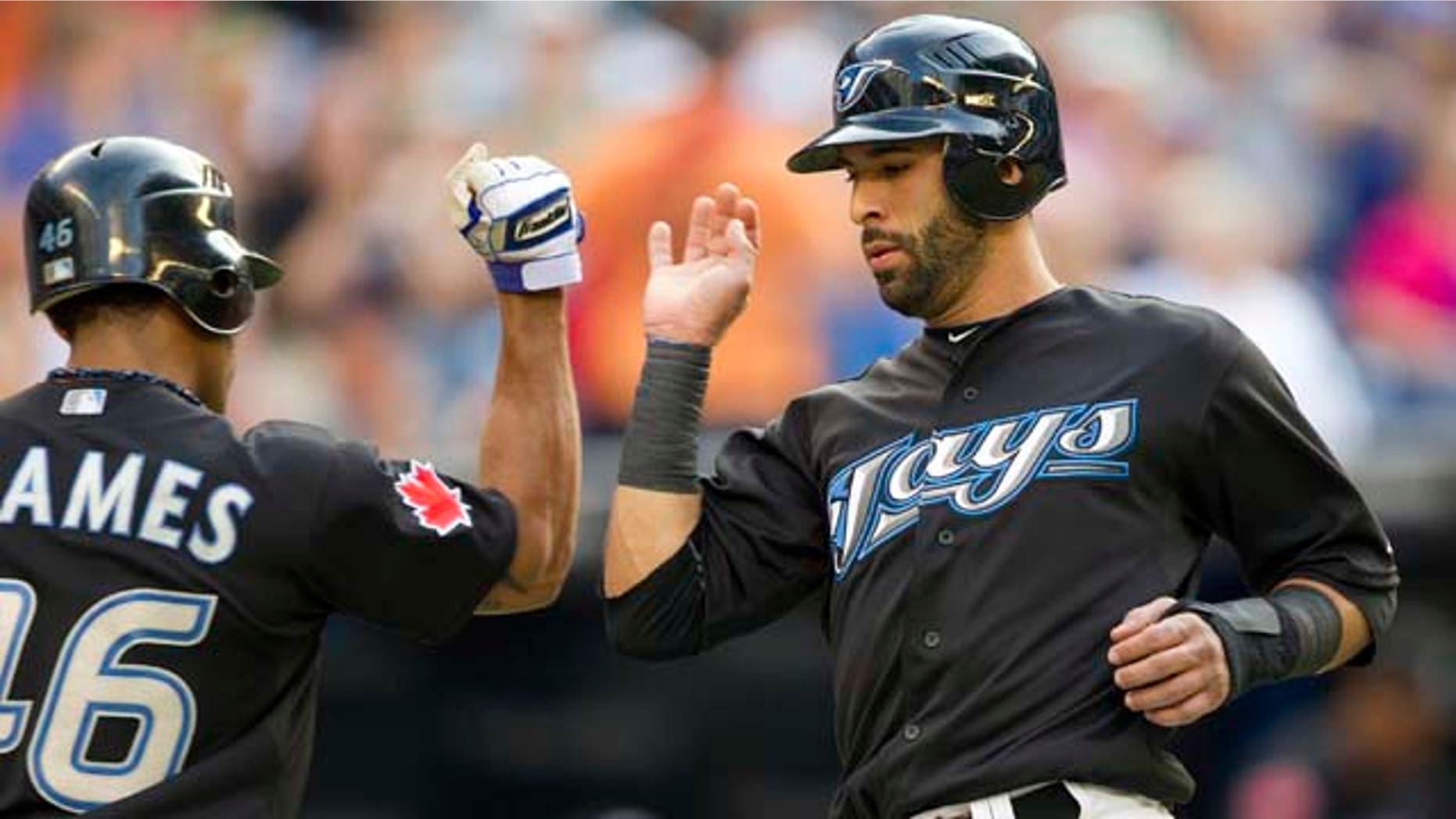 It seems José Bautista has encountered the only the thing that's been able to stop his ridiculous home run tear over the last season and a half – a twisted ankle.
The Toronto Blue Jays slugger twisted his right ankle in the fourth inning of Thursday night's matchup with the New York Yankees.
The Major League's home run king – Bautista has belted 31 round-trippers so far this season – limped off after an awkward slide into third base.
He is considered day-to-day.
Bautista was getting treatment after the game and did not speak to the media, but Blue Jays manager John Farrell said his All-Star slugger caught a spike in the dirt.
"Hopefully this isn't a prolonged situation where he's going to miss any length of time," Farrell said.
Farrell said X-rays were negative, adding that Bautista could undergo an MRI on Friday.
"You never want to see anybody get hurt, especially our leader in José," catcher J.P. Arencibia said. "I didn't get to see what happened, I just saw him in pain on the (turf). He's a fighter and he'll be back as soon as possible."
Andruw Jones hit two home runs for the Yankees, the 42nd multi-homer game of his career, but the Yankees couldn't extend a nine-year streak of winning their first game following the All-Star break.
"We just couldn't hold them down," Jones said. "They just kept getting key hits and they blew the game open."
Starting for the third time since missing 18 games with a sore left hamstring, Yankees right-hander Bartolo Colón (6-5) lost consecutive starts for the first time this season, allowing eight runs, three earned, and six hits in 2-3 of an inning, his shortest start of the year. He walked two and struck out none.
The Yankees made three errors, including a first-inning miscue by third baseman Eduardo Nuñez that led to five unearned runs.
The sloppy defense, and some bad luck, had Yankees manager Joe Girardi calling Colon's performance "hard to figure out."
"I really don't know what to make of this start because he could have been out of the first inning without giving up a run and only faced four hitters," Girardi said.
Colon acknowledged his leg injury is still on his mind when he pitches and when he has to play defense or cover a base.
"There's no pain at all but every time I try to cover the base or have to react quickly, I'm thinking about it," he said through a translator. "I don't want to get hurt again."
Colón said the injury means his sinker "is not sinking the way it's supposed to, because I've been thinking about my leg too much."
Girardi said he would speak to Colón on Friday to find out just how much the injury is still bothering him.
"You don't make too much of one game but it was not a good game on our part," Girardi said. "Offensively we swung the bats good. Defensively and pitching, we did not necessarily play that well."
Left-hander Jo-Jo Reyes (5-7) allowed seven runs and 10 hits in 5 1-3 innings. He walked one and struck out two.
The Blue Jays knocked Colón out of the game before the first inning was finished, doing all their damage with two outs. Yunel Escobar led off with a grounder but Thames doubled, Bautista walked and both runners moved up on Adam Lind's grounder to first before Aaron Hill drove in both runners with a single to center.
Encarnación walked and Travis Snider hit an RBI single before Arencibia reached on Nuñez's error. Rajai Davis and Escobar followed with infield singles, making it 4-0, before Thames chased Colon with a two-run double to center.
Luís Ayala came on and balked in an eighth run before getting Bautista to pop out.
The eight first-inning runs matched a franchise-high for the Blue Jays, who also scored eight in the first inning on Sept. 26, 2007, at Baltimore.
Thames became the first Blue Jay to get two hits in an inning since Snider doubled twice in the fifth inning of an 8-6 win at Yankee Stadium on Aug. 2, 2010.
Toronto made it 9-0 on Encarnación's RBI single in the second before the Yankees rallied with a four-run third against Reyes. Jones led off with a homer to left, Curtis Granderson hit a two-run triple that bounced over Thames' head in right and Mark Teixeira followed with an RBI grounder.
The Yankees cut it to 9-7 and chased Reyes with a three-run sixth. Nick Swisher and Russell Martin led off with singles before Jones clubbed a three-run drive into the second deck in left, his sixth. Reyes left two batters later after Brett Gardner singled.
Encarnación gave the Blue Jays some breathing room with a two-run, two-out single off Boone Logan in the bottom half, and Toronto added two more against Logan and Sergio Mitre in the seventh. Snider singled, stole second and went to third on Martin's throwing error before scoring on Arencibia's double, and Thames capped it with an RBI single to center.
The Blue Jays tacked on three more in the eighth against Mitre. Snider hit an RBI double, Encarnacion scored on shortstop Derek Jeter's fielding error and Davis drove in a run with a fielder's choice grounder.
Based on reporting by The Associated Press.
Follow us on twitter.com/foxnewslatino
Like us at facebook.com/foxnewslatino