Jose Aldo slams Conor McGregor's title reign after giving up featherweight belt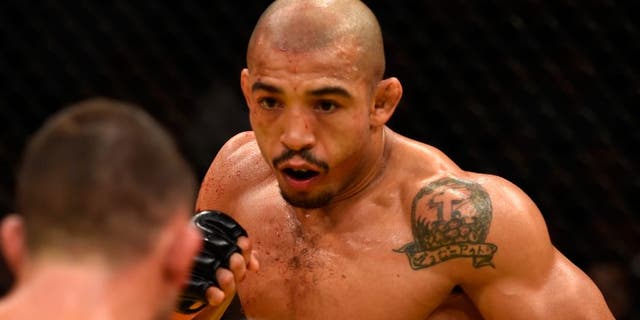 Jose Aldo was declared the undisputed featherweight champion over the weekend after Conor McGregor gave up the belt so the UFC could introduce another interim title for the UFC 206 main event between Max Holloway and Anthony Pettis.
Aldo won the interim belt back in July with a unanimous decision win over Frankie Edgar, but according to the veteran Brazilian, he never considered himself as anything less than the real champion.
Aldo maintains that McGregor's 13 second knockout win over him last year was nothing more than a fluke and it was only a matter of time before he reclaimed the title again.
"To me, I never stopped being champion," Aldo told UFC.com (translation by MMAFighting). "I lost that fight because of an accident. I knew that I would win a rematch, that I would be champion again.
"It's not my fault that he's such a (expletive) he was never the champion. I don't see myself losing to anyone in this division or any other (division)."
Aldo has been gunning for a rematch with McGregor ever since he suffered the knockout loss last December, but the Irishman has moved onto the lightweight division where he now stands as the champion at 155 pounds.
While McGregor ultimately gave up the featherweight title, it was move precipitated by the UFC needing a championship main event for the December 10 card in Toronto more so than actually wanting to take the belt away from him.
Still, Aldo said in a separate interview with SporTV in Brazil that it was only a matter of time before McGregor gave up one of his belts.
"That was a fact I knew would happen, that he would drop a belt, my belt or the lightweight," Aldo said. "It's a tough fight for him at lightweight, with Khabib (Nurmagomedov), or a rematch with me, so he preferred to drop (my belt). No problem."
Now Aldo is once again the undisputed champion in the featherweight division and he's expected to face the winner of Holloway and Pettis in early 2017.
Once that fight is wrapped up, Aldo still has his sights set on a rematch with McGregor -- even if that means moving up to 155 pounds to get it done.
"First, I want to defend my title, and then go after a fight with him (at lightweight)," Aldo said. "Just like Dana (White) said, we can choose who we want to fight, so I want to fight him. That's what will happen.
"I don't see any problem. I'll be prepared for whoever wins. Pettis has a bigger name, of course, was a champion before, so it would be a bigger fight. But if it's the other one (Holloway), no problem, I'll win no matter what."