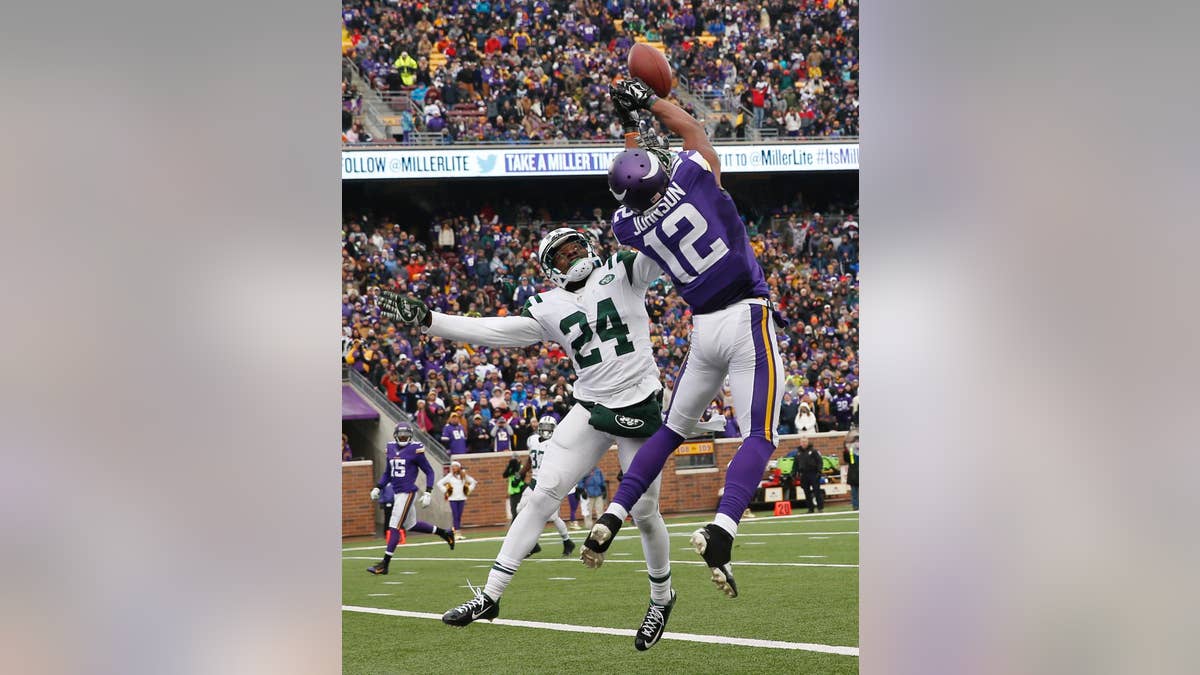 MINNEAPOLIS – Rex Ryan has faced plenty of calls for his ouster during another trying season for the New York Jets.
After his big gamble in overtime against Minnesota went bust, he's sure to hear some more.
The embattled coach brought the house with one of his trademark blitzes on third down, and Vikings rookie quarterback Teddy Bridgewater saw it coming all the way. He changed the play to a screen pass that Jarius Wright took for an 87-yard touchdown to beat the Jets 30-24 on Sunday.
"That game's clearly on my shoulders," Ryan said. "Calling that third down, trying to get off the field on cover-zero (blitz). He hadn't hit anything against it all day. Probably showed our hand a little too early there."
After stopping the Jets (2-11) on the opening possession of overtime, the Vikings faced a third-and-5 from their 13-yard line. As Bridgewater came under center, the Jets defense started to crowd the line of scrimmage, prompting the young QB to check to a screen designed to get the ball out of his hand quickly before the defense had a chance to get to him.
Bridgewater zipped the ball out to his right and Wright made a twisting grab to haul it in, broke a tackle from Jaiquawn Jarrett and then won a foot race with defensive tackle Sheldon Richardson for the second-longest overtime touchdown in league history.
"Teddy saw what they were going to be in and we switched to the better call," Wright said. "I'm glad I had the chance to be in that situation."
It was a gut punch of an ending in a season full of them for the Jets, who hung in there on Sunday after Geno Smith had an interception returned 27 yards for a touchdown on the first play of the game.
Smith rebounded to finish 18 for 29 for 254 yards, including a pretty 35-yard touchdown to former Viking Percy Harvin in the first quarter. Harvin had six catches for 124 yards and added a 47-yard kickoff return in his first game in Minnesota since he was traded to Seattle before last season. Nick Folk kicked five field goals, Richardson had three sacks and a safety and the Jets rolled up 410 yards of offense.
But they also failed to score a touchdown on five trips inside the red zone, turned it over again when Chris Ivory was inches from the goal line and fumbled and failed to capitalize on the numerous opportunities the Vikings (6-7) gave them.
"I feel for every guy on this team," Smith said. "I know the effort that we put into it. I know how badly everyone wants to win and I know that it means a lot to our community, to the fans, including myself and everybody. But it's hard to have to keep losing this way."
Bridgewater was 19 for 27 for 309 yards with two touchdowns and one interception and Charles Johnson had four catches for 103 yards and a touchdown for the Vikings.
It only got worse for the Jets after the game, when Harvin needed crutches to get out of the stadium after leaving the game in the fourth quarter with an injured left ankle.
"I can't even put it into words," Harvin said. "Especially at the end of the game, you've got OT, the offense is playing well, the game on the line, I definitely, definitely didn't want to be on the sideline. I wanted to be in that battle with my guys to finish this thing out. But I couldn't go."
Jets owner Woody Johnson left the stadium without offering comment, but Ryan insisted that the focus should be on the coaching staff and not the owner's suite.
"Woody's competitive. He wants what's best for this football team," Ryan said. "He's passionate and he wants to put a great product on the field and obviously, today, he wants to win. Like anything else, so I'm responsible for this and I'll tell Woody and our fans and everybody else that. This is on me.
"But one thing. Obviously, I deserve a lot of criticism for the way this team's performed this season. I get that. But Woody doesn't. I can tell you that much. The Jets are in good hands with him as the owner, that's for sure."
NOTES: Harvin's receiving touchdown was his first since 2012, when he was playing for the Vikings. ... Jets WR Eric Decker had six catches for 89 yards in his return to his alma mater, the University of Minnesota, where the Vikings are playing while their new stadium is being built. ... It was Ivory's first fumble since 2010.