Jessica Eye breaks her silence on a lifetime of abuse and how she finally walked away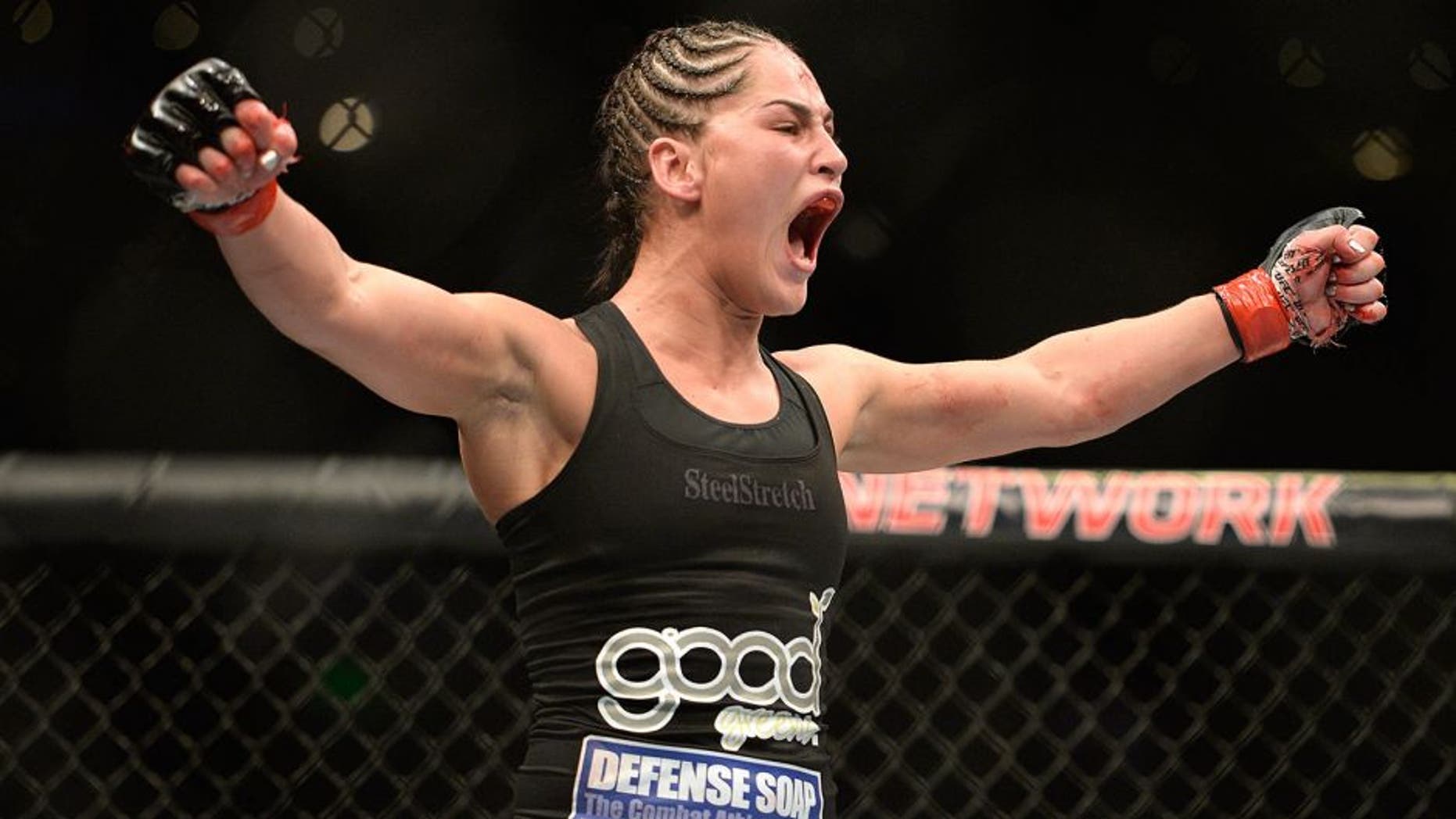 It's safe to say Jessica Eye doesn't fear much of anything these days.
The fifth-ranked women's bantamweight will stare down former Strikeforce champion Miesha Tate this Saturday night with a chance to then stand across from UFC women's wrecking machine Ronda Rousey, and neither of those scenarios scares her.
But fear has played an important role throughout Eye's professional career, and it comes from the scariest place possible and the person who was supposed to love her the most.
Eye has spoken openly about the tumultuous relationship she's had with her father, Randy, ever since she got to the UFC. From an argument that led to her banning him from her debut fight against Sarah Kaufman at UFC 166 to a daughter's love that raised money for her father after he was diagnosed with brain cancer in 2013, Eye has been on a rollercoaster ride that came to a close after severing ties with her dad last year, and she's finally opening up about why.
It all started when Eye was still in grade school and she grew to fear the sound of her father's motorcycle roaring into the driveway late at night. The rumble of the engine and the deafening silence that followed haunted Eye as a child because she knew what inevitably was going to happen when her father finally came into the house.
He was going to hit her.
"I remember the first time my father ever put his hands on me, I think the first time I was in the third or fourth grade and I was in shock that he put his hands on me," Eye told FOX Sports. "For all these years growing up as an abused person and as an abused child and someone who dealt with child abuse, as an adult I still fell victim to it because it was almost Stockholm Syndrome because I always felt like I needed him no matter what."
Eye says her father would regularly abuse her and her older brother until she finally escaped his house when she was 18. Even then Eye says the abuse didn't actually stop.
It was just before the fight that would earn Eye a shot in the UFC that her father struck her. Eye was 25 years old and felt like finally being an adult would keep her dad from putting his hands on her, but she was wrong.
"My dad put his hands on me and my oldest brother Randy our entire childhoods until I was 18 years old and even one time after that on my 26th birthday when he punched me in the face right before my Carina Damm fight," Eye revealed. "When he hit me, I couldn't believe it. I was a grown woman and he hit me in my face."
Eye says thanks to her training as an MMA fighter, where she had already amassed an impressive 9-1 record, she was finally able to fight back. Her father was an imposing figure, standing well over 6 feet tall and outweighing her by 100 pounds, but Eye promised after she left his house for the last time that he would never put his hands on her again.
"I fought back in front of everybody and I grabbed him by his hair and kneed him in the gut and pushed him away and he tried to lunge at me again and at that point everybody who was there -- my sponsors who were there, my friends who were there -- jumped in and he felt helpless at that moment and I thought to myself 'you're never going to put your hands on me again' and I had my chance as an adult and a grown woman, no matter who you are, I'm fighting back," Eye said.
At that moment, Eye walked away from her father and severed ties with him all together, but when he was diagnosed with brain cancer and needed his daughter, she came right back to his side like loving children are supposed to do for their parents.
Eye couldn't stop from worrying about her father because no matter how many times he slapped her or made her feel inferior, he was still the person who brought her into this world. He was her dad, so she fell back into old patterns and quickly rushed to help him with whatever he needed while battling the crippling disease.
Eye did interview after interview talking about her father's condition and how they were battling to save his life. She started a campaign to raise money to help pay for his medical expenses while sending out heartwarming photos of the good times she spent with her dad.
But even after all that, Eye says her relationship with her father was like mixing oil and water. On the surface it looked a doting daughter helping nurse her sick father back to health. Underneath the waves, Eye was being drowned in a sea of negativity and guilt that she was being dragged back into a relationship that had been toxic ever since she was eight-years-old.
"It wasn't until my 26th birthday that he almost solidified the fact that he doesn't deserve to be in my life and I axed him. I axed him really hard and it wasn't until he came down with brain cancer right before the Alexis Davis fight that I felt compelled to go back and try to help and do what I could to make him feel good. I didn't want him to feel like he was walking into the valley of death and he was doing it alone," Eye said about her decision to help her father through his bout with cancer. "I don't know if he was sorry because he was going through brain cancer and he needed to make sure he made amends before he did pass or what it was, but I felt compelled to help him and I did and I'm glad I was there for him. It took everything out of me.
"I was emotionally exhausted. Number one, fighting is more emotional that physical. I genuinely believe that. Maybe that's for me and it isn't for other people, but for me it's more emotional than it is physical. Going into that fight having all that and then after that loss, me and my dad had our last falling out. That was when I knew it was time to walk away forever and I knew in my heart that I did everything that I was supposed to do to be there for him and be a good daughter."
Through it all, Eye just wanted her father to finally look at her with the same kind of love and adoration she had for him no matter how many times he put his hands on her. Following another incident after her 2014 fight with Alexis Davis she realized it was never going to happen.
"When my dad lunged at me for the second time right after the Alexis Davis fight, I said that was enough," Eye revealed. "I knew I did everything that I humanly, possibly could but when I did that it was like a weight lifted off of my shoulders. Like I wasn't carrying this monkey on my back making excuses like was he going through a bad time in his life? Was he upset raising a daughter all by himself? Was it hard for him to be around a daughter because he hates females and I feel like he hated me and it wasn't my fault.
"Old habits die hard for him. I'm not going to be a victim. I don't want people to ever get the wrong idea that I would allow someone to abuse me, so at that point I closed the door and I'm happy with where I'm at now."
Looking back now, as she stands on the precipice of her 29th birthday, Eye can be honest enough to say that she's probably never had a good relationship with her father from the time she was a kid. Growing up and getting hit was just a way of life for Eye and her siblings, but she eventually realized that this isn't how fathers are supposed to treat their kids.
Eye says the cycle of abuse never really ended and that's when she realized that it was time to finally cut her father out of her life for good, and there's been no looking back ever since.
"I remember as a little girl, I remember the arguing and I remember the chaos and I could deal with the noise in my head and I could deal with those emotions," Eye said. "After our last falling out, which was almost two years ago at this point, I feel like I'm a whole woman. I feel like I don't need it anymore. I don't need his love. I don't need that chaotic love that's only good when they want it to be good.
"An abuser only wants to love when they want to love and they hurt when they want to hurt but they expect love all the time. For me it was time to walk away. I feel good about myself."
Eye has never spoken about the abuse suffered at the hands of her father until now because she never wanted people to look at her as some kind of victim. The last thing she wanted was to be approached by someone with a sorrowful look in their eyes before the inevitable 'I'm sorry this happened to you' came pouring from their lips.
But the Ohio native felt it was finally time to break her silence because she asked her fans to support her when her dad fell ill in the first place. Eye believes they have the right to know why he's no longer a part of her life.
"I never wanted people to judge me based upon the life that I live. I never wanted people to look at me as a victim. I'm not a victim. As much as other people in my life have said 'Jess, you've been a victim of him', I've said I don't feel like a victim because victims feel bad for themselves in a way and I don't want to be a victim," Eye said. "Nobody's known this about me for years and I've kept it secret for years and the only people who have known have been my friends and my teammates closest to me because I never wanted people to be like 'oh she's got daddy issues'. I didn't want anybody to know until it was the right time.
"Unfortunately, I involved all of my fans when my father went through cancer and I really did want to do right by him and I was able to raise about $30,000 to help pay for his chemo and his radiation that I felt at that point, people have asked me now about my father and I kind of shun them off but I owe them an explanation. They supported me. When I came calling, my fans supported me because they're good people and because the MMA community is an awesome group of people and they deserve an explanation why he's no longer in my life."
Eye also believes that speaking out now is the right thing to do because if one of the best women's fighters in the world could go through a lifetime of abuse, maybe somebody else feeling scared and ashamed would be inspired to do the same.
"I can't say that it doesn't choke me up a little bit when I think about it. It's not the kind of choking up that I'm crying for him, but it's the fact that I feel bad that any person out there in the world is going through this," Eye said. "There's people out there going through it right now and I feel awful for them.
"They feel like there's no means to an end. They're sitting in their room thinking 'is there ever going to be a day when I'm not pushed around or beat up or told that I'm not good enough?' so my tears and my pain go to them."
Revealing everything just before the biggest fight of her life is Eye's way of shedding the past and focusing on the future. She wants to move beyond her father once and for all and instead channel her energy on the things that matter most -- like becoming the next UFC women's bantamweight champion.
"I can't be the most confident person with everybody else but then let my dad run my life and abuse me whenever he wants just because I wanted my father to love me the way that I needed him to. I don't need that now. I hope they can understand that this has been a very hard walk for me. I was walking on pins and needles and now I'm walking on the golden road," Eye said.
"I feel like there's nothing that can shake me. I've seen it all. I've done it all. I don't think at this point anything can surprise me. This is the right time. This is my time."
Eye will fight in the co-main event of FOX UFC Fight Night from Chicago this Saturday night kicking off live at 8pm ET from the United Center.