JENSEN: Talladega Nights Are Maddening, Magical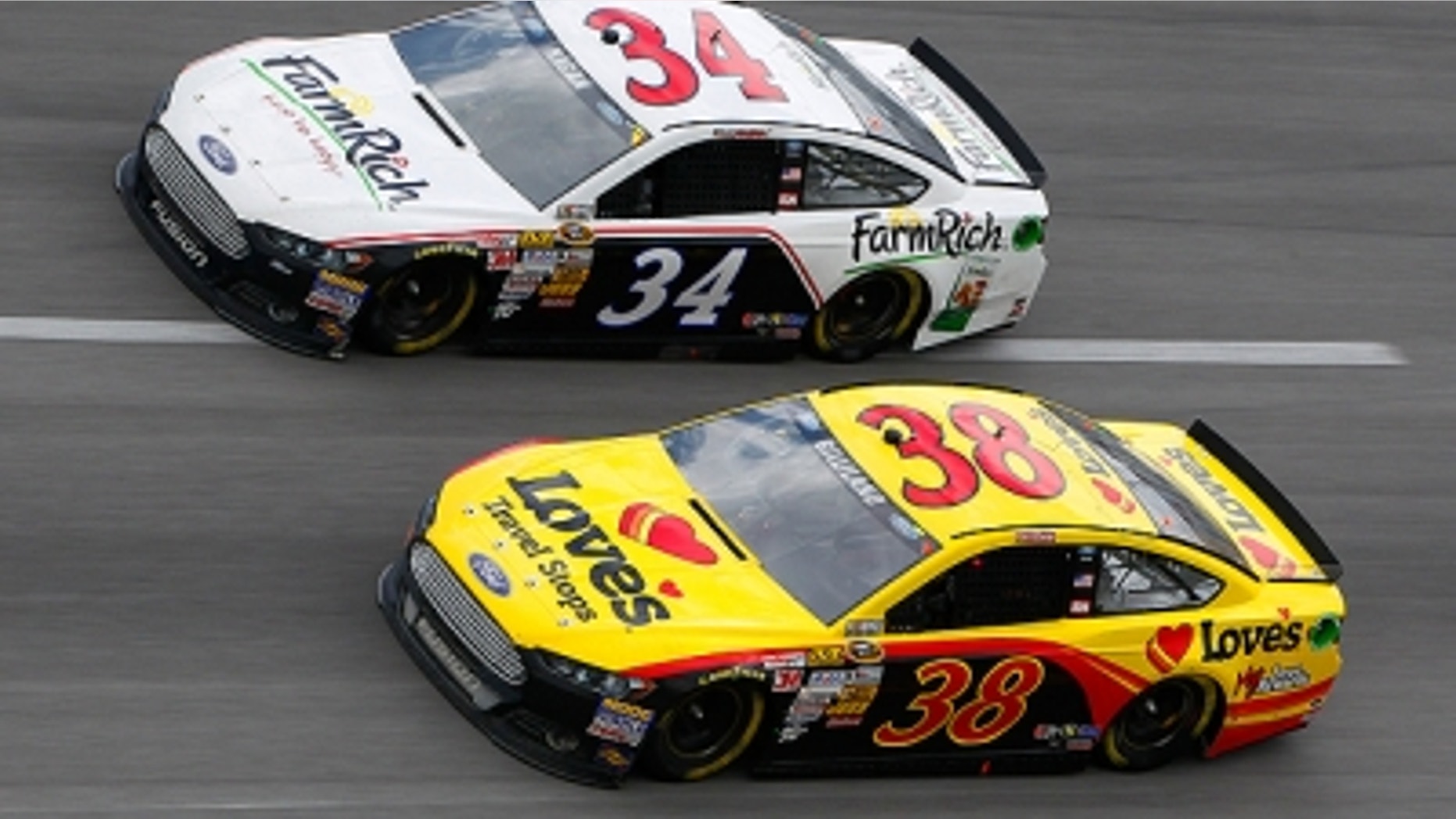 I was at Talladega Superspeedway in April 2009, when Brad Keselowski outfoxed Carl Edwards and won his first NASCAR Sprint Cup race and the first for car owner James Finch, who had labored since 1990 to put a car in Victory Lane.
On the last lap of that race, Keselowski and Edwards made contact racing to the start-finish line.
Keselowski won, Edwards had a horrifying flip into the catchfence and afterwards all hell broke loose. David Poole, the fiery and brilliant NASCAR writer for the Charlotte Observer, wrote a column savaging the track and essentially demanding it be torn down because it was just too dangerous.
Less than two days later, Poole was dead of a heart attack.
Since that time, we've seen all manner of madness at Talladega — Jimmie Johnson winning the closest race in NASCAR history in 2011 with the top eight cars finishing within 0.2 seconds of each other, and Tony Stewart causing a 25-car accident trying to block Michael Waltrip on the last lap last year. And who can forget Stewart's epic rant, demanding that drivers wreck more cars to give fans their money's worth.
Virtually every race weekend at Talladega features dozens of wrecked cars worth millions of dollars, angry drivers, pissed off crew chiefs and lots of finger-pointing, name-calling and blame-assigning. It is infuriating to see the best drivers in the world unable to complete a race without someone putting 20 others in harm's way.
Talladega is maddening that way, maddening in a way no other track in NASCAR is. At least once every weekend, I'm convinced Poole was right, that this place ought to be torn to the ground and plowed into a cotton field.
And then something happens to remind me that Talladega is the one place in all of NASCAR that consistently produces high drama and great stories like nowhere else.
Sunday night, it was David Ragan and David Gilliland hooking up at the end of the Aaron's 499 to finish 1-2 and give car owner Bob Jenkins his first NASCAR Sprint Cup race victory in more than 400 starts.
Afterwards, there was the predictable controversy.
"Mad as hell about that finish," Tweeted Keselowski. "We were suppose (sic) to line up 10th when the 34 (Ragan) switched lanes entering 3 before green. That lane won. BS."
Was it BS?
Maybe.
Of course, a lot of people thought it was BS when Edwards went into the catchfence in 2009 and Keselowski went to Victory Lane.
That's just the nature of Talladega. It fuels disagreement, debate and even outright rage.
But it's also the place little guys can win, and for that it deserves its place in the NASCAR schedule.
No disrespect to Front Row Motorsports, but they race with pennies and nickels while the Gibbs and the Roushes and the Hendricks race with dollars.
Ragan was a 100-1 shot at victory at Talladega, but at Charlotte or Bristol or Martinsville, he'd be more like 300- or 400- or 500-1.
Talladega is the great equalizer, allowing the little guys a legitimate shot to win.
Understandably, this victory was hugely emotional for all involved.
Ragan clearly was moved.
"I'm kind of a low-key guy, but, man, I don't know … I can only imagine what it felt like back in 1988 when Mark Martin got that first win for Jack Roush or when Geoff Bodine won that first race for Hendrick Motorsports," said Ragan, who won for the second time in 228 career Sprint Cup starts. "I'm sure it was just as special. A lot of these guys have been to victory lane in the Sprint Cup Series and late model racing, short tracks, ARCA – all kinds of series – but to do it here at Talladega in 2013, like I said, it's a true David vs. Goliath story. I couldn't be more proud to play my own role."
"We're up against it every week," said Gilliland. "There's weeks we don't have enough tires to put on our car so we've got to put scuffs on and everything else and then race against guys that have stickers. We're just continuing to build and for Front Row Motorsports, a 1-2 finish and to be there to help make that possible is very special for me."
And then Gilliland held up a pink Post-It note, written by his daughter, Taylor.
"A lot of it had to do with this little note here, 'Good Luck,'" said Gilliland. "This is from my daughter, 10 year-old daughter. She wrote that and put it in. It's got a little horseshoe in it. She wrote that and put it on my dash there before the race, so she had some horseshoe good luck earrings in, too, so we'll take that."
Corny? Heck, yes.
But it's real and it came from Gilliland's heart.
And the perfect counterpoint to the sound and fury of 24 race cars getting torn up in violent accidents is seeing a first-time team win, and a couple of journeymen racers speak from the heart afterwards.
As infuriating as Talladega unquestionably is, it and maybe Daytona are the only tracks on the circuit where this type of insanity and this type of magic come together.
May it always be that way.
Tom Jensen is the Editor in Chief of SPEED.com, Senior NASCAR Editor at RACER and a contributing Editor for TruckSeries.com. You can follow him online at twitter.com/tomjensen100.