Jamie McMurray takes on Dale Jr. in 'Halo 5: Guardians'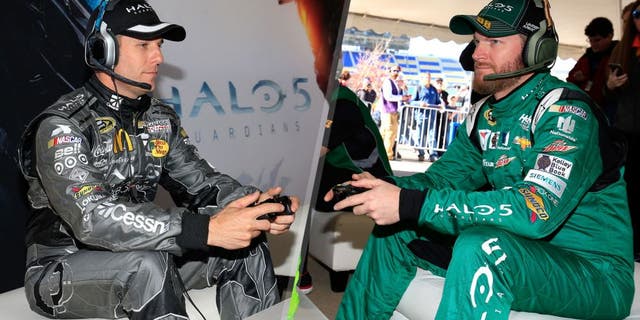 NEWYou can now listen to Fox News articles!
The cars of Dale Earnhardt Jr. and Jamie McMurray are both sporting special paint schemes this weekend at Kansas Speedway promoting the new "Halo 5: Guardians" video game for Xbox One.
But before the green flag waves on Sunday's Hollywood Casino 400, the two drivers squared off, joined by a few gaming teammates, in a friendly four-on-four "Halo 5: Guardians" tournament on Friday afternoon at the track.
The video game -- which hits retail shelves on Oct. 27 -- tells the ambiguous story of the Master Chief, missing in action and his loyalty in question, amid a mysterious and unstoppable force that has threatened the galaxy.
"I didn't really know what to expect," said McMurray of the "Halo 5" competition. "I haven't played video games in a long time, but my little boy (son Carter) is getting big enough now that we're playing some games, and you just get hooked so fast when you start playing that. And that was fairly intriguing. The fact that you could get shot . . . and you weren't ever really dead, it was nice that you got to keep playing. They said we played 15 minutes -- it went by really quick."
McMurray's team ultimately prevailed over Earnhardt's, but McMurray wasn't inclined to gloat.
"Our team won, yes," McMurray said. "I don't know that I had much to do with it, but our team won."
Earnhardt enjoyed the experience, even if the outcome didn't turn out quite as he had hoped.
"We got our butts kicked, but it was fun," NASCAR's most popular driver said.
So did Junior have a strategy going in?
"I was running around trying to figure out where I was at the whole time," he said. "The maps are all pretty detailed, and there's some advantages, and there were guys doing things that I didn't know how to do. Just gonna take a lot of time to play the game more and get in the swing of things."