Jacksonville Jaguars at Kansas City Chiefs game preview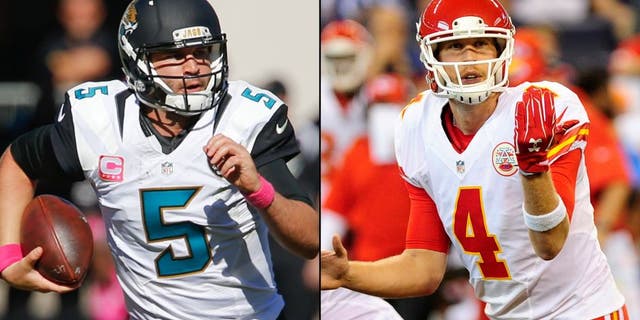 TV: CBS
Time: Sunday, 1 p.m.
KANSAS CITY, Mo. (AP) -- The Jaguars and Chiefs probably had to dig into the archives for game film to prepare this week.
Jacksonville perhaps tried to unearth some film of Philadelphia, circa 2012, when Nick Foles started six games at quarterback for Andy Reid.
That's because Foles is due to start for Reid again Sunday in place of Alex Smith, who has been ruled out this week with a head injury.
Kansas City might have scrounged up tape of Buffalo, circa 2013-14, when Nathaniel Hackett was the offensive coordinator. He was promoted to the same job in Jacksonville last week when Greg Olson was fired .
"We played him when they were in Buffalo," Chiefs coach Andy Reid said of Hackett, "but listen, you don't know -- you don't know exactly what they're thinking. You got to take care of yourself."
The Chiefs (5-2) have been doing a fine job of that lately. They've ripped off three consecutive wins, playing their best football of the season, and are tied in the loss column for the AFC West lead.
Meanwhile, the Jaguars (2-5) have lost two in a row -- a big reason for the coaching shakeup.
"You know, it's a different dynamic. Nate's out there, how the plays are coming into the quarterback, his coaching style," Jacksonville coach Gus Bradley said, "just waiting to see how it all comes together.
"It has been good without getting too much into what we're doing."
Bradley said early in the week that he was preparing for Smith or Foles to start, but Smith was ruled out Wednesday. He had endured two brutal collisions with the hard turf in Indianapolis last week, and despite being cleared of a concussion, the Chiefs decided to err on the side of caution.
Besides, Foles was stellar in relief against the Colts.
"I feel great in this offense. I always liked playing for Coach Reid," he said. "It's happened so fast, but I feel great about the playbook and where we're at as a team and where I'm at understanding it."
Foles has faced Bradley and the Jaguars before. He was the starter for then-coach Chip Kelly two years ago when the Eagles opened the season against them. Jacksonville led that one 17-0 at halftime, then Foles led his team to 34 unanswered points in the second half to win the game.
"Not surprising that he went to a system like Kansas City after having success with (Reid)," Bradley said. "He just does a very good job. Very efficient, makes good decisions."
Reid insisted the Chiefs do not have to change their offense with Foles under center, while Hackett is likely to unveil some substantial tweaks to a Jacksonville offense that's struggled the past two weeks.
"He's definitely taught me more than any coach that I've ever been around," Jaguars quarterback Blake Bortles said.
"It was a lot of long hours of us trying to put a plan together and come up with what we were going to do and how we were going to attack different things versus different looks. So, been able to create a really good relationship with him. It will definitely continue."
As the Chiefs and Jaguars prepare to meet, here are some additional story lines:
RUNNING BACK WOES
The Chiefs' Spencer Ware sustained a concussion against Indianapolis, and Jamaal Charles had exploratory surgery this past week on his right knee. That left Charcandrick West the only available running back on the active roster, and prompted the signing of former second-round pick Bishop Sankey.
BLAKE'S TUTOR: Bortles spent the week working with his personal coach , Adam Dedeaux, trying to "kind of get tuned up." The quarterback said they worked on footwork and tightening his release, and he's hopeful the sessions will help him to escape a season-long funk.
"There's always a couple things you forget," Bortles said. "It's kind of a refreshment."
MORE ABOUT FOLES
The Chiefs' backup was signed in training camp and the move paid off in Indianapolis, where Foles was 16 of 22 for 223 yards with two touchdowns and no interceptions in their 30-16 win.
RIGHT MINDSET
Jaguars defensive coordinator Todd Wash spent the week propping up his beleaguered bunch, which allowed 494 yards to Tennessee in a 36-22 loss last Thursday night.
"I think I have more confidence in them than they do, he said. "I've had some meetings with our players. I still think we're a good defense. I think we're going to continue to play good defensively and that's what we expect out of them."
NATE IN KC
Hackett's father, Paul, was the offensive coordinator for the Chiefs from 1993-97 before becoming head coach at Southern California. That means the younger Hackett spent some of his formative years in Arrowhead Stadium before graduating from high school in suburban Kansas City.
"He definitely talked about it and said it's loud as heck. We cranked the music up at practice," Bortles said. "I don't even know if that comes close to it, but we tried."