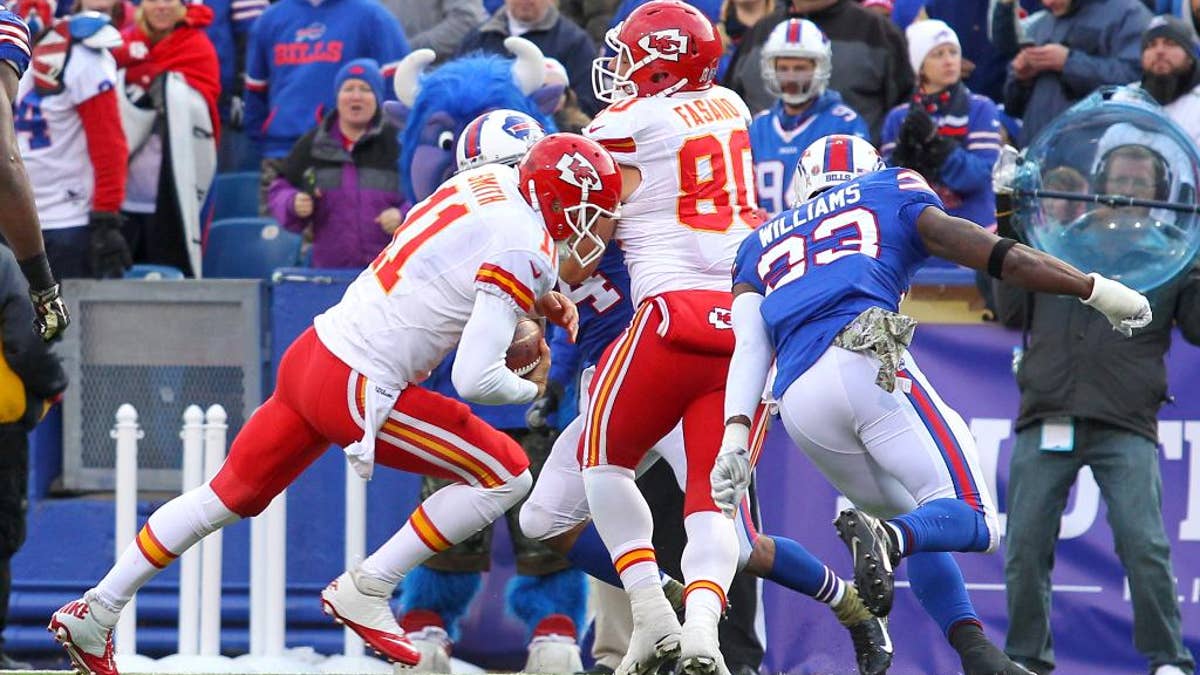 KANSAS CITY, Mo. – The Chiefs won their first nine games a year ago, streaking toward the playoffs under new coach Andy Reid.
They were the darlings of the NFL, its biggest surprise. Then they stumbled down the stretch and were beaten in the wild-card round by the Colts.
Now, everything is reversed.
After losing its first two games, including a one-sided rout at the hands of the hapless Titans, Kansas City is riding a wave of success. Reid and Co. have won four straight and six of their past seven, putting the pressure on the Broncos in the AFC West.
They head into Sunday's matchup with the defending Super Bowl champion Seahawks at Arrowhead Stadium as one of the NFL's hottest teams. Now, the big question is whether they can sustain that momentum deep into the season.
Can they not only qualify for the playoffs but actually win a game, something they haven't done in more than two decades?
Good luck getting anybody in the locker room to bite on that question. But in conversations throughout the week, players did reveal the recipe for their dramatic turnaround.
PLAYING DEFENSE: Simple, right? Stop the opponent from scoring to win games. But such a simple concept is much more difficult in practice, especially in a league that has been tailored to produce big yardage and high scores. Yet the Chiefs have only allowed more than 20 points once since their 0-2 start, and that was in a 22-17 loss in San Francisco.
"I think we probably have a better understanding of the defense than maybe we had last year," Reid said. "They're playing well together, as a unit, a team."
That's been critical given the number of injuries the defense has sustained.
Defensive tackle Mike DeVito and linebacker Derrick Johnson went down with season-ending injuries in Week 1, and safety Eric Berry has missed most of the first half of the season. But a group of unheralded backups, including leading tackler Josh Mauga, have filled in admirably.
The result has been the league's best pass defense, allowing just 205.3 yards per game.
"Just playing together, being consistent, being all on the same page," Mauga said, "and then our preparation. Guys around here are doing a great job, coaches included on helping us understand formations and what they're trying to do to us. It allows us to play fast."
EXECUTING UNDER PRESSURE: The Chiefs are third in the league in third-down conversions, picking up a first down nearly 50 percent of the time. They're also fourth in the league in red zone touchdown rate, putting up seven points on 69 percent of trips.
Those are the kind of under-the-radar stats that help win games.
"A reason is our balance this year," Chiefs quarterback Alex Smith said. "We've had such good balance all over the field, especially down there. It kind of gets magnified. You make it tough on defenses to really zero in on what you're doing. And then just executing."
That execution proved critical last week in Buffalo. The Chiefs scored their first touchdown on a run by Jamaal Charles on fourth down, and their second midway through the fourth quarter to give them their first lead in the game. They ended up with a 17-13 win.
RUN FIRST, PASS SECOND: The Chiefs buck the trend in the NFL by relying on the run, averaging more than 135 yards per game. That has led to a certain amount of consistency — after all, it only takes three straight incomplete passes to result in a punt.
Charles carries most of the load, but bruising running back Knile Davis provides a nice change of pace, and speedy rookie De'Anthony Thomas gives the offense yet another wrinkle.
So what if Smith averages 195 yards per game through the air? The Chiefs are firmly in the middle of the pack in scoring, and with their defense, that has proven to be enough.
"They have some explosive athletes," said Seahawks cornerback Richard Sherman, who will face the Chiefs on Sunday.
"They get the guys the ball quickly in space and they do something with it. I think they trust their guys to make plays, and they trust them to get yards after the catch, and that's how they run their offense effectively."
There are other reasons for the Chiefs' success, of course.
Most of the key pieces from last year's 11-5 team are back, which means they've already had a year in Reid's system. Young players such as left tackle Eric Fisher and tight end Travis Kelce have grown and matured.
Unheralded pickups such as defensive back Ron Parker have evolved into key contributors. And the Chiefs have taken advantage of miscues by their opponents.
With seven games left in the regular season, and the AFC West still up for grabs, the Chiefs are hopeful that this year their rapid rise will be sustainable down the stretch.
___
Online:
AP NFL website: www.pro32.ap.org and www.twitter.com/AP_NFL