Illinois high school investigated for appearance by NFL's Colt McCoy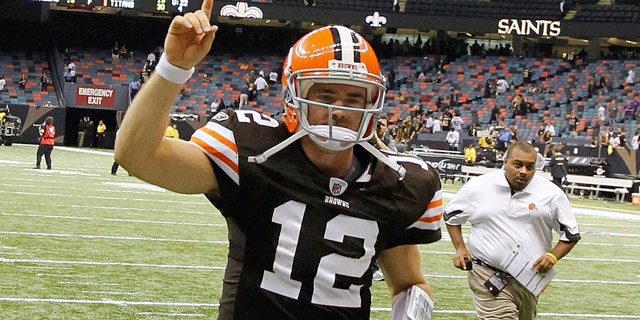 NEWYou can now listen to Fox News articles!
A group of Illinois high school football players were thrilled when NFL quarterback Colt McCoy dropped by to speak about his faith and toss the pigskin around with them, but the agency that oversees prep sports in the state is considering throwing a flag.
Ken Leonard, athletic director and football coach at Sacred Heart-Griffin in Springfield, said McCoy, the starting signal caller for the Cleveland Browns, visited the school on March 13 while in town for the annual Fellowship of Christian Athletes banquet. While at the school, McCoy "threw the ball around a little bit" to several students, including football player Malik Turner, prompting a complaint to the Illinois High School Association about whether the workout represented an illegal, off-season practice for the Cyclones.
"He shared his faith and played with them and threw the ball around a little bit," Leonard said of McCoy. "It was unbelievable experience. I'm sorry if any rules were broken, but in this instance, if I was wrong, I don't want to be right."
Matt Troha, assistant executive director for the Illinois High School Association, confirmed that the organization has requested information from school officials regarding McCoy's appearance.
"The crux of the issue doesn't revolve around Colt McCoy's appearance or involvement, but rather the IHSA by-laws that dictate the types of activities a coach and team can organize and participate in when a sport is not in-season," Troha wrote FoxNews.com in an email.
Leonard said Rick Sanders, coordinator of athletics for Springfield Public School's District 186, contacted Illinois High School Association officials regarding the brief football toss.
Sanders, meanwhile, denied submitting the complaint in an email to FoxNews.com.
"Neither I, nor any member school of Springfield Public School District 186 have made a formal complaint to the IHSA nor is it expected that I, nor any member school of SPS will make a formal complaint regarding this incident you referred to in your e-mail," Sander's message read.
Sanders said he's "heard nothing but how great Colt McCoy is as a person" and how wonderful the interaction was with the students and adults he visited on March 13.
"For some kids, it was a chance of a lifetime to be involved and interact with a current NFL quarterback," Sander's message continued. "We certainly hope the media can focus on how Mr. McCoy devoted his time that day to enrich the lives of some members of the Springfield community."
Roughly 10 students, including some football players, attended the brief workout session at the school's football field, Leonard said. In his 28 years of coaching at the school, Leonard said McCoy's appearance is the first time a complaint has been filed in connection with such an activity.
"I take the blame if there's any punishment, but we didn't do it with the intent to gain any advantage," Leonard continued. "We did it for a life experience. He talked to them about life and prayed with them. We need more male role models like Colt McCoy or Tim Tebow, that's what's important. Football had nothing to do with it."
Attempts to reach McCoy were unsuccessful on Thursday.
Marty Hickman, executive director of the Illinois High School Association, was unavailable for comment on Thursday, but he told the Springfield State Journal-Register that the matter is being reviewed.
"But my take on it is, it seemed to be fairly inadvertent," Hickman told the newspaper. "He (McCoy) was in town, looking for somebody to throw to. I don't think they were trying to gain any advantage. It was a unique situation."