Hudson, Zito excitedly anticipating nostalgic matchup in Oakland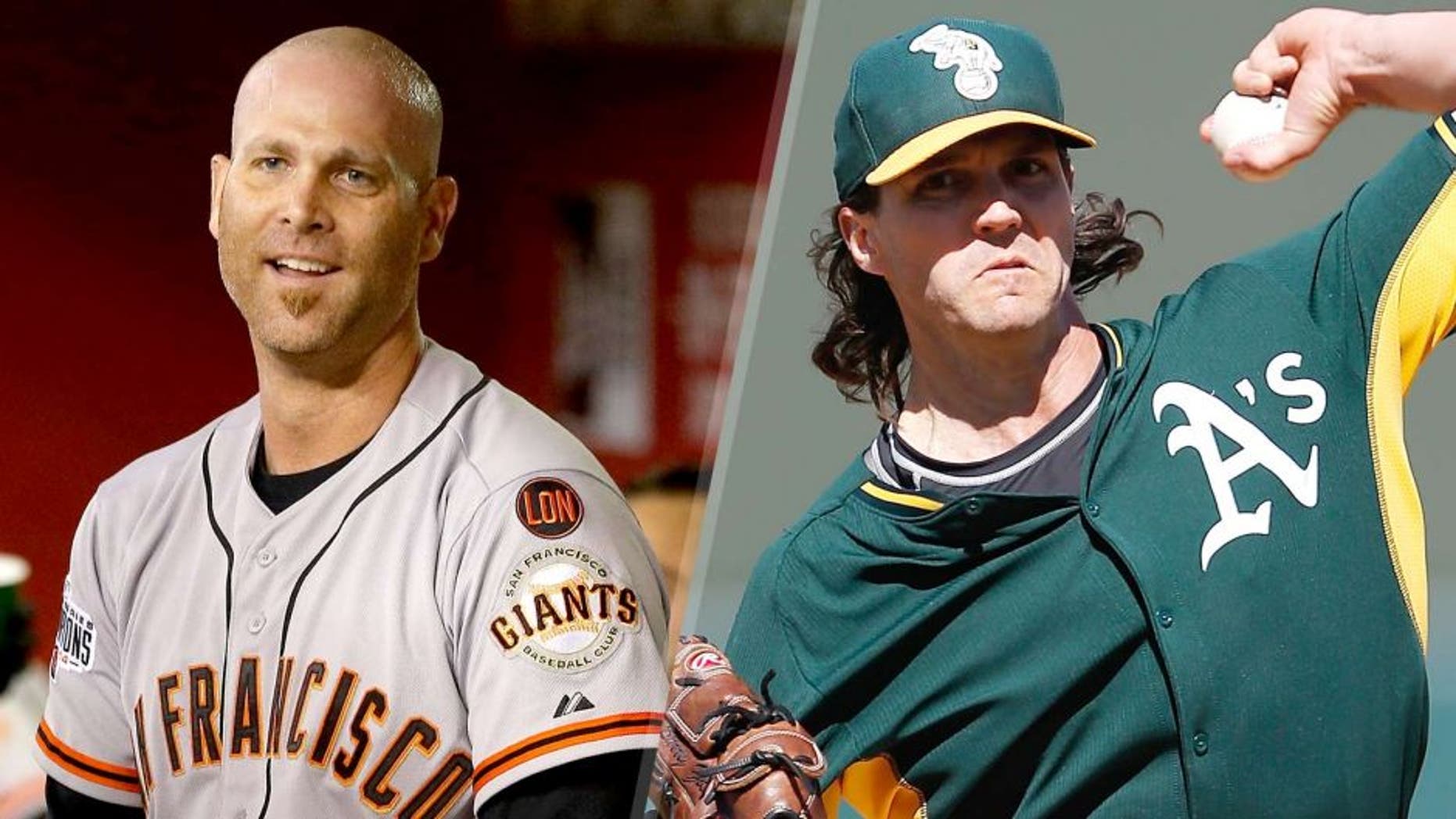 Tim Hudson and Barry Zito's wish to face off at their old stomping grounds has been granted, and the two couldn't be more eager for Saturday to come.
After the A's denied that they would call up Zito from Triple-A this season and then sequentially denied that he would be used as a starter once he was called up, the team announced Tuesday that the 37-year-old lefty is slated to start Saturday to face off against the Giants' Hudson for the penultimate start of Hudson's career and what could be Zito's final major-league outing.
To complete the trifecta, Mark Mulder, who is now a TV analyst after retiring from baseball in 2008, will be in attendance to join his former teammates of the famed "Big Three" pitching unit the A's had in the early 2000s.
"It's definitely going to be rowdy out here," said Zito, who rejoined the A's as a free agent this season after spending seven seasons with the team from 2000-06.
Hudson, who recently confirmed that this year, his 17th in the majors, will be his last, has been pining to face Zito in a sentimental head-to-head matchup since learning that there was a possibility it could happen.
"I was hoping that's how it'd line up," Hudson said. "I know Barry had to get his work in and get ready to pitch. It's really cool. It's something I'm looking forward to. I'm sure he is, too. We've been texting back and forth. I guess it's coming to fruition."
While Zito is eager to visit with Hudson and Mulder, he assures that nostalgia won't impede his competitiveness in Saturday's game at the Coliseum, which is set for a 1:05 p.m. PT first pitch from Zito.
"I'll visit with the guys Friday, and that'll be great," said Zito, who pitched for the Giants for six seasons after leaving the A's. "We'll be mortal enemies Saturday, then friends again Sunday. … I can't be a fan that day. I still have to be a player, so I won't be able to enjoy it as much as if I was in the dugout and didn't have to lock in for a game."
As they near the end of their careers, the two former teammates reflected gleefully on the special experience they had with the A's.
"I think the three of us, we were hitting our stride and starting to figure out what kind of pitchers we were in the big leagues at the same time," Hudson said. "It turned out that we were pretty good, and pretty good at the same time, which made for a lot of wins for our club."
"When you're in the middle of something, you don't know how special it is," Zito added. "It's not until you're away from it, and you can reflect. But it definitely was special, and to have three homegrown guys is pretty rare."
(h/t San Jose Mercury News)