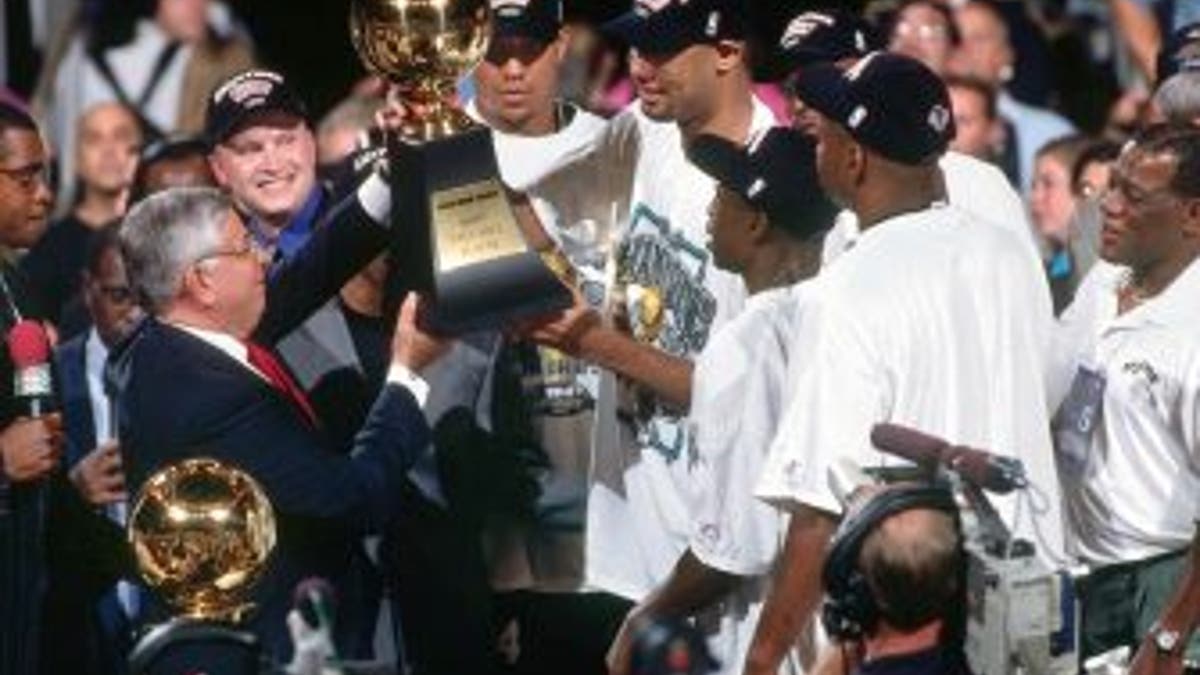 It's hard to imagine there was a time when the San Antonio Spurs were not reliably exceptional. That there was a time when they hadn't yet won any titles, let alone four -- and now a possible five -- in the past 15 years.
And then you see head coach Gregg Popovich, he of the one-word media interviews, dancing like there's no tomorrow and it hits you that 1999 really was an eternity ago.
Looking back and remembering the fateful 1999 season that kicked off a run of sustained excellence, it's easy to forget just how the whole chain of events was so unlikely and, in the end, serendipitous. Sure, the Spurs' 894 wins are the most in the league since that season, and no other team comes close, but this dynasty's beginning was shockingly unremarkable.
Thanks to David Stern and the 30 NBA owners locking out the players, the season didn't actually begin all that well. Though they had David Robinson and Tim Duncan in the middle -- the latter having just come off an otherworldly rookie season of 21.1 points, 11.9 rebounds, and 2.5 blocks per game -- Popovich was entering only his third season as head coach and was terribly unproven as a leader.
In a move that shocked pretty much everyone, Popovich the general manager fired coach Bob Hill and installed himself as coach in the midst of a terrible 1996-97 season that was riddled with high-profile injuries. His first game at the helm was a miserable 93-76 road loss in Phoenix, the team's 10th defeat in 11 games. San Antonio's leading scorer that night? Dominique Wilkins. This Spurs team was unrecognizable in every way.
The sentiment in San Antonio was decidedly anti-Pop, and basketball writers around the country excoriated the decision. (The Boston Globe called Popovich's personnel move "gutless" and "real classy.") But the Spurs' wretched play helped bring about enough lottery ping-pong balls that Tim Duncan fell in their lap, and a 56-26 campaign the next year, which ended in the Western Conference semifinals, signaled some much-needed hope for a turnaround.
After the lockout ended and the season began in February 1999, the Spurs and their revamped roster -- Mario Elie and Steve Kerr, mid-30s shooters with championship experience, were brought to bolster the squad's bona fides -- were expected to make immediate strides toward a title. But a 6-8 February all but dashed those hopes, and the team was in need of a miracle turnaround.
That's exactly what it got, as the Spurs went 14-2 in March and vaulted to the top of the conference standings. With each team playing only a condensed 50-game schedule, every win (and loss) was magnified in its importance.
And once the Spurs finished the regular season with a 37-13 record and home-court advantage in the playoffs, they finally bore some resemblance to the San Antonio teams we're used to seeing today. Popovich guided his club to an 11-1 record through the first three rounds as it knocked off the No. 8-seed Timberwolves, 3-1, and then swept the Lakers and Blazers.
By the time they reached the Finals and the No. 8-seed New York Knicks, the entire affair had the feeling of a fait accompli that had yet come to pass. And when Avery Johnson swished his baseline jumper with less than a minute to go in Game 5 -- the ball barely seeming to rise above the rim's height -- the mission was finally accomplished.
What made that Spurs team so lethal was that it finally moved away from a system in which the offense completely relied on either Robinson or Duncan. Popovich realized that their combined talent was the kind that was going to win 56 games during a regular season, but in the playoffs, it's about keeping your opponent guessing, not feeling it knows for sure who's going to take that last-second shot.
That's why Johnson sinking that title-winning jumper was the most Popovich thing ever. Johnson (along with Chuck Person) was the first player Popovich signed as a free agent upon taking over as GM in 1994. And he was not one of The Bigs. The Spurs could've easily pounded the ball down low in the post and forced their way to a lead over the Knicks. But doing something just because you can has never been Pop's way.
The 2013-14 Spurs are no different. Every player except Duncan is new, but the song remains the same. Not a single player averaged more than 30 minutes per game in the regular season, and only Duncan (the oldest player on the team at 37), Kawhi Leonard, and Tony Parker are topping that mark in the playoffs, and just barely. Five Spurs are averaging double-digit points in the playoffs, but no one more than 18. San Antonio doesn't have a singular talent like LeBron James, but they are devastatingly balanced, and that may be what (once again) propels them to a fifth championship in 15 seasons.
Robinson played another three years after that 1999 season and won another title before he retired in 2003. A supporting cast has come and gone, but Popovich and Duncan remain, the last remnants of an era that does not exist. The NBA today is loud, instant, more showy than ever before. These things are not the Spurs, though they continue to thrive within its confines. They are an anachronism in motion, proving that some things are universal and timeless.
The Spurs are living proof that we can, indeed, have nice things.
San Antonio could've easily won the title last year -- thanks, Ray Allen! -- and no matter what happens this time around against the Heat, they could still have another shot at winning next season. Popovich, Duncan, Parker, Manu Ginobili, and Leonard are all signed through next year and no more.
It could represent a surgically clean break from the past 15 years, but another title or two before then would certainly serve as a lasting reminder -- when that day comes -- of what we'll be missing.
And maybe we might see Popovich dance one more time.
He doesn't dance nearly as well as Popovich, but you can follow Erik Malinowski on Twitter at @erikmal and email him at erik.malinowski@fox.com.